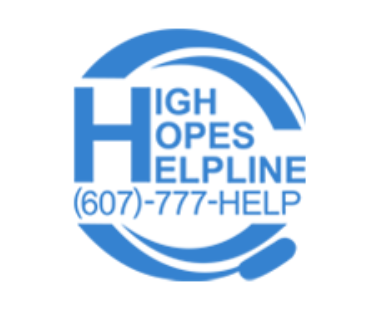 I had an interesting and varied set of extracurricular activities during my college years.
I was heavily involved in Christian fellowship groups. I taught aerobics both on- and off-campus. And I had a gig as a professional note-taker for students with disabilities.
But perhaps one of the most significant volunteer opportunities I had in college was serving as a trained crisis support counselor for the student-run helpline, High Hopes.
At the time, High Hopes was a 24/7 crisis line. Student volunteers were trained to validate and reassure people who were struggling with depression, suicidal ideation and other issues.
I clearly remember the reflecting technique that we were trained to use in our communications; it's something I've used many times since with angry or upset individuals in my own personal life. It truly works!
I only took a couple of overnight shifts at High Hopes. The office was a small room with a tiny separate area with bunk beds for sleeping. I remember not sleeping a whole lot during the nights I spent there!
I had one caller in particular who has always stayed with me. He told me he was gay and terrified of AIDS; he seemed very ashamed and sad. He said he was thinking of ending his life. I stayed on the phone with him for what seemed like hours to let him know he wasn't alone and that there was hope. By the end of the call, I felt like I had helped him. I truly hope I did.
Looking back, I am so glad that society has progressed since then. I hope that LGBTQIA+ folks now know there are many resources available and they never have to feel hopeless. Even AIDS is no longer a death sentence as long as individuals have access to good healthcare.
It's been 30 years since my Binghamton days, but I'm happy to share that I've applied to be a crisis support counselor again. The Trevor Project runs a 24/7 crisis support hotline, textline and online chat service. Young LGBTQIA+ people can reach out by phone, text or online chat to get the help they need.
I'm thrilled to have applied to be a Trever Project crisis support counselor. I'm hopeful that my experiences in college, combined with the life lessons I've learned as the mom of a beautiful LGBTQIA+ young person, will equip me to be a great support for other kiddos in need of a listening ear and caring support.
The Trevor Project is the world's largest suicide prevention and crisis intervention organization for LGBTQIA+ young people. Its mission aligns with my own. I'm really hoping I can be accepted into their program, get trained to be a crisis support counselor and begin helping LGBTQIA+ young people.
I was a crisis counselor in college… and I hope to be one again soon.
Have you ever done any crisis support work? I'd love to hear your stories in the comments below or over on Instagram or Facebook.