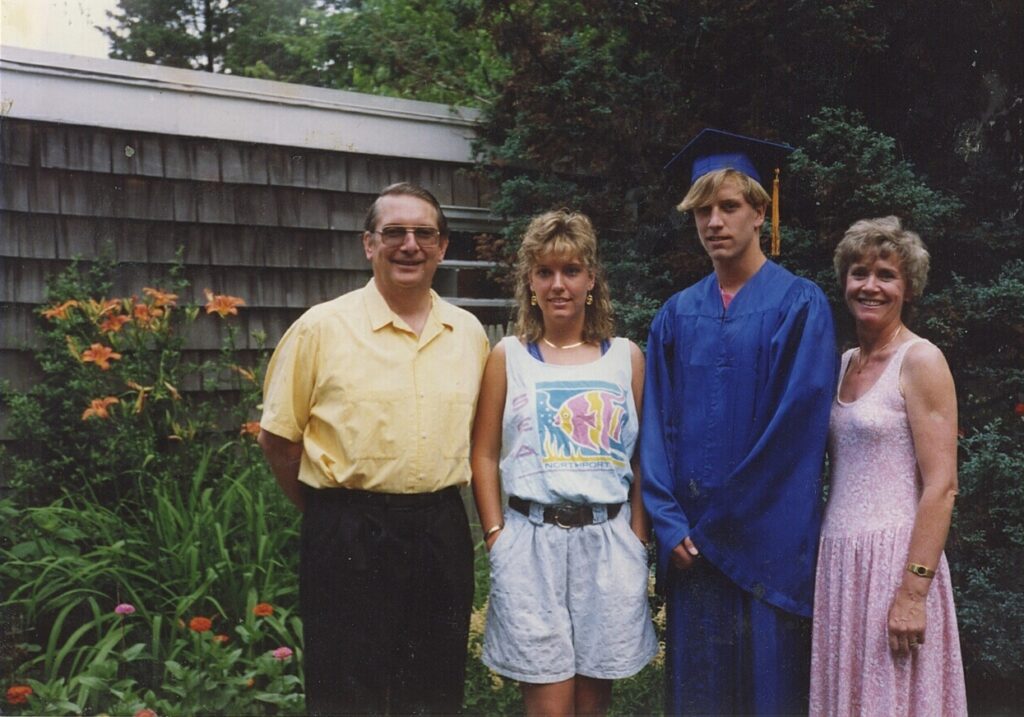 Do you want to feel truly old?

Wait until the day when you can say it's been 30 years since you graduated from college. That is just a crazy statement, and I can hardly believe it's true – but it is.

This May marks 30 years since I graduated from my alma mater, SUNY Binghamton (since rebranded simply as the ever-so-classy Binghamton University).
My college years spanned the late 80s and early 90s. Back then, we wrote our papers on typewriters and no one had computers or mobile phones yet. I got a fancy word processor device my sophomore year, but it was basically a glorified typewriter with only a very small memory. I didn't get my first cell phone until well after I graduated.
Other than taking place a long time ago in a galaxy far far away, college wasn't a super big deal for me. Unlike many people I know, and contrary to how it's portrayed in most Hollywood movies, I would not say my college days were the best times of my life.
My Binghamton years weren't a bad time – it just wasn't the be-all and end-all that some people seem to experience in college. I honestly couldn't wait to graduate, get out into the real world and start my real life.
I loved living in the dorms for my first two years and did make some good friendships there. I liked living off-campus for my second two years and it was a great overall life experience, although a bit more isolating and lonely.

Personally, I never had a super close-knit group of friends in college. I made friends, sure, but it was just a handful at best and none of us did a very good job of staying in touch afterward.
As far as really close friends go, I mainly stayed in touch with my besties from HS – and we made sure to visit each other's schools during our college years for awesome weekends together. A few of us are still in touch to this day.
I felt very different from my peers in those days and that kept me apart from a lot of potential friends. Let's be clear: I went away to college as a newly born-again Christian. That will damper anyone's fun! I didn't drink, didn't smoke, didn't believe in partying and basically kept a low profile, socially.
Oh, sure there were some fun moments – like the all-dorm mooning competition that our entire freshman dorm participated in with a neighboring dorm.
There were also plenty of late night outings to the student union for cookies and other memorable moments with roommates, floor-mates and housemates. But I didn't make or keep many true "best friends" during my four years away at school.
I also didn't partake in any substances, which seems to be a big part of most people's fun times in college.

Looking back, the main reason for my lack of a social life back then is that I was way too boyfriend-centric. I typically spent most of my time with, or mooning about, whichever particular guy I was coupled-up with. I wasn't free to meet new people or deepen friendships as much as I could or should have.
This is actually one of my few regrets about my younger days: I was always way too wrapped up in a relationship and I chronically went right from one serious boyfriend to the next in an extremely quick, serialized way.
Life hack time: Don't be boyfriend-obsessed, teens and young peeps. Be free to make friends, be single, have fun, discover interests and truly discover who YOU are.
Bottom line, part of the reason I was always coupled-up was that I felt insecure and hated being alone.
Here's a perfect example: if I ever missed the chance to go down to the dining hall with my boyfriend, roommate or friends on my floor, I would literally skip going at all and survive on whatever I had in my room (hello, Pop-Tarts and pizza delivery).
I cringe thinking back to how insecure I was and how uncomfortable I felt in my own skin. I never could have gone to a restaurant or movie alone – things I now adore doing.
In hindsight, I honestly think that my deep-dive into evangelical Christianity during my senior year of high school left me feeling shameful and insecure. I don't think it was a particularly healthy headspace. I felt guilty about my relationships with guys, yet too insecure to give them up.
During the second half of my college experience, I took courses in feminism and world religions that blew my mind open and expanded my thinking. Gradually, the "born again" thing subsided and I began to develop a truer sense of self.
In fact, if there's one thing I am super grateful for during my college years, it's that early education in feminism, philosophy, world religions and African American studies that set me on a path for a "woke" life and gave me a heart for social justice.
In general, I do feel that I received a good overall education at Binghamton. Even beyond academics, there were plenty of opportunities to learn about cultures and ways of thinking that were different from what I had always known.
In addition, the PR internship I stumbled into my junior year was a first baby step forward into an exciting and rewarding career in public relations.
And although I spent way too much of my college experience obsessed with boyfriends, I had a few relationships that were pretty special and taught me a lot. Especially about Judaism! I'll save those details for another blog post.
When you look back on your college years, what are your reflections? Did your education make a meaningful difference in your ultimate career, did you learn valuable life lessons and did you make friendships to last a lifetime?
I'd love to hear your ruminations on your collegiate days in the comments below or over on Facebook.
And to my one dear college friend who actually reads this blog, I am super thankful to be back in touch with you after all this time. You are truly the best friendship to come out of those Binghamton days!