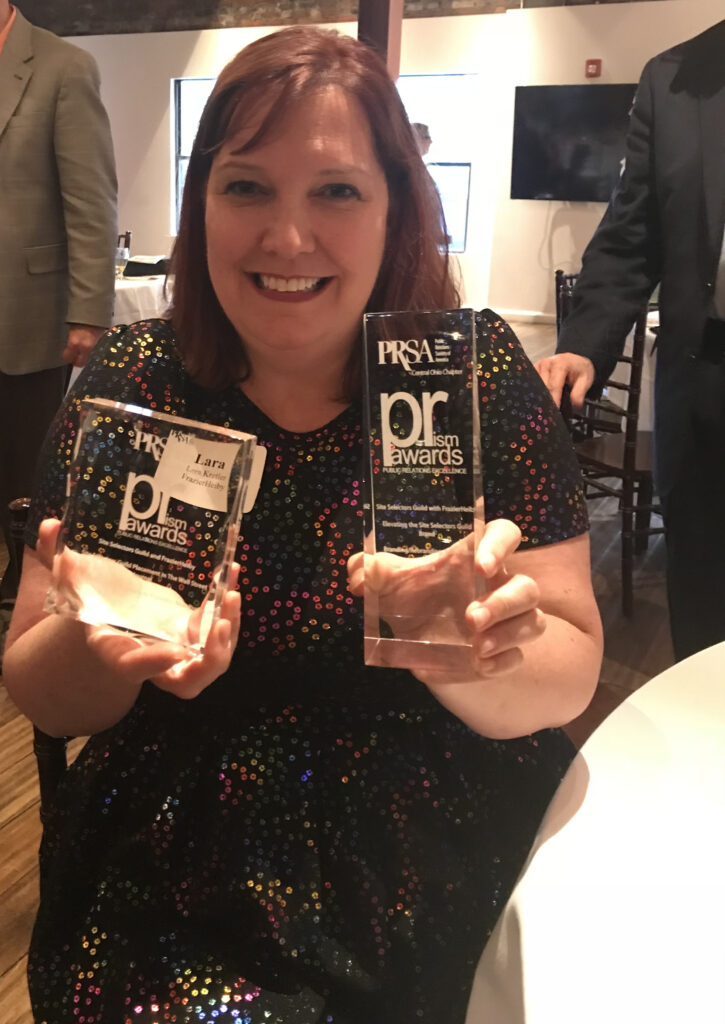 There are many milestones in life worth celebrating: births, graduations, coming out, marriages, new jobs, promotions, retirement.

This month, I'm celebrating a special career milestone that, apart from me playing close attention to such things, might have otherwise gone unnoticed: I've now been working for 30 years in my chosen career of public relations (PR).
My first job right out of college was at a small PR firm in midtown Manhattan. I remember interviewing for two jobs at that time, and I ended up being offered both positions.
Instead of choosing the job with the higher salary, I chose the lower-paying PR job. My dad thought I was crazy at the time, but money wasn't my primary driver. Even back then, I had my eyes on the long-term prize.
You see, I knew the publishing job could end up being a dead end, whereas the PR agency gig was a stepping stone in the direction of the career I knew I wanted: public relations. Also, the PR agency had an office dog, which definitely tipped the scales in their favor.
I started my first real job on June 4, 1991 as a bright-eyed, eager young PR pro, fresh out of college. It's been quite a wild ride ever since.
Many years ago, I remember going to the 30th work-iversary party for a boss and mentor of mine. There were cake, congratulations and possibly even a speech or two. He was the head of a good-sized agency, so he had an entire staff to fete him.
As a solopreneur now, my 30th work-iversary will not have any of those things, unless I treat myself to a cake pop at Starbucks. Really, I'm not sure anyone cares about this milestone but me. Still, I do think it's significant.
Here are four reasons why I think I'm the luckiest girl in the world to have had 30 years – and still going strong – in a career I love:
#1. PR is never boring. I consider myself extremely lucky to have stumbled into an exciting career that I adore and which still interests, challenges and motivates me to this day. How often do people get to do what they love for their entire career? My PR career path started with college internships in Binghamton, NY and then took me to my first few PR jobs in Manhattan. I then followed my next job in PR to Dayton, OH and eventually on to Columbus, where I continue to practice public relations today as an entrepreneur and business owner. During my career, I have gotten to travel all over the country and world; learn about fascinating topics, people and issues; win awards and accolades for my work; and enjoy amazing experiences I never would have had in any other field.
#2. PR develops important, versatile skills. In addition to all of the jobs I've held in PR over the years, I've also put my professional skills to work in various volunteer positions. The writing expertise, critical thinking abilities and overall communications and people skills one develops and hones in public relations are both useful and necessary in other fields. I know many PR people who have gone on to success in other lines of work – and I love knowing that I could, too, if I wanted to. But, even after 30 years, public relations is my first and only career love. I feel I was born to do this job and simply can't imagine doing anything else – except possibly being a full-time fiction writer, which is a long-time dream of mine.
#3. PR pays well. I didn't go into public relations just for the money – I wanted to put my English degree and writing skills to work in the best way possible, and I thought PR sounded interesting. But the fact is, PR is a great career with plenty of room for growth, advancement and a surprisingly solid salary. Especially on the agency side, there is usually a clear career path; this can be less evident when working in corporate PR. Over the years, I've been able to set many professional goals – including making more money as I progress up the corporate and agency ladder – and hit all of them. Earning a six figure salary was a goal of mine as a young PR pro, and I was able to attain it within ten years of working hard and making smart job moves. Pretty impressive when you consider that my first PR job out of college only paid $18K a year!
#4. PR makes it relatively easy to transition to entrepreneurship. I was asked recently how I got my current gig – which admittedly is a dream job. I own my own business, set my own hours, work from home, have ultimate flexibility and can take on or turn down work as I see fit. I am finally free of most of the working mom stress and guilt I've struggled with for the past 10 years. Again, this dream scenario is thanks to my chosen field of PR. Every company, large and small, needs communications and public relations assistance. In a recession like we've been in, it's a lot easier for a company to work with a solopreneur with reasonable rates than to hire a senior PR pro who commands a lofty salary. For that reason and others, I knew the time was right for me to strike out on my own and start my own communications business. Although it was a risk, it has proven to be my favorite career move yet.
Have you enjoyed a long career in your chosen field, or have you jumped around and been more of a jack-of-all-trades? What has been your all-time favorite role? I'd love to hear your work stories in the comments below or over on LinkedIn.