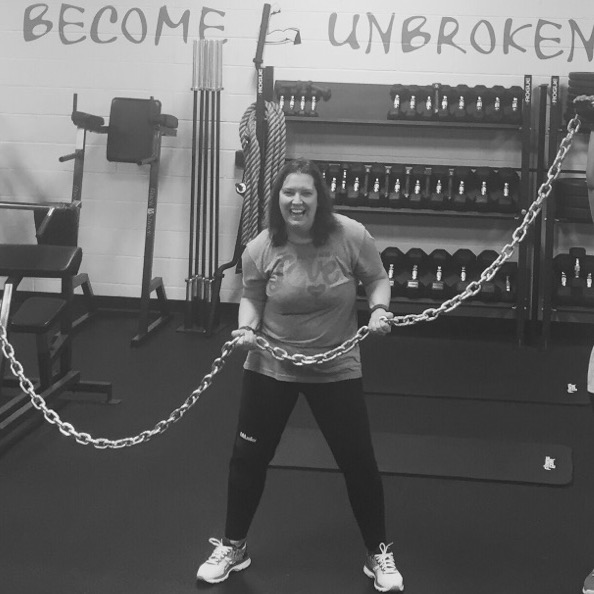 What's the worst thing you've ever called yourself?
I used to constantly call myself lazy.
Anytime I was feeling down, I would mentally berate myself for being lazy. I truly believed this about myself and it made me feel crappy.
They say that when parents criticize children, those harsh words become our inner voice.
I definitely remember being told I was lazy as a kid because I preferred reading over sports. I took that on as a personal truth and I have found reasons to believe it throughout my life.
For example, I could never seem to consistently stick to a regimen of working out or eating right – and I attributed that to me being a lazy, undisciplined slacker.
I would make plans to go to the gym in the morning but then sometimes I would sleep in instead (lazy!)
I occasionally opted to stay home instead of going out with friends (LAZY!)
And I often found myself just not being as productive as I thought or felt that I should (L A Z Y!)
It wasn't until my early 30s, when I met with a life coach for the first time, that someone told me to STOP calling myself lazy.
My life coach Cynthia rocked my world. She focused on both career coaching and life coaching; she said she didn't really differentiate between the two because whatever stops us in one area likely stops us in others as well.
I really liked her a lot, right from the start. We immediately clicked and had good chemistry. She didn't like me labeling myself as "lazy" or a procrastinator. She said everyone has those qualities and that "you shouldn't get hung up on them when you excel in so many areas of your life!"
Cynthia said that instead, I should just accept that my personal style is to have short concentrated bursts of intense productivity surrounded by "breaks" where I pursue more leisurely activities that help me recharge and think through the next big thing.
I really liked that way of looking at it! But at first, I was reluctant to embrace this mindset because I was afraid it was something I could use to justify, rationalize and enable my slacker ways.
Over time, I attempted to temper my way of looking at things (ie, that I need to conquer my inherent laziness) with her way (ie, that I'm no more lazy than anyone and that I do good work).
I started out by not beating myself up when I'm not uber-productive on a particular day. I also began celebrating myself when I am particularly productive and get a lot done at work or at home.
Looking back on my life, it's actually pretty crazy that I ever thought I was inherently lazy:
I have had an amazing 30+ year career in public relations with many great successes along the way.
I have traveled the world for business and pleasure.
I learned to ride a motorcycle in my 30s.
I had a baby at age 40 and nursed her for four years while keeping a fast-paced, high-level career going as a working mom.
I became a runner in my 30s and ran many 5Ks throughout my 30s and 40s. I have a 5K scheduled for this summer, too, but it will likely be part running, part walking.
For much of my adult life, I kept up a morning exercise routine that usually had me doing intense workouts from 5 to 6 am during the dark morning hours when most sane people are sleeping.
In my mid-40s, I won a year of personal training from the amazing Danielle Miranda at her Rock N Shock Fitness studio. During that year, I worked out harder than I ever have in my life, even pushing through a knee injury and resulting surgery to get back in the gym.
I have dedicated 25 years of my life to the painful art and discipline of tattoo collecting.
I am a memoirist who photographs, journals and documents my family's life through scrapbook albums with more than 60 created so far.
I started my own business at age 50 and have been rocking it ever since.
In my free time, I've been blogging here for 10+ years and have written more than 760 posts.
In addition to abolishing the word "lazy" from my self-talk vocabulary, Cynthia also taught me to step back and look at what I want to show up in my life and career. She believed, as I do, that whatever we envision or lay out for ourselves as goals or dreams will become reality and "show up" in our lives.
Whether this is the magic of the Universe put into action by positive thought, or whether it's the power of self-talk and getting the mind in motion that causes forward momentum, I do not know. But I have seen and felt its power in my life, so I'm a big fan of this way of thinking. I definitely believe that it works.
I mean, you've seen me manifest running my own business, collecting these killer tattoos and planning the amazing trips that we are taking this year, right?!
From time to time, it's good to reflect on what we want to show up in our life. I don't know if it's possible to manifest things for other people, but I definitely try to do this for my little family, too.
I am so thankful, even after all these years, for my life coach Cynthia. She helped me put an end to that one particularly bad voice in my head. I'm not lazy! I definitely prefer to work in spurts, with periods of leisure and thinking time scattered throughout my day. That's not how everyone works and that's why I thought I had a problem.
But I know now that everyone works differently. Some like to get all the work done first, then play (that's E's way). I prefer to balance my day and reward myself with downtime as I get things done. There's no wrong way to do it, as long as you have a career and job that allow you to work in the way that is best for you.
If there's a voice inside your head that is beating you up or telling you that you're not good enough, consider talking to a life coach about it. I've often found that life coaching is quicker and more action-oriented than therapy. I'm thankful to have had access to both throughout my life when I needed it most.
If you're interested in reading more about life coaching, check out that link. I'm a big fan!