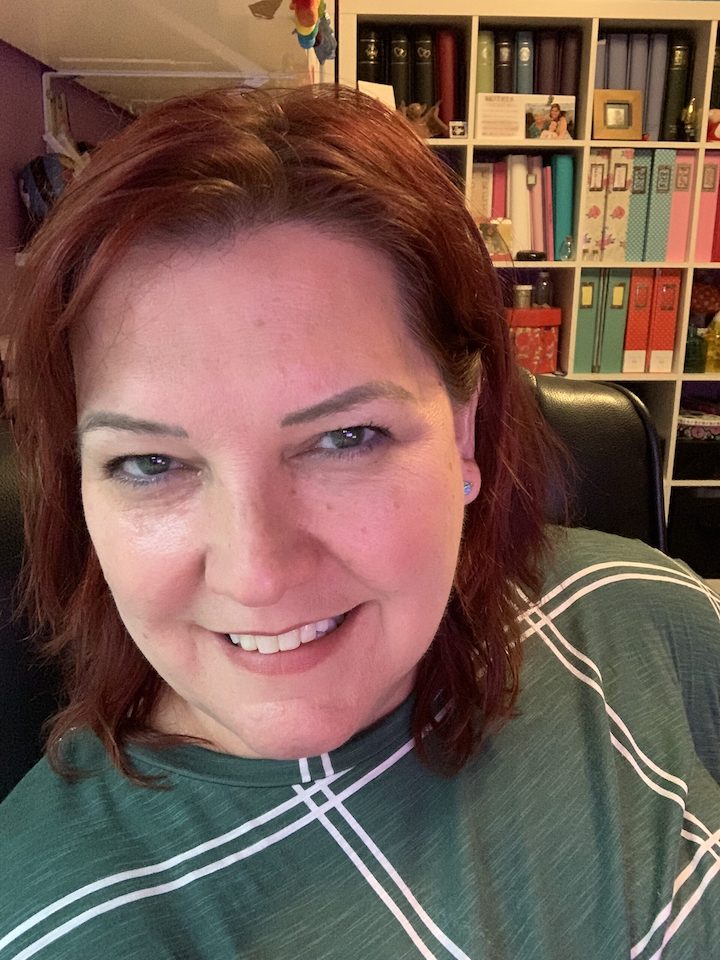 Do you take photos and notes constantly to document your family's life?
I do.
Part of my life's special purpose – and certainly my most time-consuming hobby – is to obsessively document all aspects of our lives together.
I do this constantly with written words, photographs and videos. I've actually done this for most of my life, even as a kid.
I have a big Rubbermaid tub full of filled journals from as far back as the early 80s. I have boxes of past planners, each stuffed with memorabilia and scribbled notes. I have voluminous archives of old photos and negatives.
Don't get me started on my floor-to-ceiling shelves packed with completed and in-progress scrapbooks documenting every stage of my own and Xage's life from birth to present day.
I've tried to piece together what I could of E's childhood and life before me, too, but I have far fewer photos to work with there.
Chronicling my memoirs is something I've been doing forever, even before I realized it was part of my life's purpose – and even before we had social media, apps and other digital tools to make it so much simpler.
I'm a memoirist. I always have been. I know now I always will be.
It's hard to articulate the reasons why I do all this photographing, journaling, storytelling, memory-planning and scrapbooking. I know that I love doing it and that it feels awful when I fall behind – like somehow, sacred memories could be lost forever. Maybe it's a control thing; an attempt to dictate "who lives, who dies, who tells your story," a la Hamilton.
I take photos with my iPhone to document daily life: the good, the bad, the beautiful and even (sometimes) the ugly. I go through my photos each month, carefully separate the highlights and then print the best of the best for use in my scrapbook albums. I even documented my process for all of that in a prior blog post.
I take videos too, but not that many. For some reason, photos and words are my preferred medium – even though I know that video can be a great documenting tool, too.
I keep various notes, stories and scribblings on my phone (in Notes), across social media (mostly on Facebook and Instagram), on this blog, in my planner and in various journals.
At the end of each year, I compile most of those memoir notes into some semblance of a year-in-review document to capture all the highs, lows, milestones and special memories. The key points also make it into hand-written journaling cards placed within our family scrapbooks.
Studies have shown that scrapbooking and intentional memory-keeping can actually help you remember more as you age. It's also great for anyone with depression, as that disease can cause sufferers to misremember or only remember bad things. I love bringing out our scrapbooks to remind my beloved family that they have experienced moments of joy during travel and other times!
So what does it take to be a good memoirist? I think ultimately, it boils down to these three key things:
1. Document consistently. In order to have the raw materials you'll need to create memoirs – either written, in scrapbook form or some other medium – you'll need to take lots of photos, collect lots of memorabilia (like ticket stubs, hospital bracelets, etc.) and make lots of notes. You can do this digitally, in journals or planners, or using some combination of both. Get into a regular practice with this. You don't have to do it daily, but you should at least jot down some notes and take some representative photos of your life weekly. Once you get into a regular habit, it becomes second-nature and a breeze.
2. Reflect and curate intentionally. Being a memoirist means taking the notes and photos and memorabilia you've collected and then crafting a story with them. It involves reflecting and introspecting about the themes of your life and making sense of all the pieces. What kind of story is your life telling? What are your family's core values, beliefs and passions? You want to tell the whole story, but you also want to focus on what truly matters most and makes your family unique. What stories and anecdotes will you most want to remember when you look back 30 or 40 years from now?
3. Don't neglect the negatives. When I first started scrapbooking, I focused only on the positive stuff. It took one of my two beloved family members to remind me to also keep track of the negative things. Those are part of life too, and part of our story! Things like broken bones, hospitalizations, global pandemics and how they affected us should all be documented and included in the overall tapestry that is our memoirs. It's hard to remember to take photos during sad or bad times, but trust me – you'll want them when you look back. Nothing jogs a memory like meaningful photographs.
So, you might wonder what is the ultimate goal for me as a memoirist? It's of course to publish my stories. I've already shared stories here on this blog for almost ten years. Now, my next step will be to publish some memoirs couched as fiction – similar to the children's story I shared here recently.
Are there other pro or amateur memoirists out there? Do you have other tricks and techniques I haven't shared here? I'd love to hear about your methods and madness in the comments below or over on Facebook or Instagram.