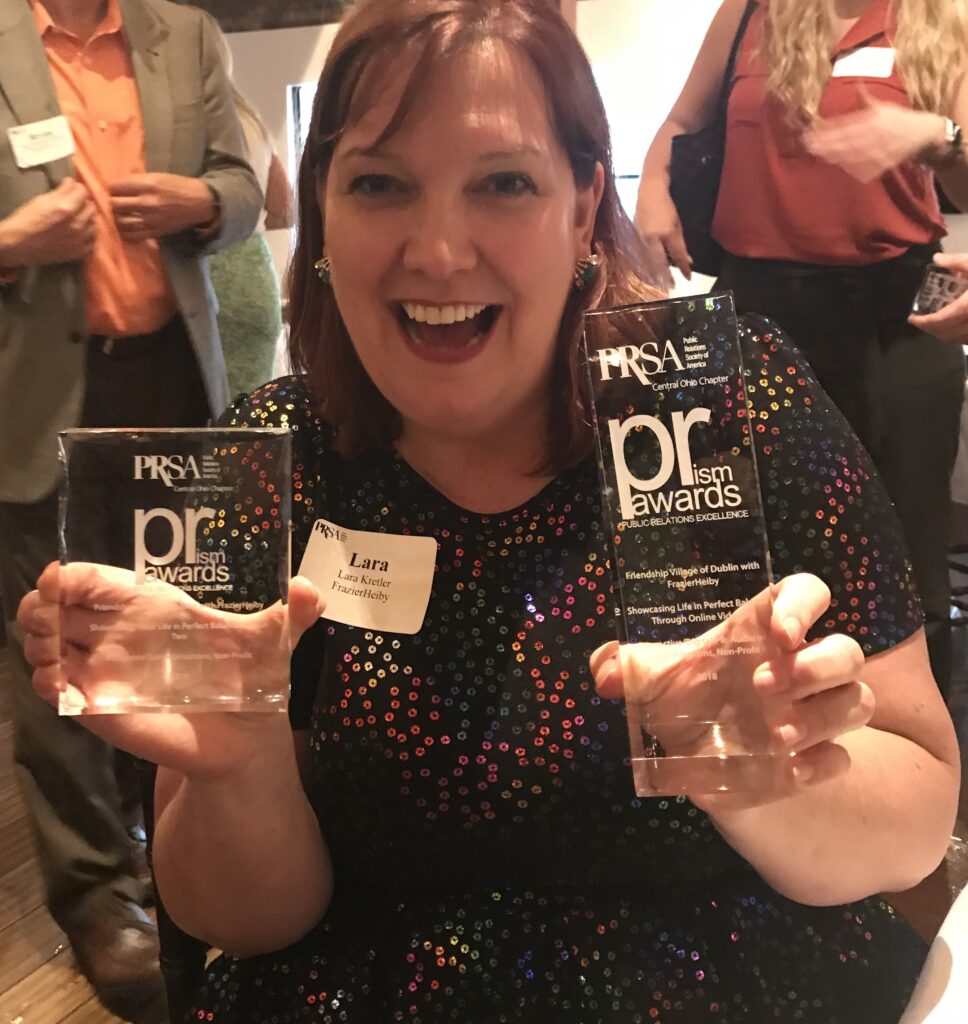 I've spent most of my career working and thriving at marketing communications agencies. I consider myself among the luckiest of humans because I've almost always loved my job.
Marketing agency life is never boring, often thrilling and always makes your work days fly by.
Over the years, I've worked at just about every kind of marketing agency you can imagine, from small shops to huge conglomerates and from PR-only firms and integrated marketing communications giants to one rather old school ad agency.
I've served clients and won awards at marketing communications agencies in NYC, Dayton and Columbus. I've worked for both specialty boutiques and generalist firms. When it comes to agencies, I have more than earned my stripes; I know how they work inside and out, bottom to top.
Here are things I love about agencies:
Many agencies have cultures that are high-energy, fun, motivating and exciting. The work is deadline driven, results oriented and often award-winning. The teams work hard and play hard. Agencies are filled with young people on fire, which in turn keeps you young and on your toes.
Also unique to agencies, the pursuit of new business – specifically, delivering a successful pitch – results in a high that is utterly exhilarating. I've honestly yet to find its equal. That new business buzz is almost addictive.
I've long held that there is simply no better job right out of college than an entry level PR or marketing communications role at a small to medium sized agency. You are expected to hit the ground running, manage time well, research intelligently, think critically, write fluently and in all things continually improve.
You also learn how to make cold calls to media, influencers, vendors and sometimes even prospective clients. You learn how to write and submit award entries. These are all critical skills that can be tailored later in your career to just about any industry and job.
But you knew it couldn't all be sunshine and roses, right?
Here's what I don't love about agencies:
The marketing agency's very existence depends on serving and bringing in ever more clients and projects. The agency business model pretty much necessitates that staff end up over-burdened and over-worked. Agencies charge high billing rates to clients but don't always pay staff accordingly. Also, there is typically a fair amount of uncertainty and volatility. Many agencies have reputations as sweat shops for a reason.
Just like Alexander Hamilton, the pace at an agency can be relentless. If you're a hungry young pro on the rise, this may not be an issue. I thrived on it for years myself, but after having my daughter and becoming a mom, agency life became fairly untenable for me, as it does for many women.
Similar to motherhood, agency life rarely lets up – the work is constant and there are few ebbs and flows. Although if you're at an agency where the work does start to dry up, that's even worse, because that's when the pay cuts and layoffs start.
Successful agencies are staffed lean but have heavy client lists and full new business pipelines; this results in over-worked staff, but a healthy bottom line. It is the agency way and it can be exhausting.
My new way of working with agencies
Since becoming a mom and realizing that full-time agency life is no longer for me, I've tried a few different things. For about four years, I stayed at an agency working part-time, with a voluntary 80% pay cut. After a while, the workload began to creep up so that I was still on a four-day paycheck but working the equivalent of five days. That's when I knew it was time to make a change.
I tried working at a nonprofit and loved the mission, purpose and higher calling, but the pay certainly was not as good as at an agency. For those who can afford to do that, it's a tradeoff worth making in order to gain flexibility and more work-life balance.
I also went back to the client side for a while and had a couple of agencies working for me, which was an interesting change of pace. I enjoyed working closely with the agencies and benefiting from their energy and idea sharing. It was around that time that I started wondering if there's a better way for me to work with – and even for – agencies.
Today, I'm working with agencies in a whole new way: as a consultant via my new solopreneurship: Pink Quill Communications.
Because agencies have to keep driving for new clients even when their existing staff are booked solid, often they end up with extra projects for which they simply don't have arms and legs. That's where a seasoned agency pro like myself can assist by serving as a seamless part of the agency's team and helping with any communications projects the agency needs completed.
This gives me the experience of working with agency people, whom I adore – but also allows me to set the pace and hours by taking on only the number of projects that are the right fit for me as a solopreneur, mom and occasionally part-time homeschool teacher (thanks, Covid).
Have I truly figured out a way to work with marketing communications agencies doing work that I love, yet still keep balance, flexibility and freedom in my life? It's like the career version of the holy grail.
Only time will tell – but I am excited to give it my best shot, build my business and hopefully provide indispensable assistance to many of my agency friends throughout Ohio and the world.
Do you have communications needs for your agency or small to medium-sized business? If so, please know that I'm like the Schuyler Sisters: I'm here to WORK!