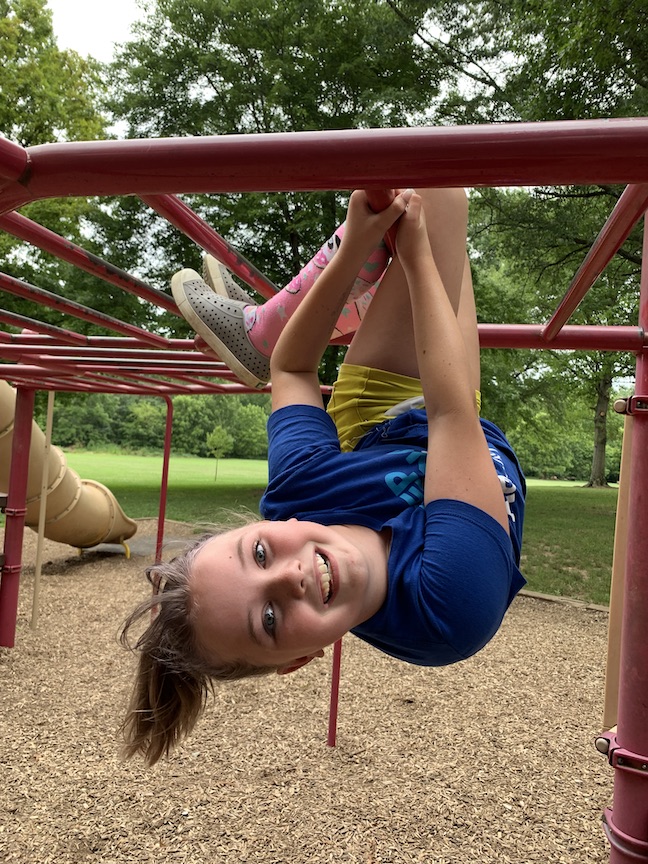 Z is having one of her most relaxed and easy-going summers on record.
It makes me so happy to see her enjoying herself!
Summers haven't always been this chill for our kiddo. For the first 7 or 8 years of her life, she was in daycare all year long.
Sure, I worked part-time so she got to spend Wednesdays off with me. But year-round, she was a daycare kid. Even after school ended each May, she spent most of her summer in a classroom.
I had so much guilt about that, but it was unavoidable as dual-career parents.
When she was 4, I went back to work full-time so she even lost her "summer fun Wednesdays" with me. Thankfully though, a friend offered to take her on Wednesdays that year. Z had fun with her friends on Wednesdays all that summer and it was an awesome addition to the usual daycare schedule.
Then, when Z was 5, she moved up to the school-age summer program at daycare which was a lot more fun than sitting in the classroom all day.
They went on field trips, visited splash pads and even planted a garden. I felt less guilty about her summers after that, but it still weighed heavily on me when I saw the deep tans on all the wild, free non-daycare kids while Z stayed pretty pale.
Summer is always challenging for working parents. It's so hard to know what's best for your child – the structure of daycare, the fun of a consecutive series of summer camp programs, or the freedom of a nanny.
We eventually splurged on a summer nanny when she was 8 and 9, respectively. Z loved their summers together. They did some fun things – and Z spent her mornings in the DARTS swim and dive program – but I still worried that those summer afternoons lacked structure and that she spent too much time on screens.
It appears that moms can worry about absolutely anything and everything. At least, I sure can! But thankfully, starting in 2020 and every summer since, I've been able to fulfill the coveted role of summer nanny myself.
Sure, I'm still working, but owning my own business and maintaining a part-time schedule allows me to also enjoy summer fun with the kiddo. It's the best of all worlds, especially since we also add in a week of summer camp each summer.
Summer camp is the best! It's got everything kids need – structure, time with new friends and summer fun.
Here are our five favorite things about summer camp:
Enjoying some variety. There are so many amazing summer camp programs in central Ohio – and for every budget. Sure, there are pricey camps like the Columbus Zoo ($270 per week for non-members), which is still on our wish list since we didn't get to do it in 2020 because of the pandemic. But there are also reasonably priced camps like the one we're doing this year, CATCO theatre camp ($125 for a four-day week). We also loved art camp at the Ohio Craft Museum ($210 per week).
Spending time outside. I feel like, left to our own devices, none of us spends enough time outside. It can be too hot or cold, there can be bugs and once in a while it even rains. But time outdoors is so important – especially for kids! I love outdoor camps that get kids more comfortable and excited about being out in nature. We did the Columbus Metro Parks camp at Highbanks one summer and Z got to canoe, hunt for salamanders and so much more. She also loved Ohio Wildlife Center's summer camp last year!
Giving parents a break. If I'm being honest, the week Z is at summer camp is such a blessed relief for me. I can get so much done! Sure, I have to make her lunch every morning (which I actually enjoy doing – I truly don't mind). After that though, I get to drop her off and have pretty much the whole day to focus on work and getting things done around the house. Then, she comes home exhausted and needs to relax and rest instead of bugging me to take her out somewhere. It's a total win!
Meeting new friends. Summer camp is usually a different mix of friends than the usual crew, and I see that as a good thing. In fact, I love choosing summer camps further away from home for this exact reason. She is meeting a far more diverse group of friendly kiddos at these camps than she would if we stayed close to home, and I love that. Any opportunity to meet new friends is a good thing when you're a kid!
Learning cool things. I'm thankful for all the amazing things Z has learned during her various summer camp experiences. Whether it is new art techniques, how to care for orphaned baby animals or how to find salamanders after it rains, I just love the way she brings home her newfound skills in such an enthusiastic way. Summer camp is the perfect time to try new things, discover new passions and find new interests.
There you have it – our five top reasons to look into a summer camp for your kiddo next year. And remember that summer camp sign-ups can begin as early as January, so be sure to scope out the one you want well in advance.
What has been your child's favorite summer camp, or do you have fond memories of your own experiences at camp? I'd love to hear about it in the comments below or over on Instagram or Facebook.