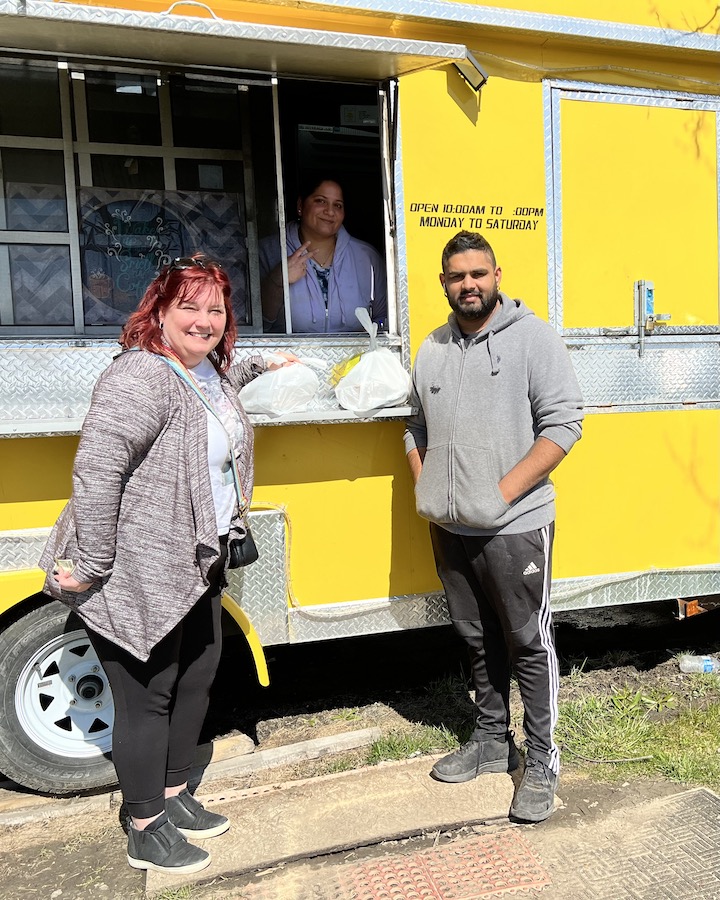 I did not expect to find the best and most delicious Indian food of my life at a food truck in rural London, Ohio.
I especially did not expect to find two amazing Indian food trucks, parked a block or two away from each other, at truck stops in rural London, Ohio.
But that's exactly what we discovered this winter, thanks to a hot tip from my amazing bestie.
If you love Indian food, too, you should know that it is well worth a short roadtrip to London to check out these two terrific dhaba trucks.
Apparently, it's quite well known in India that if you want to find delicious, authentic and reasonably priced cooking, you should head to a truck stop where rustic roadside eateries called dhabas serve up the very best flavors.
Following that trend, roadside dhabas are popping up all over the US to serve long-haul truckers of Punjabi descent who are looking for the tastes and comforts of home. Typically located along highways, these dhabas are a way to enjoy fresh, tasty and authentic Indian food in places it might not otherwise be possible to find.
When you exit I-70 onto Route 42 in London, you will see the blue Ustaad da Dhaba food truck first. That's the first one we tried, simply because they were open on the Sunday we visited while the other was not.
At Ustaad da Dhaba, aka the blue truck, we ordered hot chai to drink as well as curries and stuffed paratha bread. All food is cooked to order and took about 20 minutes. We began our feast right there in the car – not ideal, but the food smelled far too good to make it back to Columbus untouched!
My mutter paneer (vegetarian curry) came with a generous portion of rice and yogurt. The delicious parathas were as large as my steering wheel – no exaggeration. Everything was fresh and the best I've ever tasted, hands down. The spice level was good – about a medium – and even the warm, sweet chai was simply so superb I had to get a second one to take home.
It was difficult for me to drive past that familiar blue truck and its promise of delicious food on our second winter visit to London, but we had decided we must try both dhabas.
Keep going along Route 42 and soon you'll spot the yellow Apna Punjabi Dhaba food truck on the opposite side of the road. There, we encountered a similar ordering process; the only difference was that they didn't have a posted menu. The owners simply explained to us the menu offerings that day.
I tried the exact same meal at Apna Punjabi – the mutter paneer was exquisite, with a slightly more liquid consistency than the one at the blue truck. The paratha and chai were incredible here, too. My companion said the paratha here tasted slightly more authentic and she preferred it, but we both agreed the value was slightly better at the blue truck because their paratha was so huge.
The home-cooked flavors, quality and freshness at both places were perfect. The couple who owns and runs Apna Punjabi Dhaba (yellow truck) was so friendly and talked with us for a while. The husband even came out of the truck to take a photo with me when my friend said I was a "famous blogger from Columbus." (I am not so sure about the famous part!!)
How will you choose – yellow or blue dhaba? Honestly, you cannot lose. If you go on a Sunday, your only option is blue. But any other day of the week from 11 am to evening, you will get the best Indian meal of your life whichever one you visit.
I think my favorite dhaba is the one I'm eating from the day you ask me the question!
Will you drive to London, Ohio to try these incredible Indian food trucks? I can't wait to go back again soon.