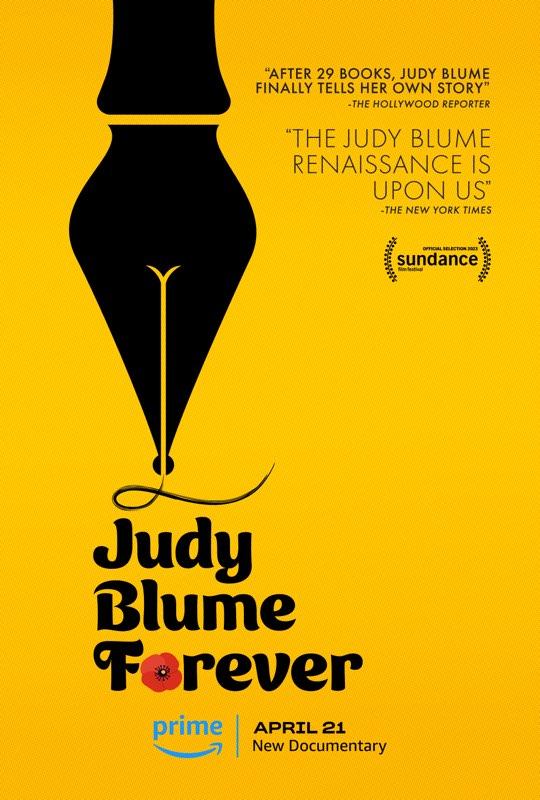 Do you remember reading and loving Judy Blume books as a kid?
In the past week, I've had the pleasure of watching both a new Amazon Prime documentary about beloved author Judy Blume and a new feature film based on one of her most iconic books.
The New York Times says "The Judy Blume renaissance is upon us" and I am here for it!
Judy Blume Forever, now streaming on Amazon Prime, is a warm and wonderful documentary tribute to the author who has touched so many lives over the years – including my own.
Covering timely and important issues like puberty, women's sexual pleasure and the banning of books, this film feels like a loving, empowering hug from every girl's favorite author.
Judy is clearly living her best life with her true love in Key West where they run an independent book shop. Judy is still very active, kayaking and bicycling, and looks far younger than 85!
I loved hearing the stories behind the stories. I had read almost all of her 29 books, but I never knew her personal story. Things that amazed me included:
Her famous fans. It makes sense that celebrities read Judy Blume when they were little girls, too. Lena Dunham and Molly Ringwald were just two of the familiar faces and names raving about Judy in the documentary.
Her amazing and authentic outspokenness. I loved seeing news clips of Judy talking about masturbation and other "controversial" topics. Seeing her take on conservative critics was one of my favorite parts!
Her personal correspondence with young fans. I don't think I ever wrote Judy a letter as a kid, but if I had, chances are I might have gotten one back from her. She kept in touch with some fans for literally decades and may have even saved a few lives through her caring and validating letters.
If her new documentary wasn't awesome enough already, add to it the fact that Blume's infamous "Are You There God? It's Me Margaret" (AYTGIMM) just hit movie theatres to rave reviews.
I took our 13-year-old daughter the day it opened. On our way in, another mom stopped us when she overheard us talking about the Judy Blume classic. "Are you going to see that?" she asked. "You don't know it yet, but you have a really cool mom," she told Z. It made my night.
There's never been a better mother/daughter movie date than this lovely little film. Although AYTGIMM covers tough topics such as puberty, periods, breast development, religion and first kisses, the film's authentic approach mirrors Blume's own. The tone is warm and positive – never cringe-y or poking fun at adolescents in any way.
The actors do a terrific job, especially the young actor who portrays Margaret and the inimitable Kathy Bates as Margaret's feisty grandma Sylvia.
The AYTGIMM movie, like the book, provides countless opportunities for moms to share their own puberty stories with daughters who may have just gone through it or be in the middle of it themselves. I love this book for fifth grade and up, and the movie for sixth grade and up.
Fellow Judy Blume fans may be as delighted as I was to find out that the author owns a small, independent bookshop in Key West. Part of me would love to take a trip down there and visit her shop while the 85-year-old is still hearty and active. I have a Judy Blume boxed set that would look awfully good with her autograph!