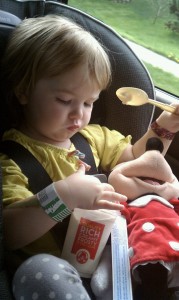 Like many other moms, I read with horror the recent article in The New York Times about toddlers undergoing general anesthesia for dental work due, in many cases, to neglectful parents. It seems some didn't realize they should brush their little ones' teeth for them, while others found it too challenging. I could never be those parents, I thought. I brushed Zoe's teeth… err, well, I did sometimes.
But guess what? Despite my best intentions – avoiding sweets until she was two and even (ahem! occasionally) brushing her teeth – Zoe still had to undergo general anesthesia for dental work a month ago. Last year, she broke a front tooth and chipped another at the tender age of 14 months. Though we took her to the pediatric dentist right away and had it sealed, the front tooth continued to disintegrate until it became clear this year that it would have to come out or get capped.
Let me tell you, seeing my sweet baby in a hospital bed, scared and fighting the anesthesiologist's gas mask like her life depended on it, and then seeing her little body grow unnaturally limp the next second, was one of the most terrifying and angst-ridden experiences of my life. I thank God for the fantastic Nationwide Children's Hospital in our back yard, and for Zoe's otherwise robust and rambunctious good health, and for swift and skilled dentists' and physicians' hands. The experience went as well as it could – but I would never want to repeat it. Nor would Zoe!
Trust me when I say that I've been brushing Zoe's teeth like a maniac ever since. She doesn't want me to do it – she fusses up a storm every single day – but it's worth it. We got her fun tooth brushes (three to choose from), tasty kid-friendly toothpaste, and I involve her as much as I can in the process. That said, a toddler cannot be expected to brush her own teeth correctly, and there's no way we're going through the dental work/anesthesia experience again if I can help it.
Plus, Zoe has discovered the joy of sweet things, like the ice cream frosty we got her on the way home from the hospital as a special treat. There's no way out of it, now – we brush those teeth every day, twice if I can possibly swing it. Not only does Zoe give it a go herself, but then Mommy "checks" her teeth and makes absolutely sure they're clean and fresh (aka re-brushes them).
It's not fun fighting with a toddler over who gets to do this task. She really doesn't want me anywhere near her mouth. I wish I'd never let her do it herself – that I had always held onto that toothbrush and insisted it had to be done by Mommy. I also wish we had instituted the twice-daily brushing earlier so that by now it would be a normal part of her life and not something she thinks she can avoid.
Still, I feel good about the changes we've made and I have to believe it will get easier with time. It's worth a struggle, believe me, to know her teeth are getting cleaned and we're not risking the chance of cavities, infections or other dental woes. Learn from my nightmare, friends: brush your kids' teeth! Don't take no for an answer.
What do you think – is there anything harder than brushing a toddler's teeth when they don't want them brushed? Is there an easier way to do this that I don't know about? I'd love to hear in the comments below.