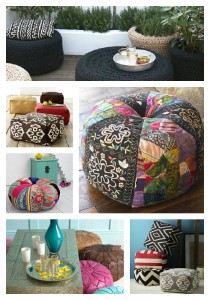 As I may have mentioned, we're moving to a new home soon. I'm super excited because it's the first house E and I both see as a potential forever home.
The first house we lived in together was his before he met me, so it wasn't really ours. Then when we moved to Columbus, we felt so rushed that we bought a house before we found the perfect one. I've always loved it here, but E never truly did – he settled.
For this big move, we took our time, visited a ton of houses and found the perfect home for our family and our future. But it's big – possibly even too big. We will have entire rooms we've never had before, and for which we'll need to find furniture. So I've been surfing design blogs and furniture sites for ideas and inspiration – and I have decided I'm in love with poufs.
Yes, poufs! Also known as floor pillows or ottomans or tuffets (or glorified, fancified bean bags if you're a skeptic). They were hot in 2010, yet seem to be making a comeback for 2013 – and really, they have have been around for centuries in many cultures. Poufs have a fun, relaxed, comfortable, international feel. I'm not sure how comfortable they actually are for long-term sitting, but I think they're perfect for perching on. Poufs look great lying around and they have multiple uses – foot stool, end table for stacking books or magazines, and extra seating options for adults or kids. Plus I just like saying POUF!
The only trouble is, the ones I like all seem to be super expensive. There are tons on Ebay but they seem somewhat sketchy and duh, of course you have to have a high quality pouf. I love the fall selection at Pier One, Z Galerie and West Elm but they are pretty pricey. Then, I found these ultra-modern ones which made the ones I want look relatively reasonable by comparison. So, clearly I'll be watching for sales in the coming weeks. We have eclectic taste in home decor so I'd love two – a colorful pouf for the family room, plus a black and white one for Zoe's room. Then we could get them together and group them around a low table for teddy bear picnics and tea parties – or anytime we need extra seating.
What do you think – have you considered this pouf phenomenon? Are there other home decor items that have caught your eye recently? And what are your favorite design blogs, Pinterest boards or other places to go for decorating inspiration? I'd love to hear in the comments below.