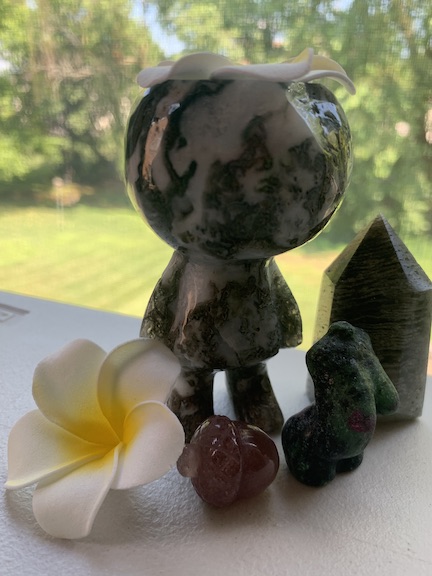 If you're a crystal lover, have you discovered the joys of Instagram live crystal sales yet? I am obsessed.
I love to shop local, and obviously our series about Columbus crystal shops is proof that we love to seek and find beautiful rocks and stones in person while we're out and about.
That said, there is also a particular joy to be found in shopping for crystals from home, sometimes without pants on.
Yes, I'm talking about Instagram live crystal sales. They are a complete and total vibe, and I love them! I won't even call them a guilty pleasure – they're a legit, full-on, glorious pleasure.
Now, I wouldn't send you to just any Insta live crystal sale. There are some that are oddly clinical and just plain boring. No, I'm talking about crystal sellers with personality and verve who have built warm, fun and wonderful communities of like-minded souls.
These Instagram live sales are like going to a jammin' crystal party from the comfort of your own couch or bed. I love them and have so much fun seeing what's for sale and who's buying what. I love the Insta lives where fellow attendees cheer and congratulate you when you make an especially gorgeous claim. That's the vibe!
If you're looking to make new crystal friends and find some jaw-droppingly beautiful pieces for your own collection, it's my pleasure to introduce you to my top three crystal besties:
Big Heart Rising – Lala and Dvir are delightful in every way and host the most lovely, welcoming Insta lives on Monday and Tuesday evenings. They have gorgeous gems, carvings and stones laid out in beautiful displays and feature the friendliest Insta community ever. These were the first crystal lives that I joined and I fell in love – I got some of my all-time favorite crystal skulls from them. Their packages are a joy to open and always come with pink tissue paper and lavender sachets which smell ahh-mazing. I will always love Big Heart and consider myself part of the BH family! You can also purchase from their website, BigHeartRising.com.
Plumeria Gems – Bo is a lovely girl from Thailand who now lives in the US and is running an impressive crystal business solo while also being a mom to her adorable kiddos. Bo has some of the most exquisite and unique crystals I've seen, and I love her devotion to her customers and business. She sells crystal "cup head" carvings which are like little statues you can use as sphere holders or even put water and little flowers in the top. I just love Bo and the way she packages her crystals with a small plumeria flower, which I always keep. Follow Bo on Instagram to find out when her live sales will take place, as the days vary. You can also purchase from her website, Plumeria Gems.
Gemsprite Crystals – Stephen is the most darling man ever and hosts his Insta live sales on Saturdays and Sundays with humor and grace. You will LOVE his unique and high-quality crystals; I've purchased some amazing rocks and carvings from him. Stephen and his partner Ivan have cultivated a lovely following and their live sales are always positive and very fun. Also, they met while both working on a cruise ship – how romantic is that?! Stephen also does Instagram Story sales, so be sure to watch for those. If you are in the market for Pokemon crystal carvings, check out his website at Gemsprite.com!
There you have it – now go follow my crystal besties and they will soon be your friends as well. I should note that Z calls them my crystal "plugs" which is how the kids refer to dealers these days, but I do NOT prefer that term personally even though it does make me laugh!
Have you added any gorgeous new gems to your crystal collection lately? I'd love to hear all about them – and hopefully see a pic – in the comments below or over on Instagram or Facebook.