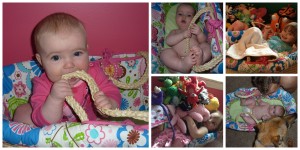 Looking back at all the purchases we made (and things we registered for) as soon-to-be new parents, there were so many things we didn't need. But do you want to know one remnant from our earliest nursery-planning days that I am so glad I splurged on? The Moses basket.
At the time, I wasn't buying it for any particular function or use, I just wanted every. single. thing that went with our nursery bedding set. Yes, I'll admit, a rather frivolous purchase at the time. But we've been enjoying this bad boy for more than three years now, so I'd say it was worth it.
When Zoe was six months old, she loved lying in the basket and playing with the handle. We'd toss a stuffed animal in there with her and watch her play.
When she was a year old, she would get in the basket herself and roll around, fill it with stuffed animals, etc. She would ask us to grab the handles and give her "rides" in the basket (we didn't do this often, or I'm sure it would not have held on this long.)
When she was two, she would ask to be buried in stuffed animals – as you can see in the pic, she has quite a few. We also played games with the basket where we would put all her animals in, then she'd dump them out. Or we would fill the basket with only one kind of animal, like bears (good sorting activity).
Now that she's three, Zoe still loves to get in the Moses basket, although of course she barely fits – she has to keep her legs bent or hang them over the side. We find all sorts of treasures hidden in the basket. It's still a favorite element of her room, even though she now has a princess castle and princess canopy, too.
When she's not in the basket herself, it serves as adorable stuffed animal storage. I made the smart move of buying the toddler bedding set at the same time as the nursery bedding set, so when we moved from crib to toddler bed I was able to keep the same decor. Then, when we were moving from toddler bed to big girl bed, I looked online and to my delight they had the same set in "big girl" bedding! So, we've had the same set all along but she is far from sick of it and I still love it as much as when I first found it.
Of course, we're still cosleeping so she still doesn't actually sleep in that room or that bed – it's more of a play area for now – but it's fun having it. And one day soon, I know she'll want to sleep in her big girl bed all by herself. When that happens, I'll probably pine for the days when I could tuck my little baby into that Moses basket and listen to her coo happily!
So, to my prego friends who are asking that age-old question, "Should I get the matching Moses basket?" By all means, go ahead and splurge on that adorable basket. You won't regret it. Just think of all the photo opps.