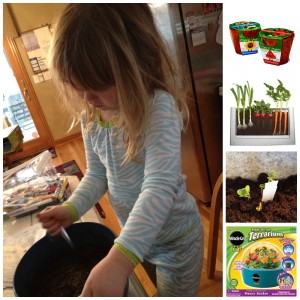 Disclaimer: I was generously provided free tickets from the Columbus Dispatch Home & Garden Show prior to writing this post. In addition, Scotts Miracle-Gro is a client at the agency where I work. All opinions are my own.
We're thinking about spring gardening a lot at our house these days. I'm a firm believer that if we put our positive intentions out into the universe (also known as wishing upon a star), then our dreams will come true. So come on, spring!
Seriously though, I've got a few projects going on both at work and at home that have me daydreaming about spring, planting and gardens.
Indoor greening
On the home front, we finally planted the seeds in our Root-Vue Farm, a very cool educational indoor gardening kit Zoe received for Christmas. Zoe loved mixing the dirt and water together, then making little holes in the soil, dropping the seeds in and covering them up with dirt.
So far we've got both carrot and radish sproutlets coming up, but the onions don't seem to be doing much. It's so much fun to check this every day, pull off the cover so we can watch the roots digging down, measure the growth of the little plants sprouting up, and give them water as needed. Zoe is a great mom to her little seedlings – she also sings and talks to them daily. Looking forward to having some actual crops we can sample, but I imagine that will take some time!
I've seen other cute mini garden and growing kits at Five Below, ranging in price from $2 to $5. I actually thought about giving these out as party favors at Zoe's upcoming 4th birthday party, but alas they don't fit with our Ariel "Under the Sea" theme.
There are also some adorable kids gardening kits from Miracle-Gro which I wish I had seen prior to purchasing our rather utilitarian Root-Vue Farm!
Online gardening
At my day job, I've been working with my client Scotts to create and grow a new social network for community gardeners. Gro & Chat is up to almost 100 members and well on its way to becoming a thriving conversation hub for those who are passionate about gardens, especially community gardening. If you're into gardens, green spaces and all things community gardening, I hope you will check it out, become a member and help spread the word!
As part of my role as "Head Gardener" on Gro & Chat, I've been researching cool gardening blogs and have fallen in love with the site (and Facebook page for) Urban Gardens. The site bills itself as "a creative blend of urban style, design, and nature from around the globe" but I just call it a great way for winter-locked Ohioans to make it through until spring! Seriously, this blog is a breath of fresh, spring air every time I check it out. One visit and you'll be hooked, too.
Go see the real thing – for free
If all this green talk is making you long for the sights and smells of an actual blooming garden, then you probably need to head to the Columbus Dispatch Home & Garden Show, starting this weekend and going through March 2 at the Ohio Expo Center. There will be 11 gorgeous gardens on display by professional landscapers, as well as tons of other home and garden related events and educational opportunities.
I've never been to the Home & Garden Show before, but I will definitely be checking it out this year as they have a special Kids Day planned on Saturday, March 1. That day, there will be a performance of "Shrek" the musical by the Pleasure Guild of Nationwide Children's Hospital, a Lowe's "Build and Grow" clinic for kids, visits from animals from the Columbus Zoo & Aquarium, and more. Better yet, kids 12 and under are admitted free each day of the show, including Kids Day.
What do you think – are you interested in checking out the Home & Garden Show too? I'm giving away a family pack of tickets to one lucky reader. Simply leave a comment below about your spring garden or home improvement plans and you'll be entered to win. Zoe will choose a winner at random within the next week!