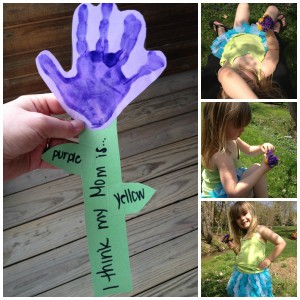 When Zoe came home from school with faintly purple-stained palms a week or so ago, I smiled knowingly and inquired, "Oh, did you do handprint art in school today?" I was sure it was another awesome, Pinterest-inspired Mother's Day art gift. Her teachers knock them out of the ballpark each year, and I treasure each and every one.
"Yep Mommy, I made you a purple flower, your favorite!" Zoe proudly replied.
Then more recently, thanks to a sneak preview from another school mom on Facebook, I got to peek at what the little darlins had made: a purple handprint flower on a green stem. On the stem, a teacher had written "My Mommy is so…" and then on a few green leaves were adjectives dictated by each child. So cute! I couldn't wait to see mine and secretly hoped for adjectives along the line of "loving" or "fun" – but knew I'd love whatever words Zoe had chosen to describe me.
At today's Mother's Day breakfast at her school, Zoe proudly presented me with my gift: the laminated purple handprint flower on its green stem of words. As I read the adjectives she had used to describe me – "purple" and "yellow" – her teacher smiled and said, almost apologetically, "we asked them to describe their moms, and this is what Zoe said!" I chuckled with her for a moment, but in truth I was floored. I knew exactly what Zoe meant, and I loved it!
You see, not long ago, during the weekend before Zoe worked on her Mother's Day project at school, Zoe and I had a perfect day together. It was one of our first truly warm, beautiful days of spring – the sun was hot, the breeze felt wonderful and we spent almost the whole day outside. We picnicked in her club house, picked flowers by our creek and lay in the shade together with her head in my lap. She presented me with bouquet after bouquet of hand-picked purple and yellow wildflowers (aka weeds!). I raved each time about how beautiful they were, how lovely the bright purple flowers and bright yellow dandelions looked together, and how much I appreciated her hard work in thoughtfully picking them for me. We ended up with a kitchen table and counter filled with various jars, vases and bowls each stuffed with purple and yellow flowers Zoe had picked for me.
I posted to Facebook that it had been the perfect day. It really was – lazy, serene, relaxing and wonderful. And now I see Zoe felt that way, too. When she had to describe me, she immediately thought of that day – of our purple and yellow flowers. Of our time together. Of our perfect afternoon, cuddled up in the grass in the shade, listening to the frogs in the creek and the birds in the trees.
I love these memories, and I love that she treasures them too – and that it was the first thing she thought of when asked to describe me. I will always cherish her little laminated handprint flower and its colorful words for reminding me of that day!
Happy Mother's Day, to all you purple, yellow and multicolored rainbow mamas. Hope you have a perfect day with your little ones. And if you feel so inclined, I'd love to hear about it in the comments below.