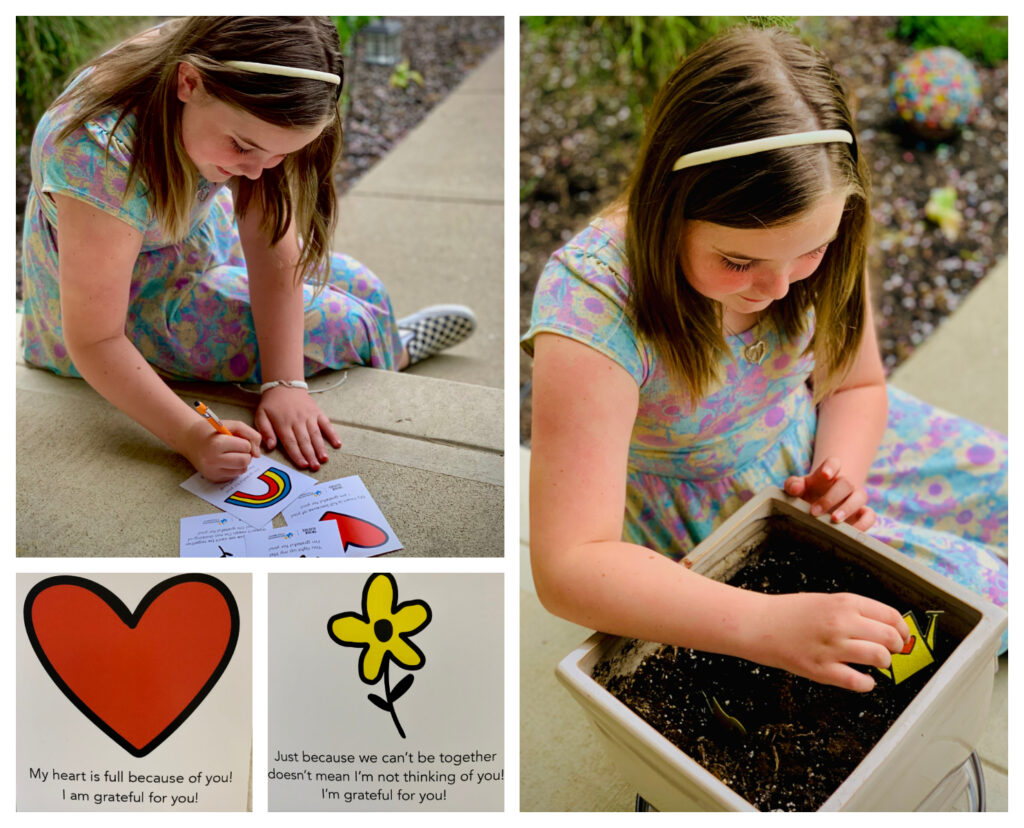 There's never been a better time to actively practice gratitude. For one, May is Mental Health Awareness Month, and an attitude of gratitude can benefit just about everyone's mental health.
Not only that, but because most of the world has been cooped up in a state of social isolation for several months, it's especially important to remember things that we can be thankful for. A grateful heart and mind helps puts us on the right path to a healthy mindset.
I personally have another reason to focus on gratitude right now, and that's the commitment I made a few months back to blog more about children's mental health in conjunction with our friends at Nationwide Children's Hospital and the #OnOurSleeves campaign. The #OnOurSleeves campaign focus for May is Growing in Gratitude.
Bottom line: taking some time right now to focus on the things we are grateful for in our lives is a very good thing for everyone in the family, so let's get to it!
There are many ways to actively practice gratitude and cultivate a grateful mindset. One way that I love to do this is through journaling. A daily gratitude journal is so easy to do – just add a sentence or a couple of bullet points each day to a notebook, calendar or planner about what you're most grateful for in that moment. Ideally, I like to do this at the start or end of each day.
Another gratitude practice to help you feel close to people you love is to set aside a time to look at a photo of a family member or loved one, think about that person and hold them in your mind as you focus on everything you appreciate and are grateful for about that individual. This may take the form of prayer for some, or meditation for others – but either way, it is sure to give you a warm, loving feeling as you focus on being grateful for that person in your life, even if you can't see or be with them at this moment.
For a third way to practice gratitude, the team at Nationwide Children's Hospital and #OnOurSleeves have created a very fun Growing in Gratitude activity that families can do together. They are providing a seed kit you can plant and water each day as you think about who and what you're grateful for. It's a great way to cultivate that "attitude of gratitude" to help everyone stay in positive spirits and good mental health.
Why is it important to practice gratitude? Research shows people who think about the good things in their lives are healthier and happier. They feel more energized, sleep better, have stronger social connections and feel better about themselves. They have fewer physical problems and symptoms – plus a stronger immune system. Gratitude helps us grow mentally and as a person. With all this in mind – who's ready to start growing some gratitude? I know I am!
Leave a comment below and I'll send one of you a free Growing in Gratitude seed kits that you can plant and share with a friend or family member. You can also go to the Growing in Gratitude website to order a kit for yourself, a friend or a family member, too!
I know that for some of us, it might be difficult to feel grateful right now. Around the world, we've all been in some form of quarantine for about eight weeks, and with that has come a lot of new, unprecedented things to process. There have been good things – like lots of family togetherness and time spent in nature – but there have also been tough things, like learning to do school and work via online and distance methods rather than in person with our teachers, classmates or coworkers.
If you or those you love have been experiencing big emotions like sadness, confusion or even anger, you are not alone. Taking care of our mental health, checking in with each other and cultivating gratitude matter more than ever right now – especially for children, who may be especially sensitive to the moods of adults and unable to manage their own feelings and confusion about all that is going on around them.
If you are a parent who is struggling or seeking mental health resources, please visit the On Our Sleeves page. One thing that I am truly grateful for is this program and the terrific resources available to us through Nationwide Children's and the On Our Sleeves program.
If you'd like, let me know what you are grateful for in the comments below or over on Facebook. I'll pick one commenter at random to receive my extra Growing Our Gratitude seed kit! As always, I'm grateful for you – thanks for reading.