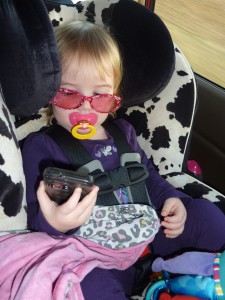 When we were pregnant with Zoe and purchasing our first infant carseat, we did our homework and bought a Britax – a brand well known for safety.
After installing the carseat according to directions, we headed down to the fire house for an inspection to be sure we had it just right. And, after doing even more research along the way, we decided to leave Zoe rear-facing until at least age two (this has been found to be safer in many crash test studies and is recommended by the American Academy of Pediatrics).
But none of that was enough to prevent an unexpected and terrifying carseat mishap recently that left this mom shaken to her core, my car damaged and my brand new toddler carseat destroyed. Thank God it happened after daycare dropoff so Zoe was not utterly traumatized, injured or far worse.
This definitely ranks as one of the scariest things that I've ever experienced. So what happened?
Last Thursday, I dropped Zoe at daycare and headed to work. I was in light traffic going about 25 mph when I suddenly started hearing a horrendous noise from the back right side of my car (where the carseat is) – a super-loud grinding/rubbing/screeching sound.
I happened to be on the phone with my husband and he heard it, too. It lasted for more than a second, then ended with an even louder sound and feeling of impact: the whole car shook. Instantly I knew I'd been hit! I had looked behind me but did not see another car nearby – but I did a double-take because my carseat was literally bending and torquing backwards, violently shaking as if some insane invisible force were being exerted on it. To say I freaked out would be an understatement.
I pulled over immediately, hyperventilating and scared. The car was driving fine, just like normal. Still on the call with me, E instructed me to walk around the outside of the car and determine the damage. We both thought someone had hit that back right panel of my car, yet I kept saying to him over and over "but what would cause the carseat to do that? It was like internal forces were working on it, not an external force like a car accident!" I'm pretty sure he thought I was crazy.
I walked around the car and there was no visible damage. I had not been hit. Then I cautiously opened the back passenger door to look at the carseat. It was bent, twisted and forced forward into the front passenger seat. My car's seat underneath it was compressed and contorted at a ridiculous angle. It looked as if a 10,000 lb giant had sat in it and crushed it. What on earth could have done this?
E started speculating that maybe my rear axle broke and flew up underneath the carseat, causing the damage. I was shaking and kept saying "Thank you, God. Thank you, God. Thank you, God" because what if Zoe had been with me? What if it had happened on the way to daycare, instead of on the way from daycare to work? I was sick with fear and what ifs.
E told me to take pictures with my phone and send them to him right away so he could figure out what went wrong. He also told me not to drive my car more than absolutely necessary – very slowly to work and that's it. I sent him pics of the carseat's odd new position, and of the underneath of my car, and then I noticed one of the tethers on the back of the carseat (visible because we're rear-facing, so it usually dangles off the back in plain view) looked as if it had been hacked or torn. I took a picture of that and sent it to E, too. Then I carefully drove the five minutes to my office.
No sooner had I parked when E called me back. "I know exactly what happened," he said, and he sounded grim. He proceeded to remind me that the Versa-Tether (mentioned above – normally hangs from the top rear of the carseat) used to be quite long and hang down behind the carseat and constantly get in our way. I always knew I should roll it up and secure it somehow, but never did – just pushed it out of my way when it became an annoyance.
This Versa-Tether, used for securing the carseat when used in a forward-facing position, had somehow fallen out of the car without me noticing. I remember scooping up Zoe and her backpack, juggling an umbrella and the car keys at daycare. Yes, it's entirely possible that on that rainy gray morning, I didn't see the long, black tether slip out of my car onto the ground.
Can you guess what happened next? I was blithely driving along, trailing the carseat tether behind my car (still attached to the carseat), when it got caught in my right rear wheel and began to exert unbelievably powerful forces on the carseat itself, and on my car door where it had slipped through.
The sounds I heard were the Versa-Tether being yanked by the wheel, the carseat being wrenched forward, and ultimately the strap ripping apart. The plastic on my car door melted from the heat of the friction. The paint there is worn away, and the force of the car pulling on that Versa-Tether exerted approximately 6,000 lbs of pressure before breaking it. Insane. I can't even begin to imagine my poor baby girl being in that seat when all of that happened. Again, thank you God.
I'm not blaming Britax for this – on the contrary, I take full responsibility for not winding up that extra, loose tether and securing it safely. I also take responsibility for not noticing when it slipped out of my car.
But that said, I've not been able to find ANY safety or security warnings on any of my Britax literature, their website, or any other place online about this even being remotely possible. I get that this was a fluke, but I think people should be aware that it could happen! I'm hoping that my scary tale can be a cautionary lesson to other busy parents who are also juggling kids, keys, bags and umbrellas.
If you have that long dangling cord on your carseat, please roll it up and fasten it out of the way with a rubber band, hair tie or binder clip. DON'T risk the possibility of it slipping out of your car door, sliding down onto the road, and potentially getting tangled up in moving vehicle parts.
I am very thankful this taught me a lesson without being a tragedy. Please pass this information on to other parents who may not be aware of this extra, important aspect of carseat safety.