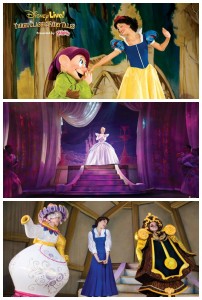 By now, you should know that I love all things Disney – and that includes when Disney on Ice glides into town each year to make our Ohio winter that much warmer and happier.
But this fall, Columbus has a special surprise in store – a brand new Disney Live! show featuring the classic tales of Cinderella, Belle and Snow White in a theatrical performance. Disney Live! presents Three Classic Fairy Tales will appear at the Schottenstein Center just one day only – Sunday, October 25 at 1 pm. It's billed as a magical introduction to live theatre.
Zoe has been to a few plays and musicals – high school performances of The Little Mermaid and Peter Pan, plus she just saw Pinkalicious recently. But next spring I'm hoping to take her to see Wicked on Broadway, so I am glad for the opportunity for her to see a big, gorgeous show in person now to continue her appreciation of theatre and help set the stage (so to speak!) for her first truly big show in NYC.
Here's a video to make you fall in love with Disney Live! presents Three Classic Fairy Tales! 
It's probably too late for me to do a ticket giveaway for this show, since it's coming next weekend, but please let me know if you'd be interested in winning tickets to a show like this in the future? Leave me a comment below. Also, a similar live entertainment event is coming to Columbus in December – the Marvel Universe Live show – so let me know if you'd be interested in tickets to that one, too?
And mark your calendars now – everyone's favorite, Disney on Ice, will be gliding into Columbus in early February 2016 with the popular "Let's Celebrate" show. You know I'll be doing a ticket giveaway for that one!
What sounds best to you – this October's Three Classic Fairy Tales? The Marvel Universe Live show in early December? Or Disney on Ice's Let's Celebrate coming in February? How lucky are we to be getting all three of these fun experiences right here in Columbus!