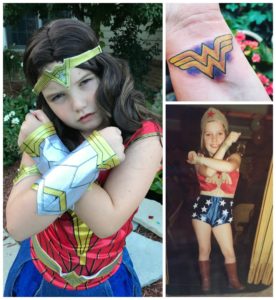 The new Wonder Woman movie that came out this summer was amazing for so many reasons – not the least of which is that it reminded me how much I loved the original Wonder Woman TV show as a kid.
Playing as Wonder Woman as a little girl always made me feel so empowered and strong!
Here, you can see little me rocking the awesome, custom, hand-made Wonder Woman outfit my mom made for me back in the '70s.
Even today, during and after my workouts at Rock N Shock, I feel the same way – super strong and powerful. Unstoppable – like there's iron under these curves. I love that feeling! It's what I tried to capture in my new Wonder Woman tattoo that I got this summer with my best friend and her daughter. In a word, this symbol says "GIRL POWER" and that's why I love it.
It's no surprise to me that last year, the United Nations named Wonder Woman an honorary ambassador for the empowerment of girls and women.
I loved the interview that mom, goddess and actress Gal Gadot did where she claimed "all moms are Wonder Woman!" (I wish I could find it and link it here. It was during her press tour to promote the new movie. I'll keep searching and add a link if I find it!)
I loved the UN speech the amazing Lynda Carter recently gave where she famously stated that all women are Wonder Woman.
I love that the new Wonder Woman movie makes such a fabulously feminist statement and is loved by men, boys, girls and women alike.
I love that my trainer and fitness mentor, Master Breaker Danielle Miranda (who is truly a real-life Wonder Woman if ever there was one), calls ME "Wonder Woman" ever since I got my tattoo and blogged about it.
I love that I finally decided to allow my daughter to watch the new Wonder Woman movie, even though there are some dark themes and scenes that initially made me want to delay it. I love how much she loves the movie – and that she has decided to be Wonder Woman for Halloween. Check out this sneak peak – does she rock this costume or what?!
AND I love that Hanna Andersson has matching mother/daughter Wonder Woman jammies right now – pricey, but adorable!
If you haven't seen the new Wonder Woman movie yet, I highly recommend it. She reminds us that we can be brave AND kind, strong AND compassionate, powerful AND loving. She's just the best. And we'll get to see more of Gal Gadot in this role in the upcoming Justice League movie.
In the meantime… may we all be Wonder Women every chance we get! The world could use more people like her.