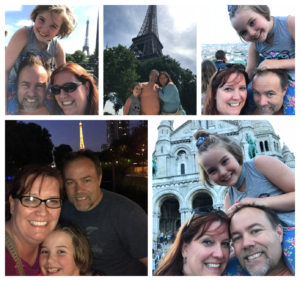 In June 2018, our little family embarked on an unforgettable ten-day European vacation with stops in London and York that are documented elsewhere on this blog. But you know what it's time for now? Paris, baby!
Yes, we took our 8 year old to the city of lights to fulfill her dream of visiting the Eiffel Tower.
Was it everything we hoped it would be? Yes, for the most part – Paris is pretty unforgettable. It wasn't perfect, but we definitely had some good adventures and treasured moments. Will our family return to Paris? Probably not… but that's just us. Your mileage may vary!
Paris: the Pros
Here are the things we loved about Paris!
Paris: the So-so
Here are a few things about Paris that could have been better.
Our hotel, the Novotel Paris Centre Tour Eiffel, was located right on the Seine and walking distance from the iconic Eiffel tower and several metro stations. It also had a pool with a retractable roof, although both the hotel and pool were slightly less than ideal if you ask E (the pool had a speedos only rule for men – so he was not allowed to swim in his traditional American swimsuit!). The hotel room also wasn't the cleanest we've ever seen, but overall it wasn't too bad.
We wanted to visit a museum in Paris, but we picked the wrong one. In hindsight, I wish we had just gone to the Louvre or Monet museum like every other tourist! Instead, we hit the Musee du Quai Branly – Jacques Chirac, which specializes in the indigenous art and cultures of Africa, Asia, Oceania, and the Americas. It's likely a wonderful museum very good at what it does, but it didn't give us the Parisian museum experience we were hoping for, and in fact scared us all half to death thanks to the hellish Asian horror exhibit we stumbled into. Oops! We probably should have researched that one a bit better.
Paris: the Cons
And, last but not least, here are a few reasons why we likely won't go back to Paris even though overall we did enjoy our three days!
Although we had many meals in cafes that were picturesque and lovely, we got to experience a grumpy old "typical Parisian" at one cafe who really soured us on the place. We asked for a chocolate croissant and also a plain croissant with Nutella; instead, he brought us two chocolate croissants. When I explained, in my rusty high school French, that our daughter would like a plain croissant with Nutella on the side – her preference, and also something they clearly had on the menu! – he refused and pointed at the chocolate croissant, indicating that she should just eat that. We saw others getting plain croissants so we knew they had them; he just didn't want to bring us one. What can I say, Americans are accustomed to better customer service than this… it was a bit annoying, to say the least.
Riding the metro in Paris, for the most part, was not a bad experience. However, on our last day, we had a slight mishap when we misplaced one of our used metro ticket stubs and then got chosen for a random check by metro officials. When we couldn't produce the used metro ticket stub, we were fined 50 Euros on the spot (more than $50) which felt like being robbed in broad daylight. The metro official couldn't care less that we were Americans who barely spoke a word of french – he was cold and completely uncaring and literally screamed at us. It left a bad taste in our mouths for sure. If you go, be sure to hold onto those used metro ticket stubs!
As I had read and heard from friends prior to our trip, a basic grasp of the French language is pretty critical in Paris. We had my cousin Karen and her son Joseph as our native-speaking tour guides on our first day, but after that we were on our own and felt pretty helpless with just my limited, decades-ago high school French to fall back on. I was pretty proud of us for tackling the metro on our own, but it was really our only option as Uber was fairly hit or miss in Paris and none of the drivers could speak much English.
Bottom line: if you speak French or you're going to Paris with a tour group or guide, you'll likely have a wonderful time! If you're on your own and don't speak the language, you might want to give this one a miss. There are so many other countries where they are pleased to welcome English-speakers; I think we'll take our tourist dollars to those in the future.
Have you been to Paris, and did you have similar experiences? I'd love to hear in the comments below or over on Facebook. And if you liked this post, please be sure to read the rest of our European travel series!