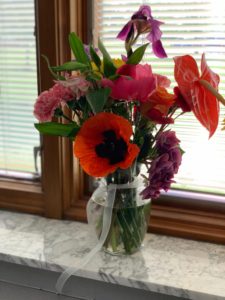 Just like I get all my great ideas from other mom blogs, my darling daughter gets hers from watching Youtube videos. She especially loves DIY and life-hack videos.
So, two days before the last day of school, she came to me and said she wants to recruit all her classmates to each bring a fresh flower to school on the last day for the teacher. She said she'd bring a vase, and it would all combine to make the prettiest bouquet ever!
I loved the idea but said no, there's not enough time, the moms will need more time to plan and get a nice flower.
Z said they can just cut one from their garden and bring it in.
I said no, I still don't think it's enough time, parents are dealing with a lot the last week of school, it's too last minute – let's do it next year instead.
She said NO mom, we're doing it! And she typed up a letter on Google Docs (which she learned how to do this year in 3rd grade), printed 20 copies and brought them to school. She talked up her idea with friends and placed one of her letters in each of her classmates' mailboxes the day before the last day of school.
Then, on the last day of school, Z brought in one flower in a glass vase full of water. It looked pitiful and I was so worried that no one else would bring a flower. But then at the bus stop, her classmate had a GORGEOUS flower to contribute. So there's one, at least, I thought!
And when I went to school for her last day party, this is what I saw: the most beautiful collaborative bouquet any teacher has ever received. It was exquisite!
And it was ALL Zoe's idea. She made it happen despite my opposition. Z shot down all my protests, believed in her idea and trusted her classmates. I am so proud that she didn't let me stand in her way, and that she persevered and convinced all her friends to join in this beautiful idea!
I love that Z taught me a life lesson without even meaning to. Kids do this quite a lot, I've found.
I hope you like this fun, inexpensive idea for a teacher gift on the last day of school next year: a collaborative bouquet. And even if you wait until the very last minute, chances are it will still work out okay!
Do you have other fun last-day gift ideas for teachers… or other examples of when your kids were the teacher and you were the student? I'd love to hear in the comments below or over on Facebook.