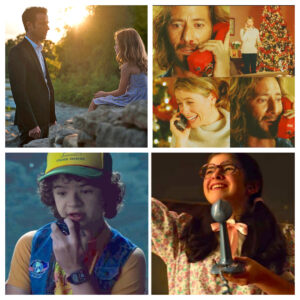 I love a good movie, but since the Golden Age of TV dawned with the Sopranos in 1999-2000, I also adore a wonderfully cinematic TV show. In some ways I almost prefer a really well done television show, as it gives you more time with the characters and more depth of world- and story-building.
Here are my favorite episodes of TV, from some of my all-time favorite shows. They are not ranked in any particular order as I love them all.
Lost – "The Constant." This episode has everything: love, romance, despair, scifi, time travel and a seemingly impossible quest. It even has seriously amazing Christmas vibes. Desmond and Penny will always be one of the greatest TV romances for me – and Lost will always be one of my favorite shows.
Stranger Things – "Chapter Eight: The Battle of StarCourt." Clocking in at almost 90 minutes, this episode feels like a movie. The unexpected musical sequence to "The Neverending Story" was the icing on the cake for me – I have watched that scene over and over. There's so much action and drama here, you're on the edge of your seat – and then the sweetness of that song between Dustin and Suzy provides such an amazing counterpoint. Plus, they can really sing!
The Leftovers – "International Assassin." I was not ready for this episode. No one could be. It is otherworldly and intense and also, you get to see Justin Theroux's naked butt. It's confusing and mystifying and magical, kind of like this entire show. If you haven't seen the Leftovers and you're okay with never knowing all the answers, you absolutely should. Side note: the Leftovers is from Damon Lindelof, the same brilliant showrunner and creative mind as Lost.
This is Us – "Memphis." Clearly I was not alone in feeling this is one of the best hours on television; the NYT felt the same way. It's like a mini movie and it is magnificent. If you love the character of William on This is Us, played by the incomparable Ron Cephas Jones, then you will adore this episode.
Westworld – "Kiksuya." I'm seeing a trend here in that each of these episodes made me cry. I guess I like to cry?! But the Kiksuya episode of Westworld again is like a mini, stand-alone movie. It is beautiful, epic, cinematic, emotional and moving. The acting by Zahn McClarnon is spellbinding.
So, there you have it – my favorite episodes from some of my favorite TV shows. What's your favorite show or episode? I'd love to hear your stories in the comments below or over on Facebook.