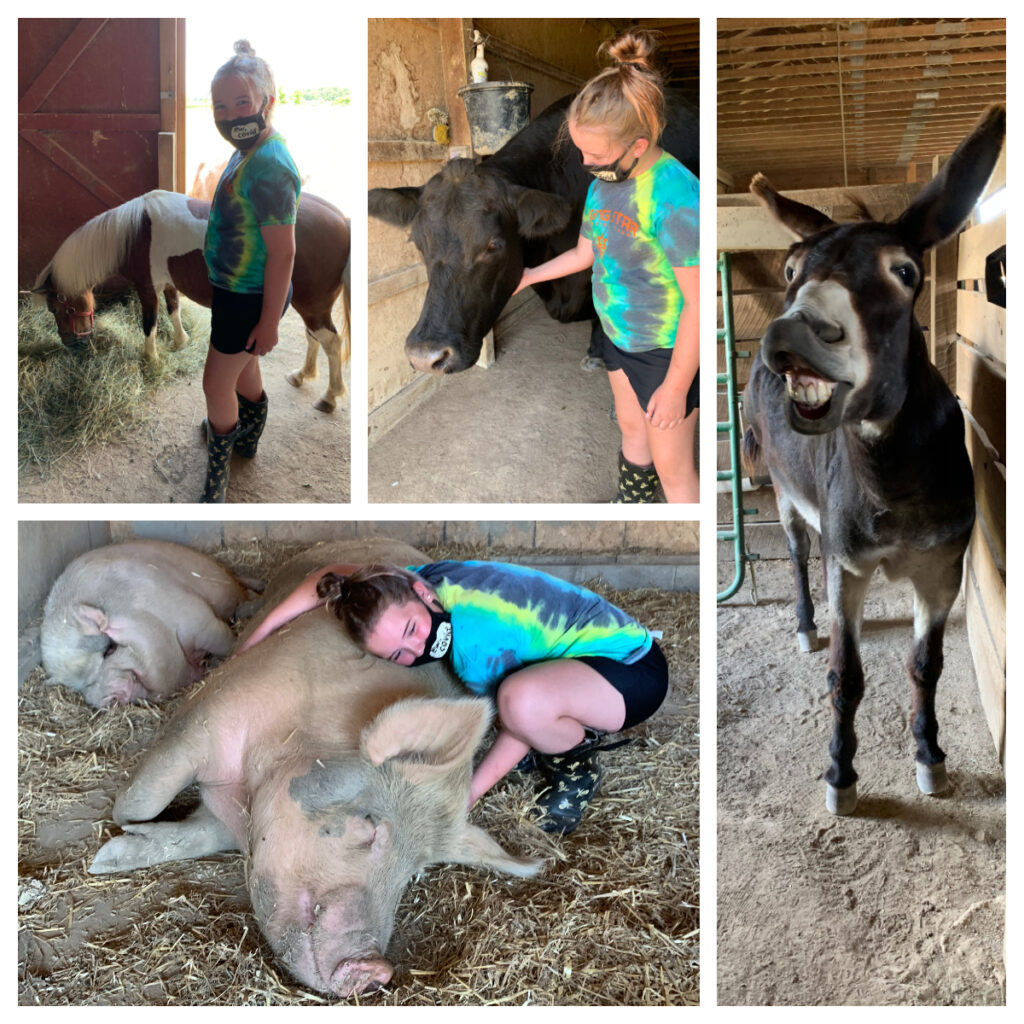 Sometimes it all seems like a bit too much. Coronavirus is wreaking havoc on our health, education and economy. Our country's political divisiveness seems hopeless. And racial equality seems to take one step forward only to take two steps back.
When I start feeling this way, I know it's time to do something soul-nurturing – like spending time outdoors, around animals and off screens. So when I saw that Sunrise Sanctuary was having its monthly Farm Days open house, I jumped at the chance to take Z on a farm outing and animal adventure.
Z and I set off after lunch on our road trip to Marysville with good tunes blasting and our farm boots on. We were ready for action! We made it to Sunrise Sanctuary in a little over 30 minutes and parked, then walked up to the registration table to check in.
Before you go: register in advance to hold your spot at their monthly Farm Days open house – $10 for adults, $5 for kids.
At 1 pm, the gates opened and we began to wander around the farm grounds on a self-guided tour. There were friendly, safety vest clad volunteers in every barn and animal area to answer questions and offer helpful tips about each animal's likes and dislikes.
It was an extremely hot day in Ohio – 90 degrees or warmer – so many of the animals were relaxing in the shade or congregating near fans in the barns. We got to cuddle, scritch and pet many pigs, cows, barn cats, horses, sheep, alpacas, goats and mini ponies.
Our favorites were the giant, gentle, sleepy pigs who happily grunt as you pet them. We also loved the enormous steer, especially Baby Moo, a sleek yet stocky black bovine who was very content being petted, hugged and cooed to!
We also saw tons of farm fowl, such as chickens, geese, turkeys and ducks – but to Zoe's chagrin, none of them wanted to be petted or held. The duck pond at the back of the property makes for some great photos, though!
Sunrise Sanctuary is on a lovely plot of land and is an enjoyable place to take a walk. Add to that the large number of friendly, peaceful farm animals living out their best days and you have a truly enjoyable afternoon.
Kudos to the owners for opening up their land to the public one day each month, and most of all for rescuing all of these animals and giving them such a wonderful, pastoral life. None of the animals were confined, all were happy and I don't think they minded the company of the visitors and volunteers one bit.
Have you ever visited Sunrise Sanctuary or another farm like it, and did you love it too? If you know of other places like this where you can go to visit and pet the animals, please let me know – it's one of our favorite things to do!