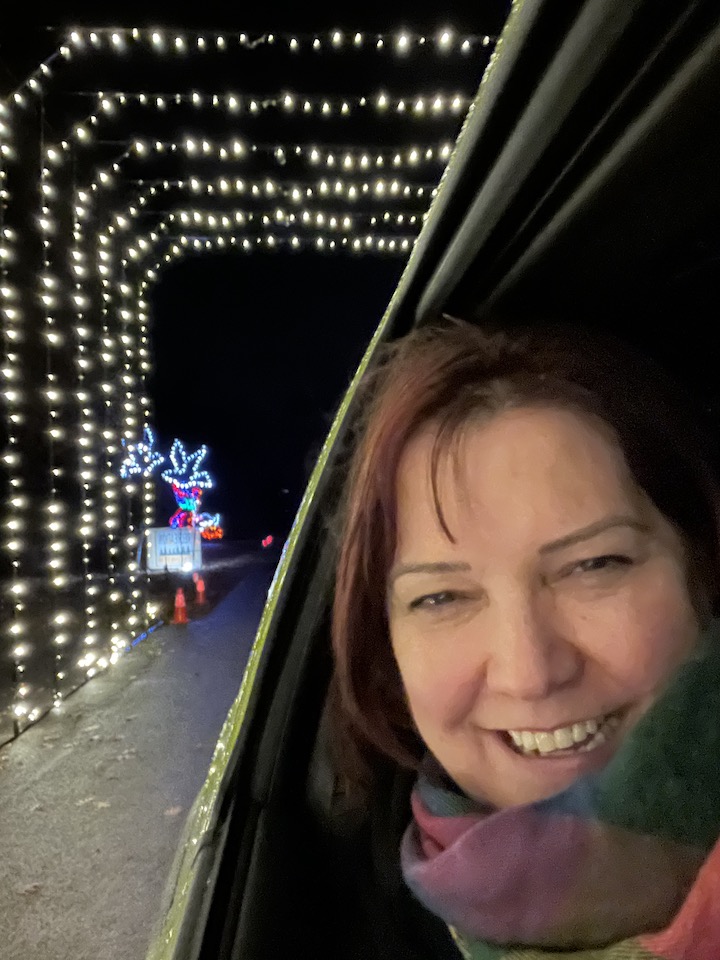 Every year, we start our holiday season with a drive through everyone's favorite holiday light show: Butch Bando's Fantasy of Lights.
E and I have been celebrating this fun annual tradition together for longer than our sweet Z has even been alive.
Fantasy of Lights is located at Alum Creek campgrounds. Just head north on S. Old State from Polaris after dark, starting tonight and running through New Year's Day. You can't miss the welcome sign!
For the past few years, our family has taken it up a notch by visiting the Bando family's special pre-opening event for bloggers and media. This allows us to get a sneak preview of the new light show – because they definitely step it up a notch every single year! – so we can share it with you.
And, because the Bando family is super generous, we always end up with a swag bag full of goodies and free tickets to give away to our lucky readers. It's always one of our most popular blog giveaways of the year!
I'm happy to report that this year's Fantasy of Lights drive-through show is brighter and merrier than ever, with new displays and digital light walls that will dazzle and amaze. There's even a special PEACE light display at the end where you can get out of your car and take a family photo!
Luckily, E drove us through the Fantasy of Lights this year, so I got to discover a fun new hobby: taking selfies out the car window while driving through the sparkling light tunnels. I got some good ones! We even had some snow flurries to help get us into that fun and festive holiday spirit.
Since I've been blogging about Butch Bando's Fantasy of Lights for ten years now, I thought I'd do a quick rundown or roundup of our past posts. Then, we'll get into our giveaway!
That brings us to 2022 and the preview show this week was better than ever. Best of all: we're once again giving away several free tickets to Fantasy of Lights, courtesy of the generous Bando family!
To win, all you have to do is comment below or on our Facebook page and let us know your favorite holiday tradition with your family. We'll pick a winner at random on December 1st. And if you don't win, follow @BBFantasyofLights on Instagram for a post worth $5 off your ticket!