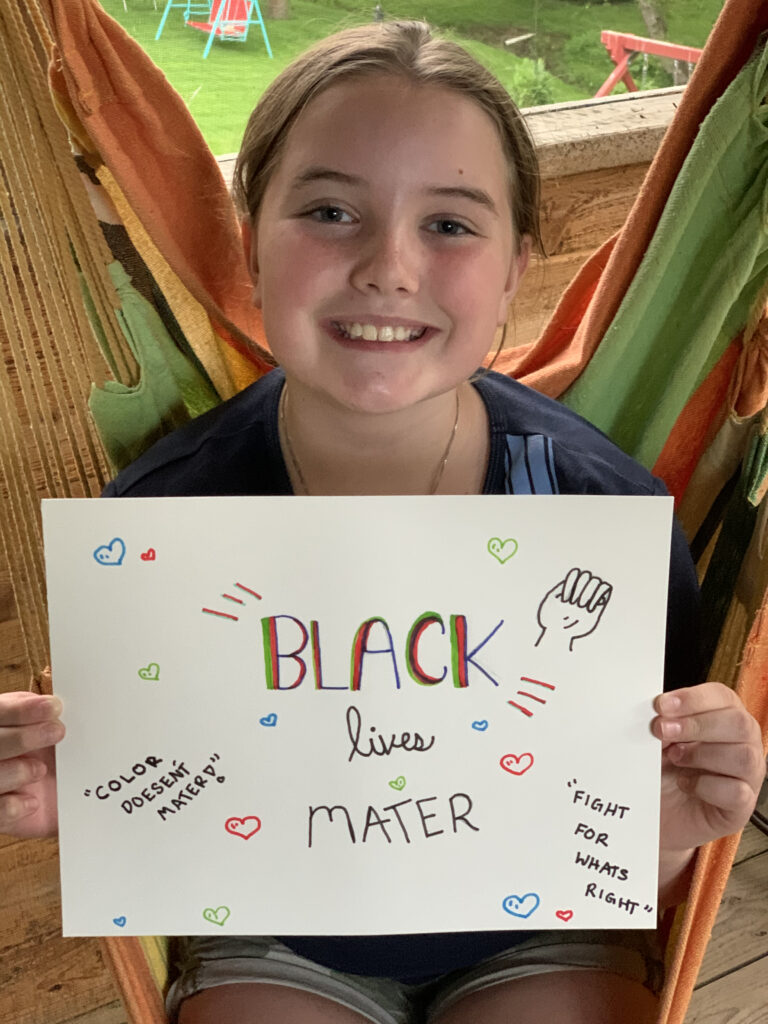 One of the hardest parts of 2020's Coronageddon, especially for an extrovert like me, has been isolation from friends and far-off family.
It can be truly hard to feel a sense of community and belonging when everything is socially distanced or via Zoom calls.

That said, several issues and causes have bubbled to the forefront this year that have provided a reason to rally and band together in new ways.
The issue closest to my heart is racial inequality, which has obviously been a problem in this country forever but has been thrust into the spotlight this year because of horrendous police brutality against people of color.

Specifically, the murders of George Floyd, Breonna Taylor and so many others at the hands of racist police have brought to the forefront a national movement to push forward racial equality and assert the simple truth that Black Lives Matter.
And perhaps because of the national spotlight finally being focused on the problems of racial inequality, a local movement began right here in our own Lewis Center community. It was started by students with a simple, anonymous Instagram account called @DearOLSD that shared incidents of overt racism at the high schools and middle schools in Olentangy Local School District.
Many parents in our district were horrified – myself included. I had no idea that things were this bad right in our own community. My heart aches for the students who have experienced such racist encounters with both peers and adults. I wanted so badly to be able to help in some way.
I participated in the Olentangy School District's town hall meetings against racism, but they felt like a lot of talk and no action. I wanted to do so much more!
Then sometime in July, I began seeing signs for "Olentangy 4 racial equality" and I reached out to the email address listed. That's how I became part of the Parent Diversity Network (PDN), a parent-led group that is committed to ending racial inequality and racism in Olentangy schools.
PDN is a parent-led group with a mission to advocate, raise awareness, hold the Olentangy School district accountable and take action when needed in the areas of racial and other forms of equality in our schools and community.
PDN members seek accountability measures from the schools, both at the district and individual building level. We are not an adversarial group and our goal is to work with OLSD and school administrators to find solutions and move racial diversity initiatives forward.
All of us with PDN are passionate. We represent parents from every school in the district. Many of us have day jobs – stay-at-home parents, lawyers, communicators, technologists, musicians, teachers and more – but during our evenings and any chance we get, we're working hard to provide our kids with a better experience, more racial diversity in the schools and an end to systemic racism and inequality.
We know that OLSD has racial equality and diversity on their to-do list, but it's not as high a priority for the district as it is for the PDN. We see it as priority one. So we're here to keep the district and schools accountable – and to point out (and root out!) issues of systemic racism and inequality when we see them.
For example, recently members of the PDN came to the aid of a substitute teacher who was banned by Hyatts Middle School – and subsequently the entire Olentangy District – for allegedly not "keeping it G rated" in sharing relevant family stories for a lesson related to the instructional topic "Life in the Southern Colonies."
According to students in the class, material covered by the sub was no worse than what can be found in course materials and readings. Still, the substitute teacher was seen out of the building by the Hyatts principal and vice-principal, leaving the substitute feeling intimidated, embarrassed and harassed.
The substitute teacher is African American – the administrators at HMS (and, let's be honest, most of Olentangy schools' teachers and leaders) are white. When the situation was brought to the attention of the PDN, we suspected issues of implicit bias and immediately jumped into action writing letters to OLSD to ask for a full explanation of what had transpired and why he was singled out, as well as reinstatement of the substitute teacher.
Well, PDN never did receive answers – we still don't know why the substitute teacher was singled out, nor do we know whether the HMS principal and vice-principal received any corrective action for their behavior.
But we do know that more than a dozen PDN members showed up at Olentangy's administrative offices to back up the substitute teacher at his meeting with OLSD's HR representative to give his side of what happened. And we know that the district certainly took notice of our group of passionate parents demanding appropriate action and accountability.
Happily, we also know that the substitute teacher has been reinstated as an active member of the Olentangy teaching network. It's just one win – but it's an important one!
Since that time, PDN has had other wins – like a recent phone call with Mark Raiff, superintendent of our district, so that he could learn more about PDN and our goals.
PDN is also setting up school-based meetings with each of the 24 schools in our district. Thanks to PDN, there is a parent-led diversity committee at each school working to help the administrators and teachers to bring more racial equality and diversity into the curriculum and overall student experience.
As a white woman, I know I still have much anti-racist work to do in my own life, thoughts and words. Part of that is standing up against oppression and white supremacy whenever I see or hear it – and looking more closely so that I don't overlook instances that may be right in front of my eyes yet still hard to see through my own privilege.
My biggest personal win in the battle against systemic racism and inequality is the way E and I have raised our beautiful daughter, who has the biggest heart in the world and will not stand for any perceived inequality or slight.
And I am so thrilled to have found the 100+ people who make up the Parent Diversity Network. I am happy to have finally found "my people" even in the midst of a global pandemic. PDN is definitely one of the best things to have come out of 2020.
If you're a parent in the Olentangy district and you're interested in joining up with the PDN group to help move racial equality work forward in our schools, reach out to Parent Diversity Network today. We'd love to have you join us.