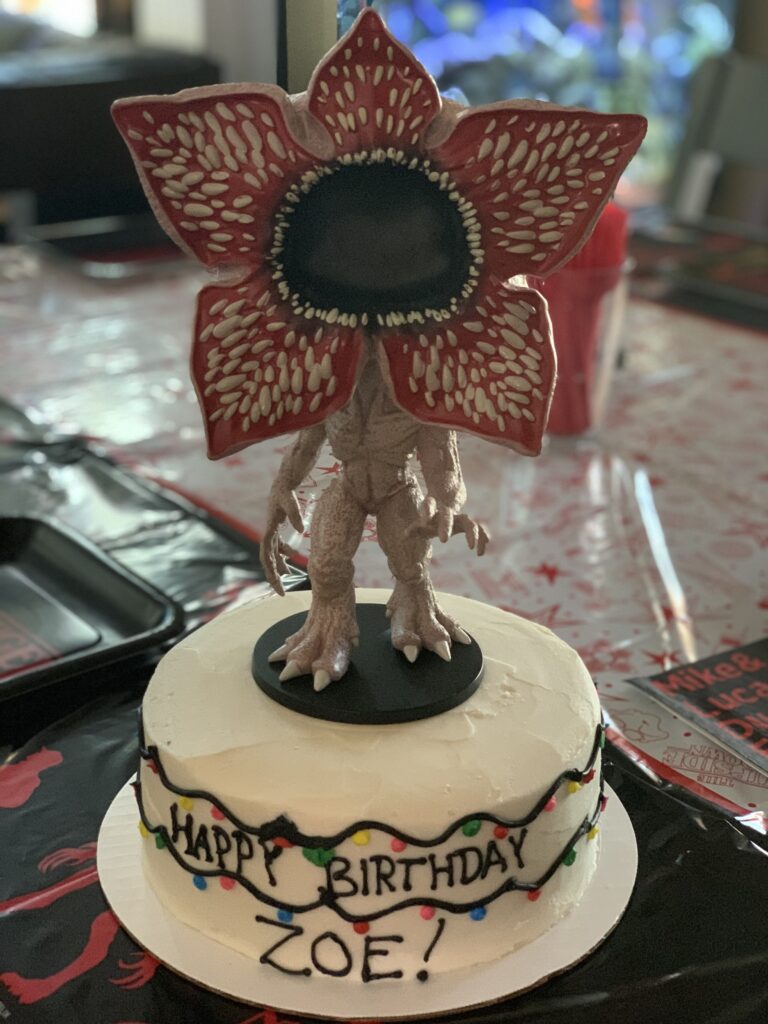 I love throwing themed parties.
Choosing a theme and then bringing it to life in a myriad of ways through different party elements is one of my very favorite things to do.
Of course, there are things I don't like about hosting, like anxiety and agida about getting the house clean, plus worrying if everyone come and then if they do all come, worrying that we'll have enough food or if everyone will get along. Those things aside, though, planning is my thing and planning parties is the best.
With our beloved only kiddo turning 11 this year, that means I've now planned and executed a total of 11 themed birthday parties. I've got it down to a science.
So, in honor of both the offspring's annual accomplishment and my own, I thought I'd document each of our parties thus far as well as offer some tips for how you can pull together the perfect themed event.
First, a few theme and party planning tips:
Have the party recipient pick the theme. There's nothing worse than choosing a theme, bringing it to life with an epic party and then having the recipient tell you they don't like the theme. Don't let that happen to you! Always let the birthday kiddo choose the theme – then it's up to you whether you keep the rest of it a surprise until the big day, or include them in the planning. I personally like to keep most themed elements hidden until the big reveal.
Themes can be almost anything. Get creative! You can theme a party around a color palette, a favorite book, movie or TV show or character; a time period, vibe or aesthetic; a current or past trend; or even an animal or plant. If you can't find pre-made party supplies in your theme, you can always have them made through Etsy, Society 6 or other vendors.
Give yourself a lot of time – several months, ideally. Especially if you have a unique or unusual theme, you'll want to allow plenty of time for special order items to come in. I was really sweating my themed custom gift wrap this year, but fortunately, it arrived just in time. Things that are hand-made from Etsy and other places do take more time. Likewise for fancy cake bakers! They often run a month or two in advance for big special orders.
Bring the theme to life in unique ways. Think beyond just cake or gift wrap – there are so many fun other ways to bring a theme to life. I usually get themed balloons, party favors, decor items like paper plates and napkins, signage or streamers, plus a few small gift items to coordinate with the theme. I love the idea of making baked goods to match the theme, and I've seen friends do a terrific job with this at their parties. In addition, if it makes sense, you can even prepare a Spotify playlist that goes along with your theme!
Document it all. Be sure to take lots of great detail pics of your themed elements so that you can share them on social media and look back at them to admire your creativity and ingenuity. As much as I adore party planning, I also love reminiscing over past parties and all the sweet little details!
And now, a timeline of Z's past birthday parties and themes:
1st birthday – I picked the theme and we went with a jungle/zoo animals vibe. I had adorable table cloths, napkins, plates, cups, favors, small toys for Z and cake candles in the theme – plus we had a BalloonTime kit so tons of helium balloons. Z had so much fun! It was a family-only affair at home. Z's big present was a zebra ride-on scooter. She nursed and took a nap in the midst of the festivities, but no one minded; it's Z's party and she'll nap if she wants to! When she woke, she was delighted to dive right back into party mode and have her first-ever taste of birthday cake.
2nd birthday – We didn't really have a unified theme for this one, but I had an adorable Tokidoki cake made with pink party supplies. We held her party at Gymboree which was an absolute blast for all the kiddos. Lots of friends came, and some family too. The kids ran, danced, chased bubbles, climbed, jumped and wore themselves out! It was so much fun. Z wore a sweet pink party dress and her big gift from us was a new play structure for the back yard, which she adored at first sight.
3rd birthday – This party was pink and green-themed and it was a huge, epic bash! We had the party at Recreations Outlet where kids of all ages can run, play, climb, swing and bounce. It was a hit! We invited tons of friends from Z's new and old daycares, our families, neighbors and more. I brought the theme to life with paper goods, favors and a sparkly green (St. Patrick's Day) outfit for the birthday girl. Since we had moved to a new house by this time, her big gift this year was another amazing new play structure for the backyard!
4th birthday – Z picked an Ariel theme and we had another big blowout bash at Recreations Outlet. Even more friends came to have fun with us. We had family in town for it too, but E's parents stayed back at the house so Z's Grandma could continue painting the amazing play castle E built for Z in our basement. We had Ariel party decorations, favors and toys/figurines to adorn the cake and to play with afterward. Z started giving out the cake toppers to her friends, but I managed to hide most of them before she could give them away. That's our generous little cutie pie!
5th birthday – Z picked a Frozen theme. This may have been her most legendary bash ever – we had it at Buckeye Bounce with our largest number of attendees to date. We had an amazing Frozen cake plus coordinating balloons, party supplies, accessories for Z and favors for her guests. The highlight of the party was a live appearance from the one and only Elsa, who sang to Z and her guests, enchanting everyone! I went way over the top with this party but five is a pretty big birthday and it was such an awesome time. Z still remembers this one – especially her friend Queen Elsa.
6th birthday – Z chose a Pocahontas theme and we held her party at Worthington Community Center's pool. We had a jaw-dropping Pocahontas doll cake, matching cupcakes and coordinating party supplies, balloons and more. I even found Z an adorable Pocahontas shirt to wear and a bikini to match. Z loved all her gifts, had a great time swimming and splashing with her friends and was delighted that Emmalina, our Christmas Elf, showed up on her birthday morning to help her celebrate.
7th birthday – Z opted for a Moana theme and we held her party at Gym Xtreme for lots of running, jumping, climbing, bouncing and more. I found themed party decor, balloons, coordinating Moana shirts for Z and I, and she even got a Moana doll as one of her gifts. By now, we knew the secret to a great birthday party was to get all the energy out of the kiddos in a big open space! Z's most memorable gift was a new big girl bike from her Cali grandparents. She's still riding that bike to this day!
8th birthday – Z chose a panda theme and we held the party at Sweet and Sassy for makeovers, a fashion show, a ride in a pink stretch limousine and lots of high-energy, dance party fun. E and his dad both came and were the only guys in the place – it was so cute. Z and her friends loved getting their nails, hair and makeup done as well as the option of sparkly outfits for their walk down the runway. I had a panda cake made, as well as custom panda sugar cookies and lots of cute panda party decor and balloons.
9th birthday – Z requested a sleepover party at home so I hired a party planner to bring gorgeous sleep-tents and decor for a Dreamland party theme. Thanks to Larissa at Perfect Events, this was by far our most picture-perfect, beautiful and Instagrammable party ever. I had themed cookies, cake and party goods as well as favors for the guests. It was at this party, however, that I learned sleepovers are best for small groups. We had too many girls, too many phones and too much drama – it was not our most fun party (although there were fun moments, of course). Lesson learned: a party can look like perfection but still not be quite the right vibe!
10th birthday – Z picked the theme: Stranger Things! This was perfect for a big slumber party at home. We brought the theme to life with signs on the door and Z's room, custom decor items from Etsy and Stranger Things wrapping paper. I also bought Stranger Things pjs for Z and coordinating tshirts for E and I. The delicious themed cake came from Marna Cakes and we topped it with an amazing demogorgon from Funko Pop. I also got coordinating themed cookies from a baker I found on Etsy. Of course, the kiddos had a waffle buffet for breakfast since Eleven from Stranger Things loves Eggo waffles! I made a Pinterest theme board to collect ideas as I was party-planning.
11th birthday – Z picked the theme: cottage-core Amanita mushrooms and green frogs. We held a small, Covid-friendly slumber party at home. It was hard to find things to bring the theme to life, but I made magic happen anyway! I had custom themed gift wrap printed from Society 6, found gorgeous paper mushroom lanterns on Amazon and sourced adorable mushroom garland from Michael's. We also commissioned an incredible mushrooms and frogs cake from Short North Piece of Cake, plus a DIY mushroom and frogs cookie kit from Marna Cakes. I couldn't find balloons or table/ plasticware in our theme, so we just picked colors that coordinated. For the party itself, we hired Larissa at Perfect Events again to set up an amazing "glow party" in our basement, complete with tons of light effects and sleep-tents. It was adorable, we kept it to three kiddos total for the sleepover, and Z and friends had a fantastic time.
Phew, I'm exhausted just thinking about all those parties. Fortunately, I get a whole year to plan each one! Believe it or not, it's almost time to start thinking about #12.
What's your favorite party that you've ever hosted, and did you go all in with a theme or keep things simple? I'd love to hear your best party planning tricks and tips in the comments below or over on Facebook.