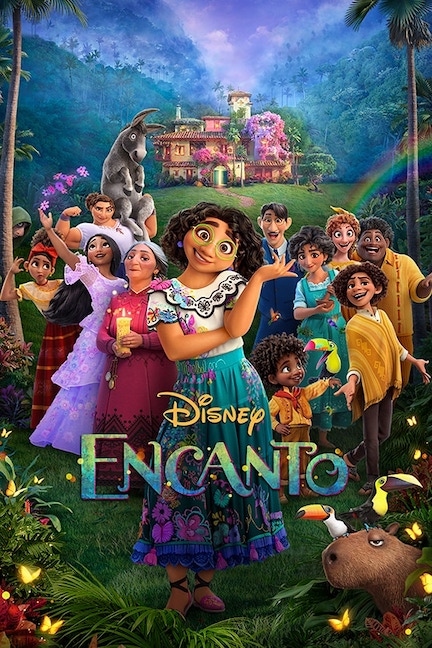 Disney has finally come out with a movie that I love as much as Moana.
I adored Moana the second we saw it at the theatre in 2016. It instantly shot to the top of my favorite Disney movie, princess and songs list.
We listened to the Moana soundtrack nonstop. Xage turned seven with an adorable Moana-themed birthday. I still watch the movie often on Disney+.
Now, six years later, I'm Encanto-obsessed like so many others.
After watching Encanto for the first time recently with Xage (and again more recently with hubby), I'm charmed, bewitched and enchanted by Disney and Lin-Manuel Miranda's latest musical.
Encanto is about family, joy and magic – and about finding our place in our family, community and this world. It's an absolutely perfect musical for a pre-teen who is still finding their way, so I'm not surprised Xage loves it too.
I only wish Xage was up for having an Encanto-themed birthday! But alas, our days of adorable Disney-themed, single-digit birthdays are behind us.
Still, we can certainly watch Encanto together and get the songs stuck in our heads.
I can't believe how catchy and remarkable "We don't talk about Bruno" is. It's unbelievably complex and I can't stop listening to it. We DO talk about Bruno at our house – a lot! I believe I have TikTok to thank for Xage loving this movie and song.
Honestly, there's so much to love about Encanto. First, I'm enamored with the gorgeous Latin American scenery and setting (it's actually Colombia, but it surely resembles gorgeous Costa Rica, where we are heading next month).
Then there's the music. Look, anytime Lin-Manuel is involved, it's going to be a hit for me. I love that Disney had no idea "We don't talk about Bruno" would be the blockbuster that it is. I also adore "Waiting on a Miracle" and feel every darn lyric of "Surface Pressure."
Then there are the characters. Mirabel is amazing in every way – a gift and a treasure. Supposedly, she's the only member of the Madrigal family without a magical gift, but I've got news for you – she's epically gifted. She is smart, brave, kind, full of empathy, hard-working, grateful, loyal and loving, and the list goes on. I'm on team Mirabel. And team Bruno!
Sometimes family weirdos just get a bad rap
Bruno is the Madrigal family weirdo and he's also pretty awesome. As the black sheep and weirdo of my own family, I can definitely relate to Bruno. Family weirdos unite!
Oh gosh, I could go on and on about this movie. The beautiful diversity. The magic. Girl power galore. Emotional realness. And the fact that it's all basically an allegory for familial trauma that gets passed down, over and over, until someone wakes up, opens their eyes and makes a change.
Just watch Encanto if you haven't already – and then let me know what you think in the comments below or over on Instagram or Facebook!