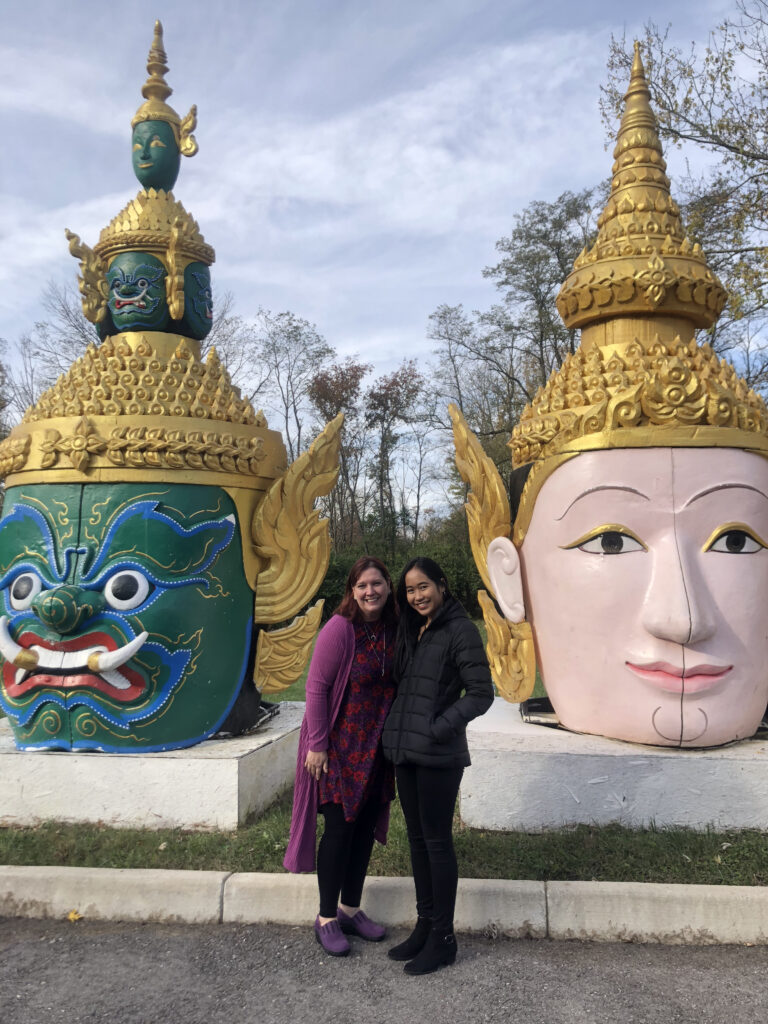 For many years now, just like REM sang, I've been losing my religion.

Although I still have the same inner relationship with a higher power that I've always had, I no longer use or think about it with traditional Christian terminology.

That's because for a long time, Christian dogma and doctrine has not felt right to me. There is almost more bad done in the name of Jesus than there is good, and that's truly a sad statement.
Anyway, this post is not about Christianity. This post is about me researching and trying out a brand new religion at the tender age of 50 (truthfully, the eve of 51, since my birthday is just around the corner).
This change is a long time coming. I took a class in world religions in college and have continued to read and dabble ever since.
I did a lot of reading about Judaism in my 20s, but it never felt quite right for me. Then in my 30s and 40s, I learned a lot from friends who are Pagan or Wiccan. There are many things I like about nature-based spiritual practices. Still, that too never quite felt like "the one" for me.
Somewhere in there, I also spent a little time at a Unitarian Universalist church, which some say is a sweet spot between Christianity and nature-based spirituality. I liked it, but it never stuck.
I even visited a Thai Buddhist temple here in Ohio while our Thai daughter Napa was living with us. I loved the experience, but because it was all in Thai, I couldn't really understand or relate to much of what I heard.
So imagine my joy when I attended an introduction to SGI Buddhism meeting recently at the invitation of a friend and felt immediately at home, comfortable and inspired. Buddhist words and values speak to my core. Buddhist chanting feels like something I can and want to do. So, I'm happy to share that I am now a budding, baby Buddhist! It really feels like a perfect fit with my life and spirituality.
About Buddhism
On the intro to Buddhism call that I joined, I heard that Buddhism centers around the ability we each have within ourselves to overcome any obstacles in life. The Buddhist nature – the ability to transform our pain and suffering to peace and happiness – lies in all of us.
I also heard about having wisdom, courage and compassion; furthering harmonious optimistic advances; and the leadership of women. This, plus being greeted at the outset with "hello ladies, gentlemen and nonbinary friends," won me over from the get go!
As a writer and life-long lover of words, I have to admit it was the words of Buddhism that spoke to my heart. On the call, phrases like "our lives shine like precious jewels," "we have a magnificent palace of happiness in our hearts" and "we must make our lives shine radiantly" truly moved me.
I also loved hearing from diverse speakers about changing poison into medicine, protecting the dignity of life for all beings and having pure, strong hearts as we determine we will win at life, no matter what. With every speaker, I became more and more enamored and ready to sign up.
And the best part? There is no "signing up" per se – with Buddhism, one simply chants. Through daily chanting of "Nam-myoho-renge-kyo" we manifest the Buddhist principle that we all possess infinite courage, wisdom and compassion. Through the chanting, we transform to the very best of ourselves, and improve life to the best it can be.
According to SGI president Daisaku Ikeda, "the important thing is to chant each day filled with a sense of rhythm and cadence—like a horse galloping through the heavens." If all this sounds mystical, it is – and yet also so simple. I absolutely love the beauty, simplicity and positivity of this spiritual practice.
After just one meeting and only a few chanting sessions, I am clearly no expert – but I personally found the best way to try on Buddhism was simply by diving in.
Have you tried out a new religion or spirituality before, or do you practice the same faith as your parents or family of origin? I'd love to hear how you came to your specific spiritual practice in the comments below or over on Facebook.