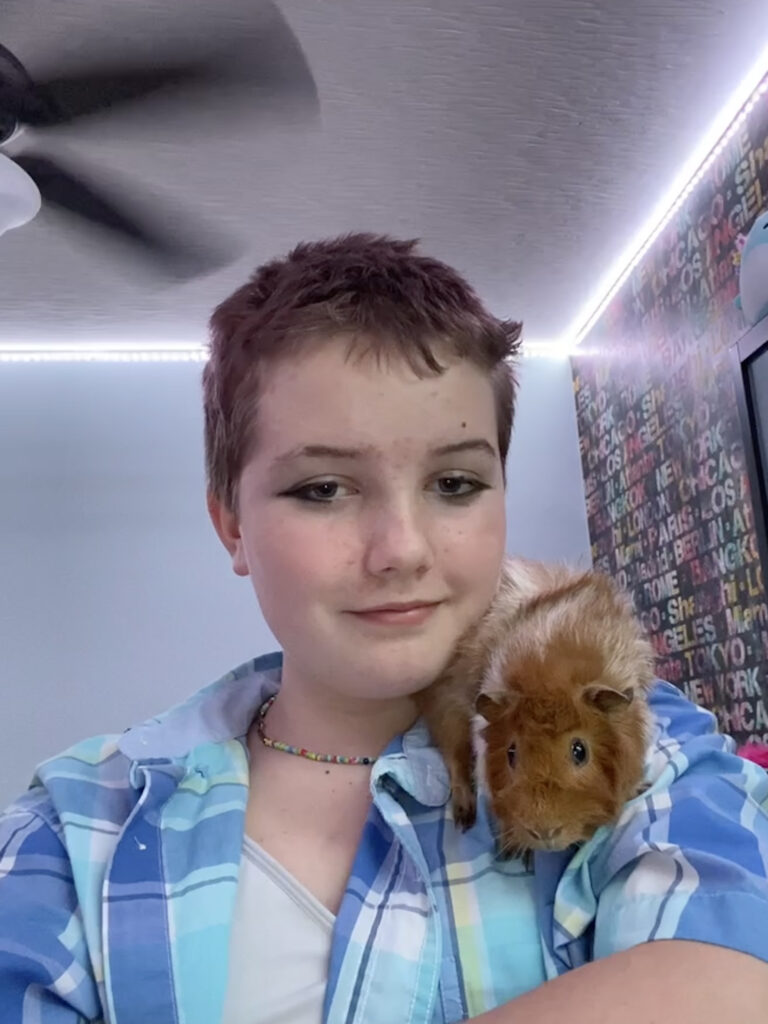 This is the first year that seeing National Daughters Day posts on Facebook hits different, as the kids say.
Xage, previously known to us as our beloved daughter, came out to us in January 2021 as nonbinary and uses they/them pronouns. They have been our beloved agender or genderless child ever since.
That day, our lives changed immediately, both in big and imperceptible ways.
But it wasn't until a few days ago, when I started seeing friends' social media posts about "National Daughter's Day," that I realized just how much has changed.
Having a nonbinary or agender child is awesome, as I've written about before. There is such freedom, creativity and self-expression inherent in breaking out of the binary.
It is a joy to see your child break free from the box – that is, society's expected norms – in order to blossom in their own unique way. There is an explosion of possibilities and that is so exciting!
The only (small) down side as a parent is that, quietly and occasionally, you may miss the person you once thought your child was.
For example, once in a while I will miss certain things about having a daughter. I miss the ease and familiarity of saying things like "girls night" and "girls only" and "just us girls." And yes, it did feel a little weird not to post a National Daughter's Day accolade to my favorite kiddo, as I have in years past.
Heck, one of my favorite tattoos says "GIRL POWER" in big letters. I got it to represent myself and all the amazing girls and women in my life – but certainly first and foremost my incredible AFAB (assigned female at birth) child. Now, the tattoo has lost a smidgen of its resonance.
Xage and I used to go to a Mother-Daughter tea every year. E has taken Xage to countless Father-Daughter dances. Those are just fond memories for us now – but to be clear, Xage was growing out of events like that anyway, regardless of their gender expression.
Truly, when you have an agender child, there are far more positives than negatives. I am so happy Xage is their real, authentic self now. I don't need "daughters day" – I can post a glowing rave about Xage any day of the week…and I do, often. Xage's awesomeness is not tied to their gender or lack thereof.
Even better than posting to social media, which verges on performative anyway, I can write love notes for Xage's eyes only. I love to do this and have been known to tuck notes into backpacks, pants pockets, their lunch or their clean laundry.
There are so many cool things and experiences that Xage and I can still share. Many of my favorite things about having a daughter are still a special part of our relationship. For example:
We can still wear matching shirts or outfits – like the tshirts I got us for Pride
We can still dress up fancy together to go out to eat or to a fun event
Xage still does my makeup sometimes – my favorite thing ever
We can still share clothes or accessories (I secretly love it when they steal my stuff)
And, we still love to do a lot of the same things together, like crystal shopping, going to fancy tea parties or exploring cool new markets and creepy haunts.
It doesn't do anyone any good to "mourn" the kid we thought we had. Let's face it, our children are supposed to grow, develop, evolve, change and become their own person. That's literally their job.
Regardless of gender, kids are not supposed to stay the same all their lives.
It's okay to look back fondly at former ages and stages (or, in our case, gender expressions) BUT it makes no sense to long for those days. Your real child is here, right in front of you, flesh and blood and very much alive; that's where your energy, attention and affection should be directed. Not to the past or some made-up ideal in your mind.
If you have a gender-diverse child, reach out to organizations like Gender Spectrum for support and encouragement.
And if you once had a daughter but then discovered you have a different sort of child, do those made-up days like "National Daughters Day" bother you, or do you ignore them? I'd love to hear your parenting stories in the comments below or over on Facebook.