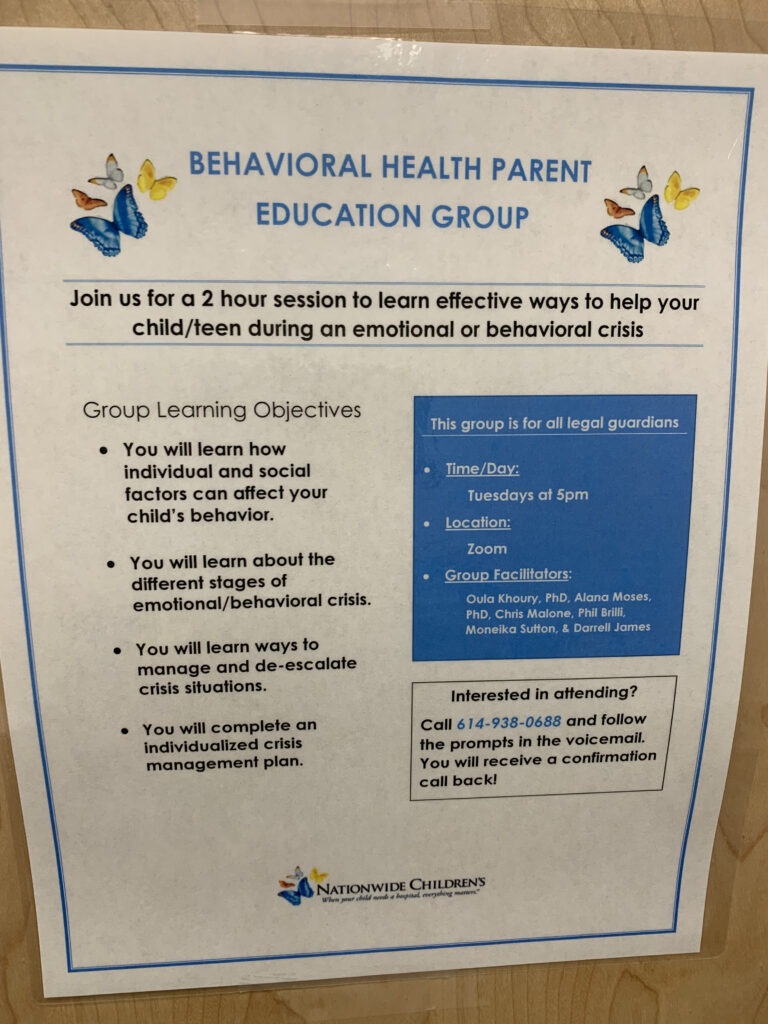 When a physical health crisis arises, like a sudden illness, injury or accident, most of us know what to do.
First there are obvious at-home options like a bandaid, ice pack or taking a couple of Advil or Tylenol.
Then, there are out-of-home care options, including health clinics in many neighborhood grocery stores. Shout out to the Little Clinic at the Kroger near our home!
Sure, it can get a little tricky at times – like, when should I make a doctor's appointment vs. heading to an Urgent Care or maybe even going to the ER?
And there are other puzzling healthcare questions, like when do I stop taking my kiddo to a pediatrician and just take them to a family doc or general practitioner?
But in general, we know what to do. We know medical help is available. We can usually get access to care, medication or whatever we need to have us up and healing and functioning again. We are privileged to have good jobs and good health insurance.
Unfortunately, mental health scenarios are nowhere near as clear-cut.
Most people do not know what to do or where to turn for help in a mental health crisis. In fact, I'd bet the majority of folks don't even know what a mental health crisis is or what it might look like.
There is no clear path to get help for mental health in our country. For some, it might look like finding and seeing a therapist. For others, it might include seeing a psychiatrist to get a prescription for medications which may help with depression, anxiety and other mental health diagnoses.
But in a true mental health crisis, which often involves suicidal ideation and a need for immediate help, it's entirely likely that even an established therapist or psychiatrist may not be available. In my experience, mental or behavioral health crises often happen late at night. Anxiety has a tendency to get worse at night, after all.
Most mental health practitioners say "if it's an emergency, dial 911" on their voicemail, just like most doctors. But is dialing 911 or heading to the ER really the right thing to do in a mental or behavioral health crisis? Yes – if you can't find help another way.
Crisis hotlines can help
One recommended first call for mental health crises that happen after-hours is 24/7 crisis and suicide prevention hotlines. There are so many and they vary in helpfulness but all provide a listening ear and someone to talk to.
Here are a few I've collected over the past year or so – it's good to have this list available just in case.
NCH Behavioral Crisis line (for central Ohio youth) – 614-722-1800
National Suicide Prevention Lifeline (for anyone) – 800-273-8255
The Trevor Project LifeLine (for LGBTQIA+ youth) – 1-866-488-7386 or text START to 678678
Crisis Text Line – text BRAVE to 741741
YouthLine – text TEEN2TEEN to 839863
Trans Lifeline (for trans/nonbinary individuals) – 1-877-565-8860
LGBT Youth Talkline – 800-246-7743
You can also google for crisis hotlines in your local area. Keep these numbers in your phone. I have them saved individually as contacts, and I also have the entire list saved in Notes as a pinned note. That way, it's right at the top anytime I open the app.
The behavioral health ER
But what if calling one of the hotlines isn't enough and your child needs more help than that?
Fortunately, in central Ohio, we have an amazing resource available for young people in a mental or behavioral health crisis: the Nationwide Children's Hospital Big Lots Behavioral Health Pavilion and its Psychiatric Crisis Department.
Families with young people in crisis can go to the Psychiatric Crisis Dept 24/7, 365 days a year, and get the immediate mental health care they need in real-time. That may look like a few hours of talking to counselors and doctors, or it may also look like admittance to the hospital for in-patient services if that is deemed necessary.
What does a mental or behavioral crisis look like in kids? According to the NCH Behavioral Health website, their Psychiatric Crisis Dept is like an ER but for children and adolescents experiencing a mental or behavioral health crisis that threatens their own or others' well-being.
If your child has threatened to end their life, has shared "dark" or suicidal thoughts, or you are worried that your child or teen is in imminent danger of harming themself or someone else, that absolutely qualifies as a reason to go.
I'm so thankful that we have the Nationwide Children's Behavioral Health Pavilion – and especially the Psychiatric Crisis Dept. – here in Columbus. It's a literal life saver. The people who work there are angels on earth!
For parents of children facing mental and behavioral health issues such as anxiety, depression, self-harming behaviors, substance abuse, suicidal ideation and more, there could be no more calming, soothing and reassuring place to take your child for the help they need.
NCH Behavioral Health also runs a parents support and education group to learn more about how to identify a behavioral health crisis in kids and teens; the information is in the photo above.
If you're not local to central Ohio, check to see if your local children's hospital has a similar behavioral health offering. It's good to know what the resources are in your area in case you ever need the help. The Child Mind Institute has additional pediatric mental health resources that may also be useful.