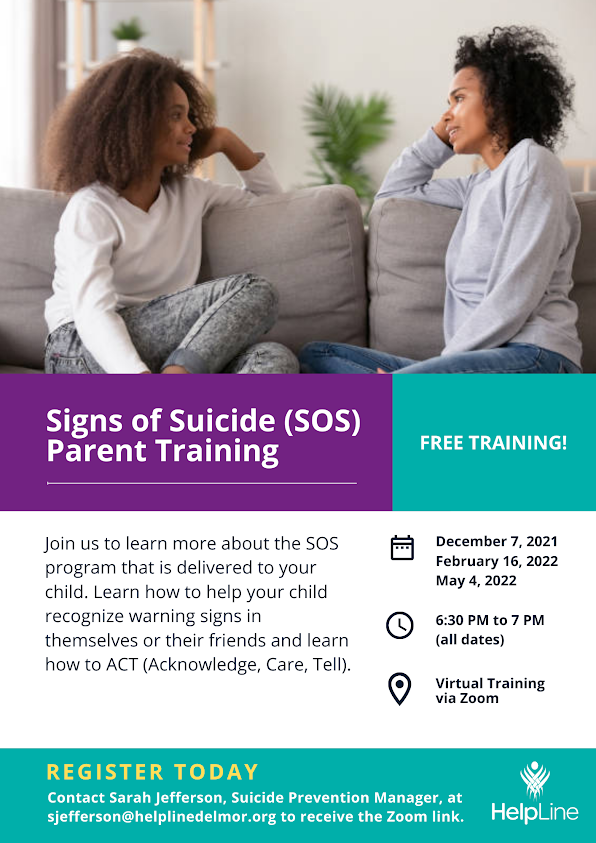 Suicide is a very heavy topic, but it's critical that we talk about it – especially with kids.
Did you know that, nationwide, suicide is the second leading cause of death in kids between 10 and 19?
And in Ohio, suicide is the leading cause of death for kids between 10 and 14.
For our beloved transgender and nonbinary youth, it's an especially high risk; 29% of transgender and non-binary youth surveyed have reported attempting suicide.
As parents, we can't ignore this mental health crisis or think it won't happen to our kids.
Kids we know and love are depending on us to help them – and potentially even save their lives.
This week, I attended the free Signs of Suicide parent training webinar offered by HelpLine of Delaware and Morrow Counties. Although I have read and studied about suicide prevention in recent years, I still learned a lot. This program will be offered again on February 16 and May 22; you can find more info below.
This same evidence-based Signs of Suicide training course is also offered to all middle school and high school students in Delaware County so that kids know how to identify the signs of depression and possible suicide in their friends – and in themselves.
As you can see in the graphic above, suicide is preventable! It's on all of us to learn how to prevent it – and to ACT.
ACT is a simple way to remember how to help kids – or anyone – who might be struggling with their mental health and suicidal ideation.
A – Acknowledge. This stands for knowing the signs of depression and suicide in a child, a friend or even in yourself. Warning signs can include sadness, anger (especially in teens and young people), big changes in behavior, withdrawal from friends or family, hopelessness, sleeping more or less, drinking or drug use, overwhelming emotional pain or talking about suicide.
C – Care. This means showing that you are a caring, trusted adult and a good friend. The biggest thing you can do is to listen and give them hope. Share coping skills that you have used in difficult times, or ask what has helped them to cope in the past. Most of all, let them know they can talk to you about it now and always. Studies show that talking about it helps the suicidal person – their anxiety goes down a bit immediately just by talking about how they are feeling.
T – Tell Someone. For kids, this means telling a trusted adult. For you, it can mean telling the child's parents, a school counselor or someone else who can step in and get the child help or treatment for their depression. Never promise to keep suicidal thoughts a secret! That is not a promise you can keep. It is always better to let them know you WILL tell someone to keep them safe and save their life. Let kids know that it's always better to risk making a suicidal friend mad by telling someone and potentially saving their life. We can work together to save lives.
Here's the thing about suicide prevention – you don't have to be an expert. You don't have to be a counselor or therapist. You just have to be willing to talk about it!
But this is tough stuff. If you've talked to your child about suicide, it may be time for some self-care – or for you to talk to a friend or counselor to help YOU feel better.
Another thing I learned from the SOS training: talking about suicide directly, and asking a child if they have had thoughts of ending their life, will not put the idea in their head. That is a common misconception – it's one I had myself. Asking kids directly about suicide is the right approach. They have either thought about it or they haven't – you're not going to give them the idea.
Suicide happens because kids are in extreme emotional pain and distress, and they just want it to stop. They are feeling hopeless and can't think of another way out. We have to be the ones to spot this pain they are in and help them – even if it's just by talking about it – until we can get them the professional help they need.
Start a conversation about mental health today with your kiddos. Talk about feelings. Don't wait for a crisis or worry to arise – do it now. Let them know you are always there for them anytime they want to talk about inner feelings, stressors, or problems at school or with friends.
The more we talk about mental health and suicide, the more lives we can save.
If you'd like to attend the free Signs of Suicide parent training course on February 16 or May 22, 2022, you can email Sarah Jefferson, Suicide Prevention Manager at HelpLine, at [email protected] to receive the Zoom link.
In addition, there's a Nationwide Children's Hospital parenting course coming up this month called How to Talk to Young People About Suicide. You can sign up for that here. And, for additional support, check out this fact sheet for parents dealing with a kiddo who has talked about ending their life.
I'm here, too. Message me anytime if you need a friendly chat with someone who's been there!