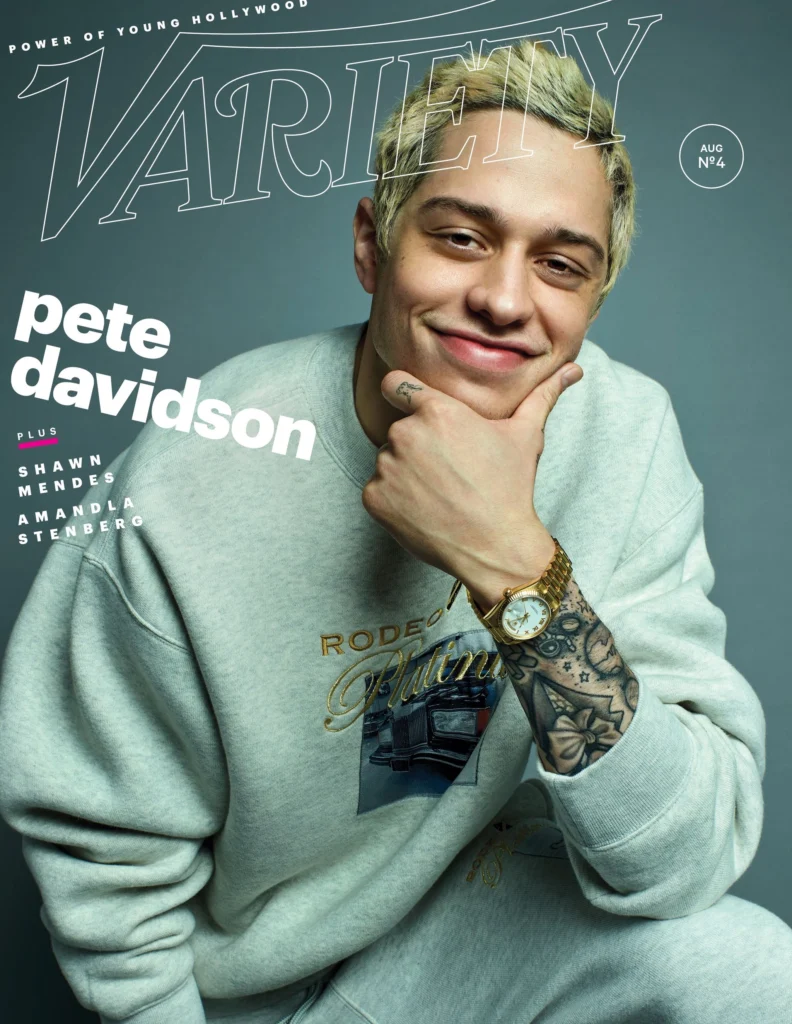 Are you one of the many who wonder why incredibly gorgeous women continue to fall head over heels in love with schlubby comedian Pete Davidson?
I used to be one of those skeptics, but I'm not anymore.
Confession time: just like like Ariana Grande, Kate Beckinsdale and Kim Kardashian, I'm all in for Pete.
I don't stay up late enough to watch SNL, so my first encounter with Pete was back in 2018 when Ariana was dating, living with and engaged to him.
I remember seeing lots of articles wondering why she was with an "ugly" and relatively unknown guy.
At the time, I thought it was very unkind of the media to say things like that. But beyond that, I didn't really know or care much about Pete.
Then, when they broke up and Ariana wrote hit songs about him and he moved on to other unbelievably attractive girlfriends, I skated into the curious category. Like, what is it about this guy with all the sketchy tattoos?!
After doing some research – namely just watching his movie and reading a bunch of his interviews – my view has evolved. Now I can honestly say I'm a Pete Davidson fan.
In fact, I seek out videos of him, watch his SNL clips and would definitely go see him perform stand-up.
I loved the Miley & Pete New Year's Eve special. He strikes me as a regular guy who feels grateful every single day for the career he's got and the attention he's given.
I think he's smart, funny and charming. I totally get what his preternaturally beautiful girlfriends all see in him.
If you are a Pete Davidson non-believer, I suggest you start by watching his feature film debut, King of Staten Island. It's loosely based on his life and in it, he basically plays a version of himself. Watch it with an open mind and you'll find yourself liking him even if you don't want to. He grows on you like mold.
Is it the adorably goofy grin? The puppy dog energy? The stoner vibes mixed with good intentions? The self-deprecating humor that can't quite disguise the laser-sharp wit hiding beneath? I'd say it's all of the above in a 6'3″ frame.
Pete is immensely likable – even loveable – in his movie. I'd wager he's exactly the same in person.
I also admire how openly Pete talks about his mental health struggles. He has frequently admitted to having anxiety, depression and suicidal ideation – even causing a brief scare once when he posted about it on his (since deleted) Instagram account.
It's a big deal for anyone to be open about suicidal ideation – but especially for a celebrity and public figure. Pete has suffered great trauma, pain and loss in his life, starting with the death of his firefighter dad in 9/11 when Pete was a little boy. Like his character in the movie, Pete is the first to make fun of and mock his grief and pain, but that's just his way of dealing with it.
Overall, Pete is a beacon of wholesome and non-toxic masculinity. He's openly loving and affectionate with his best friend, Colson Baker, better known as Machine Gun Kelly. They both wear nail polish, talk about their feelings and aren't afraid to cry.
I am here for this new breed of bro. We need more wholesome, non-toxic male role models like Pete Davidson. He's smart, in touch with his emotions, down to earth and can make you laugh. In short, he's a treasure – and I am glad he's finally realizing it himself.
I think he's the kind of guy who will not just treat his girl to a mani/pedi – he'll get one right along with you.
The world needs more guys like Pete.