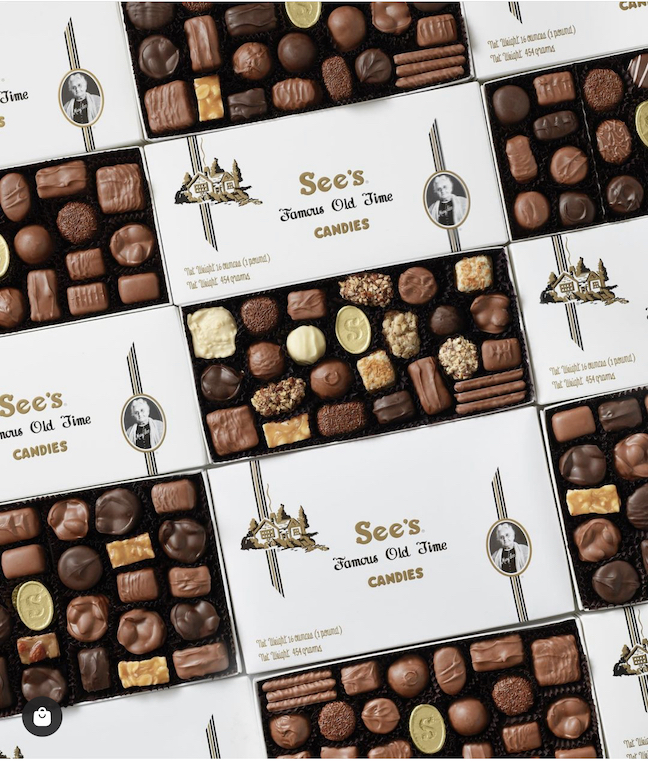 I win stuff a lot on social media.
It happens often enough that when I tell my husband I've won something, all he says is "Again?!"
I've written before about being lucky – and that's part of it.
There's also an element of hustle or sparkle. I happen to be very good at entering social media contests and giveaways – including doing little extra things that help me to stand out.
Those tips and tricks are what I'm planning to share in this post.
First, I'll share a couple of my recent wins; then, I'll give you some tips or takeaways that could potentially help YOU win your next social media contest or giveaway.
I recently won a goodie box on Twitter from my favorite chocolate-maker, See's Candies out of LA. I've loved See's for years, ever since my Mommers got me a box for my stocking not long after they moved to Cali in the mid 90s.
See's hosts a weekly Twitter party under the hashtag #CandyConversation. Each week, they give out two $50 gift boxes as prizes to lucky participants in that chat.
During the 9/17 Twitter party, I made sure to be an active participant. I responded both to See's and to other participants, showing I was engaged in the chat, a devoted fan of See's and also a friendly person overall. I'll be honest: I was not surprised when I won. I would have picked me as the winner, too.
Takeaways for you: if you're trying to win something on social media, follow all the rules and then go above and beyond to be friendly, engaging and kind with both the host and the other participants. I congratulated the first winner instead of tweeting "oh, I wish it was me!" That may have been what tipped me over into winning the second prize.
I also won an awesome cookie and candle giveaway on Instagram hosted by my friend Angie at Del City Farm. Last June, she hosted a Pride-themed giveaway with another influencer. The prize was two dozen of Del City Farm's delicious cookies AND an awesome Pride-themed candle from Bath & Body Works.
That was an Instagram contest like others you've probably seen: you had to follow both of the hosts, like the giveaway post, tag a friend in the comments and then share the giveaway in your stories for an extra entry.
I did all of that, tagging three friends in three separate comments, and also thanked both of the giveaway sponsors for doing such a cool giveaway.
Takeaways for you: read the giveaway post carefully, do everything that is asked and then do a little more just for good measure. Sure, often winners are picked at random, but I know from hosting giveaways myself that once in a while, being friendly with the giveaway sponsor can occasionally boost your chances of winning. It never hurts to be kind and friendly!
I guess the bottom line is that if you are a good person putting positive energy out into the universe, you are more likely to attract good things.
So be kind, don't ever expect or demand anything, and emanate good energy whenever you can.
The luck part? There, you're on your own.