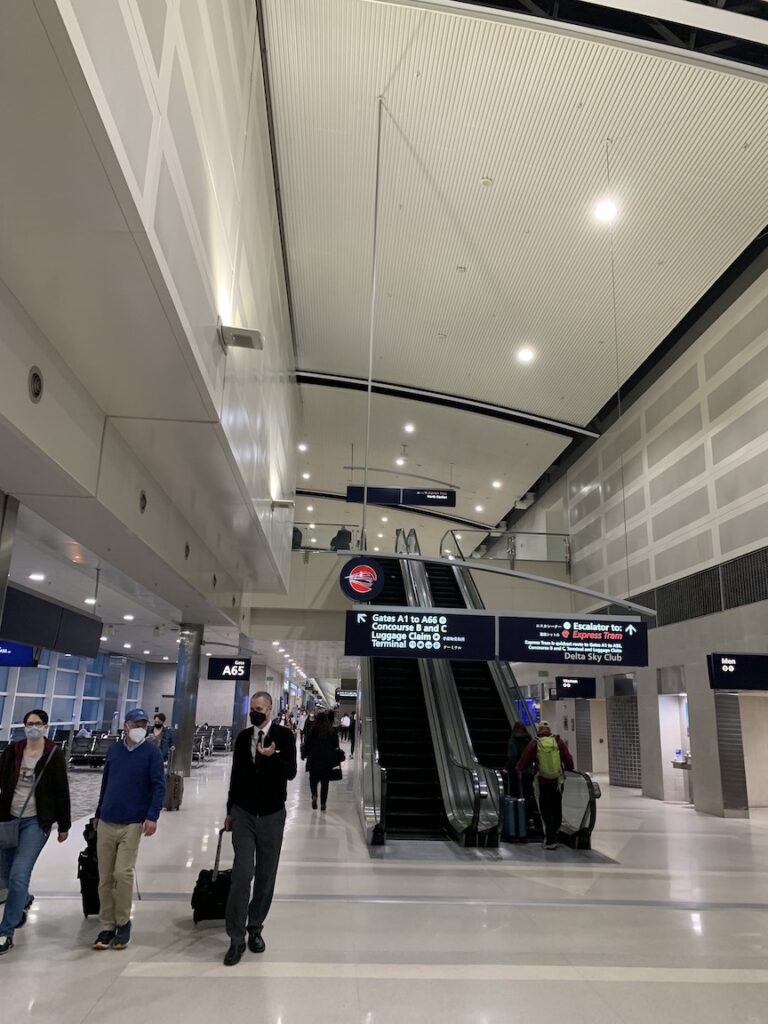 Have you ever started up a friendship with a random stranger in a crowded airport?
I have – not once but twice.
Actually, if I'm giving credit where it's due, the first time it was me making a new friend and the second time it was our little Z.
First, my story. Many years ago, I was at Newark airport flying home after a business trip. Our flight was delayed for several hours, and many people were frustrated and annoyed.
I noticed one fellow passenger at the gate who was staying positive – but also seemed to be struggling a little bit with understanding what was going on. I approached her and said "hi, can I help?"
She asked if this was the flight to Columbus and showed me her boarding pass. I showed her mine and said yes, this is the flight to Columbus – it's just delayed. English was clearly her second language. "Late?" she questioned again, and I said yes. She smiled and shrugged, then we sat down together.
We talked for the entire delay – it made the time go by so much more quickly. Her name was Huang, she was from China and she had been traveling for a day and a half straight!
All these business people around us were kvetching about the delay – yet here's Huang who hasn't slept or eaten a proper meal in a day and a half, and she's keeping her positive attitude. I liked her immediately.
Huang was moving to Bellefontaine, Ohio for a year to teach Chinese language to American students. Again, I was so impressed with this young woman. Leaving everything she knew behind to have an adventure for a year and help kids learn Chinese? That's amazing. I knew we had to be friends.
When our flight landed, we met up again at baggage claim and I helped her get to where she was going. We exchanged numbers and I told her she had her first friend in Ohio. We stayed in touch and Huang even came to stay with us for a few weekends during her year here.
We had some fun adventures like going downtown at night and going to the pet store to hold puppies since Huang really missed her dog back home. Regrettably, we lost touch once she went back to China. I miss her and hope she has a great life!
More recently, we were at CMH waiting for a flight to New York when Z noticed a girl about her age in the boarding area. She asked if she could go over and make a friend, and I said sure. One thing I love about our only child is her amazing ability to instantly make friends with strangers!
Z asked the girl if she wanted to color, and they became immediate besties. This has happened many times before during our travels, but we usually don't exchange contact information so the friendship ends as quickly as it began.
This time, the girl's mom and I hit it off as well, and thankfully she was quick to exchange numbers so we could stay connected after our respective vacations were over. We remain in touch to this day and I'm so thankful for instant airport connections that grew into true friendship!
So many times in life – and especially in airports – we have our heads down on our phones or we're focused on our own bubble. How many potentially great friends and experiences could be passing us by in the meantime?
Covid made it especially hard to talk to strangers, but hopefully now that most of us are vaccinated and boosted, we can go back to making new friends again.
These two spontaneous airport friendships have inspired me to keep my head up and a watchful eye open for potential friends around me.
When was the last time you made a new friend – and was it easy or difficult? I'd love to hear your friendship tales over in the comments or on Facebook or Instagram.