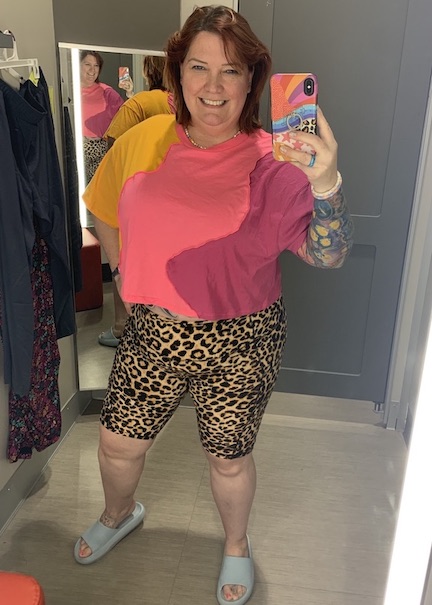 If the words "crop top" conjure up visions of 80s too-short cut-off tees, you're not alone.
That's what came to my mind, too – along with a shudder of distaste and cringe of horror – until very recently.
Thankfully, I had my eyes opened to the joys of crop tops by a few midsize and plus-size fashion influencers on Instagram and Tiktok.
The truth is, the right crop top looks great on everyone.
You see, with crop tops it's not just about the perfect length. It's also about the unique, boxy silhouette that can actually be quite flattering on a variety of body types.
I didn't believe this until I tried it for myself on a recent shopping trip to Target. Since then, I've become absolutely obsessed with finding my dream crop tops. I've had good luck at both Target and Old Navy.
The secret to finding the perfect crop top is an elusive combination of stylish, boxy shape combined with the PERFECT length – not too short, not too long.
If a crop top is too short, you end up looking like an 80s parody. I swear, crop tops back then used to be so short that if you raised your arms up, the bottom of your bra would show! That's not the length we're going for today.
With the perfect modern length crop top, if you lift your arms up, you'll simply show the top of your high-rise jeans or shorts, and possibly a tiny, tasteful sliver of belly. In my case, someone might get a glimpse of tattoos – but just a hint.
You have to be very careful when shopping for crop tops as lengths vary widely. During my recent Target visit, I found crop tops that were the perfect length, some that were an inch shorter and a few that were a full inch even shorter than that!
Even once you find the right crop top for you, your experience can still vary, as wearing a different style of bra underneath can alter the length or how it falls.
Your best bet is to try lots of crop tops on and check the lengths in the mirror. You can also bring a perfect-length crop top with you to the store and then measure all newcomers against that one.
And hey, if you're open to the shorter variety of crop top, more power to you! It's just not something I'm ready for at this time.
If you're thinking "I'm too old for a crop top" or "I'm too fat for a crop top," allow me to reassure you. It's 2022 and crop tops are for everyone – especially the universally flattering length and style I'm talking about in this post.
Check out this wonderful viral Tiktok by Margo Demello if you don't believe me. As she states so eloquently:
Just wear the crop top. If you're old, wear the crop top. If you're fat, wear the crop top. If you don't think you should be wearing the crop top, wear the *motherfathercockerspaniel* crop top. It's 2022.
If you're interested in trying on a crop top, try these Ava + Viv boxy tops at Target for just $10. Also, I'm a huge fan of the length of this Old Navy cropped concert-style tee.
What do you think – are you ready to try the modern crop top trend? Let me know in the comments below or over on Instagram or Facebook.