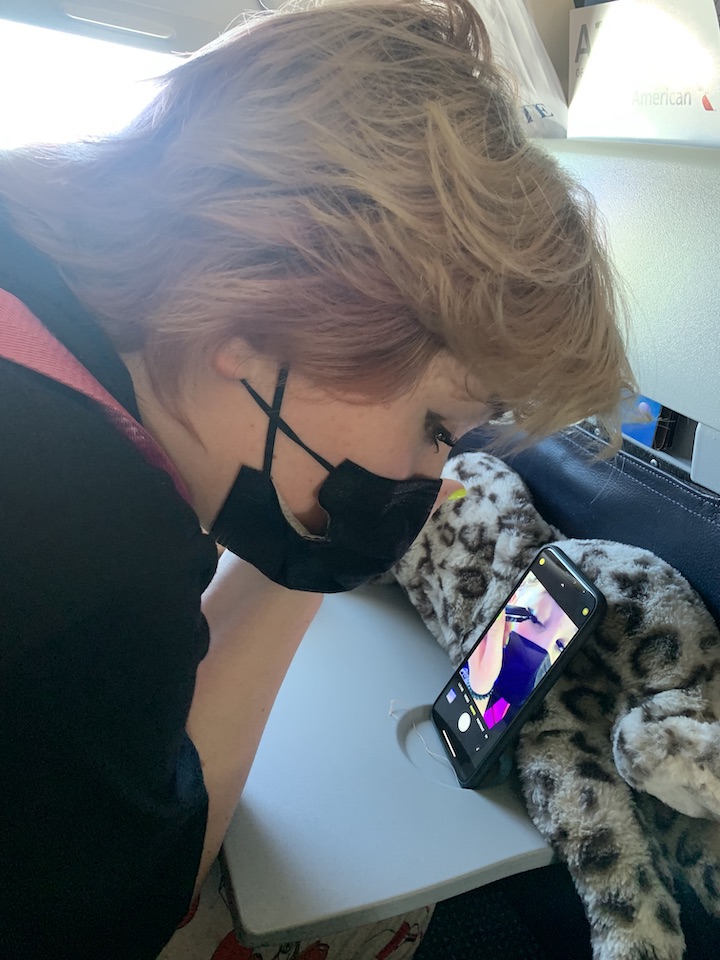 We love mascara in this house.
I personally have puny lashes, so I can honestly say that I NEED good mascara.
Our kiddo Z, on the other hand, has gorgeous and lush lashes even without makeup – but she still counts mascara as one of her must-haves every morning.
Between the two of us, we've tried them all: pricey department store brands, iconic drug store brands, super cheap mascara from Five Below and everything in between.
It may be shocking to read this, but I don't blink at spending upwards of $20 on mascara if it's a good one. I'd prefer to spend a lot less, but I am willing to do it if that's what it takes for my lashes to look good.
That's why I'm so excited to share with you our latest amazing mascara find! But first, let me tell you about a few others we like.
For a few years now, Z and I have used Benefit's They're Real mascara. It's tried and true, it does what it promises to and it's $27 a tube. It comes in black and brown. You can get it at Sephora, Ulta and even on Amazon. This ends up in our Christmas stockings every year, because even Santa knows the importance of good lashes.
More recently, we started really liking Thrive Causemetics' Liquid Lash mascara. This is the type of mascara that creates tiny tubes over your lashes, adding length and fullness. It's $24 a bottle and can only be purchased online at Thrive's site or on Amazon. I like this one a lot, but as a contact lens wearer, the tiny lash tubes sometimes bother my eyes. I can't wear this one every day; it's a special occasion mascara for me. Thrive mascara comes in black, brown and a really pretty blue shade that we highly recommend.
This week, we headed to our local Ulta because we were both needing a new mascara. (Side note: you're replacing your mascara every three months or so for good hygiene, right?)
I happened to say to Z, "help me find the Benefit section, that's where They're Real lives," when a friendly fellow customer overheard and stopped me. "Do you want to try a new mascara?" she asked with a smile. "I used to use They're Real too, but then I found Essence!"
She showed me a brand I hadn't seen before – Essence Lash Princess False Lash Effect. She said it's just as good as the pricey brands "and it costs less than $5!" I was delighted and willing to give it a shot.
Z and I both brought home a tube of Essence Lash Princess False Lash Effect and were AMAZED when we tried it. It truly works just as well as our other favorite mascaras, at a fraction of the cost!
I can't imagine how pissed off the other mascara manufacturers must be right now. Imagine the nerve of Essence creating a mascara that goes this hard and then pricing it at $4.99! Best of all, you can purchase it in stores or on Amazon.
I even like the packaging on the Essence Lash Princess mascara – it has a cute little design on the cap in a soft rubbery texture that makes it easy to open. And once you try it, you simply will not believe you used to pay five times its price for your mascara.
Now that we've tried Essence Lash Princess, we won't be going back to the pricey mascaras. If you give it a try, I'm sure you'll agree it's the one for you, too!
Do you have favorite beauty brands, and if so won't you drop me a tip in the comments below or over on Instagram or Facebook? I love discovering great new finds like our new favorite mascara!