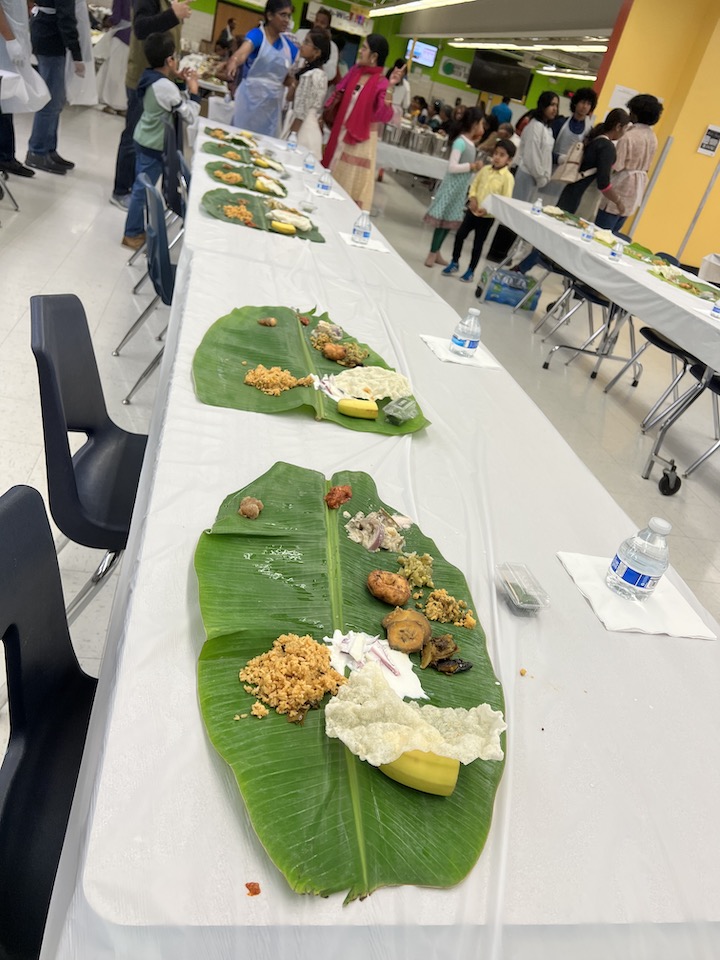 I had a super cool cultural experience last week.
Even though my feet never left Ohio, I felt as though I journeyed to a wonderful faraway land.
There, the people were gracious and hospitable, the clothing was made from gorgeously draped, colorful silks and the incredible-tasting food was served on banana leaves!
My bestie – I know, it feels silly for a 52-year-old to call another adult woman that, but it just fits so well because she's the absolute best – is originally from southern India. She invited me to join her for a traditional Tamil feast right here in Columbus.
Our hosts for the day were the Columbus Tamil Sangam, a nonprofit organization dedicated to promoting the Tamil language and culture to the Tamil-speaking community in central Ohio. For those who don't know, Tamil Nadu is the southernmost Indian state and the Tamil language is one of the oldest languages in the world.
Attending the Columbus Tamil Sangam's Silver Jubilee (25th annual celebration) was a great honor and pleasure for me. Festivities included a cultural program that celebrated the rich heritage of Tamil Nadu, including fabulous attire, dance performances, and of course the long-awaited luncheon feast.
Vazhai Ilai Virunthu, translated as the Banana Leaf Feast, is a vegetarian banquet traditionally served at Tamil weddings. I lost count of how many courses and dishes we were served – let's just say it was truly a feast fit for royalty. All the food was delicious and well within my level of spice tolerance.
One really interesting aspect for me was that traditional Tamil meals are eaten without any utensils, just using the hands. I've eaten a meal without utensils once before, but that time it was Ethiopian food where you use bread to dip into curries.
The Tamil way of eating is literally just using your fingers to mix curries into rice, form curry and rice balls with your fingers, and then scoop them into your mouth. It took some getting used to, but I got the hang of it. Here's a video of a traditional banana leaf feast like the one we enjoyed, as well as how it is eaten.
I'm particularly in awe of how many dozens of volunteers must have been needed to prepare, set up, serve and clean up after putting on such an elaborate feast. The Columbus Tamil Sangam organizers should be very proud of such an accomplishment!
I think my favorite aspect of the day, besides the food which was clearly my number one highlight, was feeling such a lovely full immersion into a beautiful culture I don't know enough about.
Have you ever had the experience of being the only person "like you" (whether that is race, religion, cultural upbringing, etc) in a crowd? I think everyone should feel this at least once in their lives.
It is only through immersing ourselves in other cultures, languages, culinary traditions and experiences that we can truly learn, grow and become citizens of the world. I love cultural experiences like this one and hope to have many more!