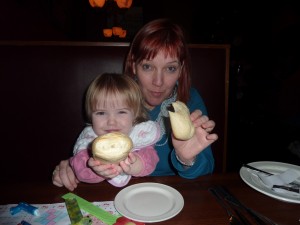 It seems like just yesterday that I officially signed off from my beloved, so-called "professional" blog about PR and social media. It was January 2010 and I had finally come to the realization that I would not be blogging there anymore because my interests lie elsewhere now that I'm a mom. I thought I might continue that blog in a mommy-blogger vein, but then I realized I needed a new start on a new blog. I can't believe it took two whole years for me to make that happen! But here I am.
It's a whole new year and a lot has happened since I left that blog. I'm not a struggling newbie mom with an infant anymore – I'm a slightly more savvy toddler mom now. I'm more at home with my identity as a mother. I've made huge leaps forward in my ability to juggle my professional life and motherhood. I've found some fantastic resources that keep me sane, laughing and focused. And I'm ready to blog about it all!
Thanks for being here with me – this should be fun. Thanks to my chief technical officer who is made of awesome for putting yet another blog together for me and supporting me 100%. And most of all, thanks to the little one who makes it all possible – the one who gave me my lifelong secret wish and hearts desire – the one who made me a mom.