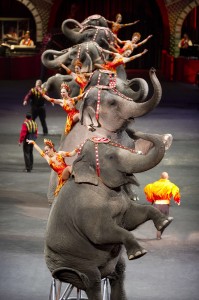 Is there anything as reminiscent of childhood as the circus? I can remember going with my grandfather to the circus in England. It was always such a special occasion.
And now the circus is coming to Columbus – the real deal, Ringling Bros. and Barnum & Bailey circus. A new show called Fully Charged is coming to town in a couple of weeks – Thursday, May 10 through Sunday, May 13. We're going to take Zoe. She'll get to see elephants, tigers, and all sorts of other fun, zany and exciting stuff. I'm pretty sure it's going to rock her world.
We went to see the Lion King show at Disney's Animal Kingdom earlier this year, which has a lot of circus-like elements, and Zoe was absolutely rapt. She sat still, spell-bound, through the whole thing, and when it was over she wanted more! So I think she'll love the circus.
Are we nuts? Is two years old too young? Ringling Bros. doesn't think so. They even have a special promotion called Baby's First Circus. If you have a newborn up to one year old infant, you can get a free ticket to the circus by clicking on that link. How cool is that?
But guess what – that's not all. You can get free tickets to the circus for your whole family. All you have to do is leave a comment on this post, like my blog on Facebook, and leave me a comment on either Twitter or my blog's Facebook page (or both) telling me which is your favorite blog post ever here on Lara-Mom. I'll do the rest – I'll pick one person at random and send you four ticket vouchers in the mail. It's that easy! And it's also my first ever giveaway on this blog. Fun!
So, what do you say – what's your favorite thing at the circus? Just don't say clowns. I'm deathly afraid of clowns.
Disclaimer: I received free tickets to the circus for my family. And so will you, if you participate in my blog giveaway above! Thanks to Ringling Bros. and Barnum & Bailey for the opportunity.