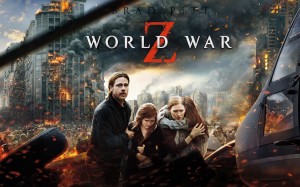 This is the first time I've attempted a movie review on this blog, and it may be kind of an odd one. I saw World War Z, Brad Pitt's zombie epic, last night and I absolutely loved it on multiple levels. It was a perfect summer blockbuster full of action, thrills and chills – but with a few other, more thoughtful touches that made it really outstanding. Other reviewers have liked the movie, but I'm not sure anyone else has called it a family movie. And of course, I'm talking about taking older kids to see it – not little ones like Zoe! More on that in a moment.
First, WWZ is a zombie movie, but it had far less blood and gore than your usual zombie flick. In fact, upon reflection there was hardly any blood or gore at all – frightening sights, sure, and bigtime violence against zombies, and in general scary moments galore – but none of the all-too-frequent dripping horror scenes so prevalent in movies today. The WWZ undead are terrifying because they run fast, not because they eat people – in fact, they don't. They simply deliver one bite to pass along the infection, then move on to the next victim. I love zombie movies, but I loved this one most of all because of the lack of gore. Thank you, PG13 rating!
Another thing I loved about WWZ was the presence of strong female role models (albeit in supporting roles). First, there was the strong mom archetype, who doesn't cry despite unbelievable emotional stress and hardships. She stays strong for the kids – not just her own but a rescued/adopted son they meet who instantly becomes part of their family (sound like anyone we know?). Then, there was the ridiculously strong, cool soldier who becomes Brad Pitt's invaluable ally and who also doesn't cry despite unbelievable physical pain and emotional stress. They are both bad@ss women for sure – and both beautiful in their own way without any apparent make-up or contrivance. Loved these two refreshingly strong female characters, and I'm not the only one who noticed that zombies +GRRL POWER go great together.
WWZ also has a delightfully global feel. In most action movies, it's rah-rah USA and other countries barely get a mention – not so in WWZ. It's a truly global flick and the US not only has no answers, it's pretty much "gone dark." The UN and WHO are the hero organizations in this film – nice hat tips from Brad Pitt and family. You can definitely tell they think the world of those organizations.
Last but probably most important, I loved that underneath it all, this was a family movie made by a dad who wants his kids to be able to see his work. The Jolie-Pitt clan are getting older, and Brad Pitt has said in several interviews that he wanted to make a movie his kids would think is cool. He's done that in spades – not only is WWZ an entertaining and supremely cool flick, it's one with family at its core – something that older kids can actually watch. Heck, Maddox Jolie-Pitt, their oldest at 12, was actually in the movie as a zombie extra.
I don't know how old kids have to be before you can let them watch a scary movie – in Zoe's case, probably about 30 because she's super-sensitive to violence in cartoons, let alone seeing all those "poor zombies" get shot – but I can definitely imagine taking a group of 12 or 13 year olds to see this and I am sure they'd love it. I honestly think Brad Pitt and his $200 million budget have succeeded in making a zombie film that entertains and scares while still having family values. If more moviemakers held their families in mind – and not just their wallets – we'd have more good movies like World War Z. Kudos to Brad Pitt for seeing his vision through.
What do you think – are there other thrillers or "horror" movies that are okay for older kids to watch? What's the right age to take kids to the movies for some dark, scary (but hopefully not too gory) fun?