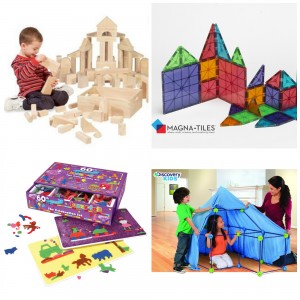 Over the past three and a half years, we've both bought and received many gifts for Zoe. I've come to realize that the absolute best toys always have to do with building and creating.
This is not just some crazy builder phase we happen to be in right now – this is time-tested and proven. Old building toys she's had for years are her absolute favorites – and new toys are instantly beloved as long as they have something to do with building, creating or inventing. This kid is definitely heading to Camp Invention as soon as she's old enough!
Since the holidays are fast upon us, I thought I'd share our favorite (and one wished-for) toys here as a gift-giving guide of sorts. While some of these are fairly pricey (even over $100 in one case), they have all proven to be of great value and long-lasting fun for our family. Hope you and your little ones enjoy these too – and I'd love to hear your own favorite, can't-miss gift ideas, too.
Wooden blocks
You can find all kinds of gorgeous wooden blocks out there. I really like the look of this basic Melissa and Doug set.  Before we got our incredible hand-made, reclaimed wood set as a Christmas gift, I was obsessed with these colorful, fantastic Haba blocks. Wooden blocks are generally expensive, but they are truly a gift that kids won't grow out of. They are great to keep out for when older kids come over, younger kids will entertain themselves quietly and happily with them, and even adults like building with blocks. The whole family enjoys a good block tower crash, right?! The downside to good quality wooden blocks is they do have to be kept out of dogs' reach as they seem almost irresistible to most dogs. We've lost a few of ours to chewing injuries.
Magna-Tiles
I tried hard not to fall in love with Magna-Tiles because they are plastic and unbelievably pricey. They are also full of tiny magnets, which obviously could be a serious health hazard to a child if the pieces were to break open. That said, this is an amazing toy – well-made, sturdy and extremely unlikely to break open, and absolutely worth the cost. If there's a toy in our house that gets played with more than any other, and in increasingly advanced and mind-blowingly creative ways, it's the Magna-Tiles. There's a reason every decent classroom has a set of these (and it doesn't matter if your kid's class has them – he or she will still LOVE having a set at home, too).
Kids of all ages, genders and personality types love Magna-Tiles, and once again it's a toy that adults love noodling with as well. The building tiles are magnetized on all sides so you can do some really innovative shapes and 3-D structures. I got the clear set because I really liked the colors, but it's slightly more expensive than the solid colors set. I have to advise you to get the 100-piece kit despite the high price tag because a starter set will only leave you wanting more. Anytime two or more friends sit down with these, you instantly need the 100-piece set. Shop around (the best price for these is not always found on Amazon), see if you can find a used set on Ebay or Craigs List, but by all means find your family a set of Magna-Tiles. You won't regret it.
GoldieBlox
This is the one toy on my list that we don't have yet, but I've read enough reviews and articles raving about it that I feel I can include it in my recommendations. I almost got Goldie Blox for Zoe last Christmas, but we already had quite a few items by the time I discovered them, so I figured we'd wait. She's definitely getting them this year. I love the sentiment behind the product: it's designed  to get girls interested in engineering. I have a feeling this will be Zoe's favorite from Christmas 2014. We'll see – and of course I'll post a full review once she's made her feelings known!
Colorforms Silly Faces Stick-on Game
Do you remember Colorforms from when we were kids? I do – my brother and I loved them! That's why I was so excited when Zoe got this awesome toy as a gift last year. We've never played it according to the rules as an actual game – instead, we just grab a blank head and start building a silly face, trying to out-silly each other and our own past best silly faces. This is super fun for Zoe to play alone, with friends or with adults. Due to the tacky nature of ColorForms, this is also a fun one to play on long car trips when she's feeling stuck in her carseat. Highly recommend this and any other ColorForms sets – they are a lot of fun, allow for creativity and self-expression, and kids never seem to tire of them.
Learning Resources Wooden Beads
Is this "bucket of beads" a beginners jewelry making set, a building set, a lacing set or all of the above? The answer is yes, and it's awesome. Zoe and her friends love making necklaces with this, but what they're really doing is perfecting fine motor skills along with color sorting, shape sorting and more. We've found boys love playing with this set just as much as the girls. Also, even the toughest and most macho dad will happily sport a wooden bead necklace made with love by his baby girl. Is there anything not to like about this wonderful set? In a word, no. I highly recommend taking the extra to time to find a wooden bead set rather than going with the more readily available plastic versions.
Fuzzy Felts
Fuzzy Felts were my favorite toy as a kid on our frequent trips to England. You couldn't get them in the US (and still can't, except for on Amazon) but they are awesome. Even my brother enjoyed playing with them. They're basically just small felt pieces that you arrange on a velvet backdrop, but oh the hours of creative play.  Zoe loves them too, and has grown up playing with my now-vintage childhood sets that my Mommers kept for me at their house in LA. From about age two on, Zoe has called them "the nice things" and has loved playing with them.
This year for her birthday, I got her a set of her very own brand new Fuzzy Felts, but I was woefully disappointed. They are mass-produced now, and made of a thinner felt that rips fairly easily. My 70s versions were made of far hardier stuff and were clearly hand cut – no pieces to pull apart and risk tearing. Still, for my own personal nostalgia as well as the fact that they are undeniably still fun to play with, we'll continue to keep these around for Zoebelle and friends to play with. Our current favorite way to play with them is for each of us to grab a board and decorate it, then tell each other a story about the pictures we've created in felt. It's great fun!
Discovery Kids 72 Piece Build and Play Construction Fort
I may have saved the best for last. Building this bad boy is only the tip of the iceberg when it comes to all the fun you'll have playing in it. You can create several different types of forts, from a princess castle to an igloo, and covering each with a large flat sheet turns it into a magical mystery cave. We've been known to build a really good one and then leave it up for weeks in our basement. These forts are so much fun, even our dog wants in! The entrances can be a bit tight for adults but really, what good fort allows adults in anyway? Highly, highly recommend this one – we got it as a gift last year and it shows no signs of getting old. Putting the forts up is quite a challenge for little hands, but they certainly enjoy helping and once the sheet is thrown over the completed construction, they'll have no need for you anymore.
So, there's the list – a pretty good one, I think. What about you? What are your favorite toys, educational and long-lasting or any other kind for that matter? I'd love to hear in the comments below.