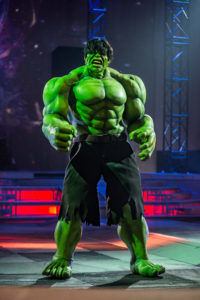 Would you like to earn up to two FREE tickets to the new Marvel Universe LIVE! show in Columbus next month? Feld Entertainment, producers of Marvel Universe Live!, has partnered with the Charity Newsies to host a Hulk-sized school supply drive for local kids in need. Feld Entertainment is giving away a free ticket voucher to the first 100 people who donate four of the following items:
Pencils (package of 10 or more)

Markers

Crayons

Filler Paper

Spiral bound notebooks

Pens (package of 10 or more)

Large erasers
Families can receive up to two vouchers in exchange for at least 8 items donated. The supplies drive is this Saturday, August 25 from 10 am to noon at Charity Newsies Headquarters, 4300 Indianola Ave., Columbus, OH 43214.
About Marvel Universe LIVE!
If you're a Marvel fan who was left stumped by the latest movie, Avengers: Infinity War, then you're not alone. Who died? Did they really die or will they come back? (I'm counting on the latter). Well, I'm not sure this show will answer any of our tough questions, but it will still be fun for Marvel fans! The Avengers, the Guardians of the Galaxy and Spider-Man join forces with Doctor Strange, master of the mystic arts, in this all-new, spectacular arena stunt show.
Produced by Feld Entertainment, Marvel Universe LIVE! is performing at the Schottenstein Center from Sept. 27 to Sept. 30 for seven performances. Tickets are on sale now starting at $15. Tickets are available at Ticketmaster by phone at 800-745-3000, online at www.ticketmaster.com or at the Schottenstein Center box office.
Wondering who will be at the show? Check it out:
Star-Lord, Gamora, Rocket, Groot and Drax make their live production debut bringing their courage and misfit wit to Marvel Universe LIVE! Alongside Iron Man, Captain America, Thor, Black Panther, Hulk, Black Widow, Wasp and Iron Fist, the Guardians of the Galaxy help fight the scheming, menacing and loathsome villains Loki, Yondu and Green Goblin. Audiences will join in the quest that sparks new feuds with old foes, pitting student against mentor, sister against sister and brother against brother.
I am excited to see the show; Gamora and Groot are two of my faves. The show promises cutting-edge special effects, aerial maneuvers, pyrotechnics, martial arts, motorcycle stunts and 3D video projection mapping in a completely new thrilling adventure. Fans of all ages will be immersed in the Marvel Universe and experience it all with their family…LIVE!
Who Wants to Win?
If you've read this far, who's interested in winning a family four-pack of tickets? Just leave me a comment below and be sure to like Lewis Center Mom blog over on Facebook – and let me know in either place who your favorite Marvel characters are! We'll pick a winner the week before the show and you'll pick up your tickets at Will Call.
 Have you seen the Marvel Universe LIVE! show before? I'd love to hear your thoughts in the comments, too!