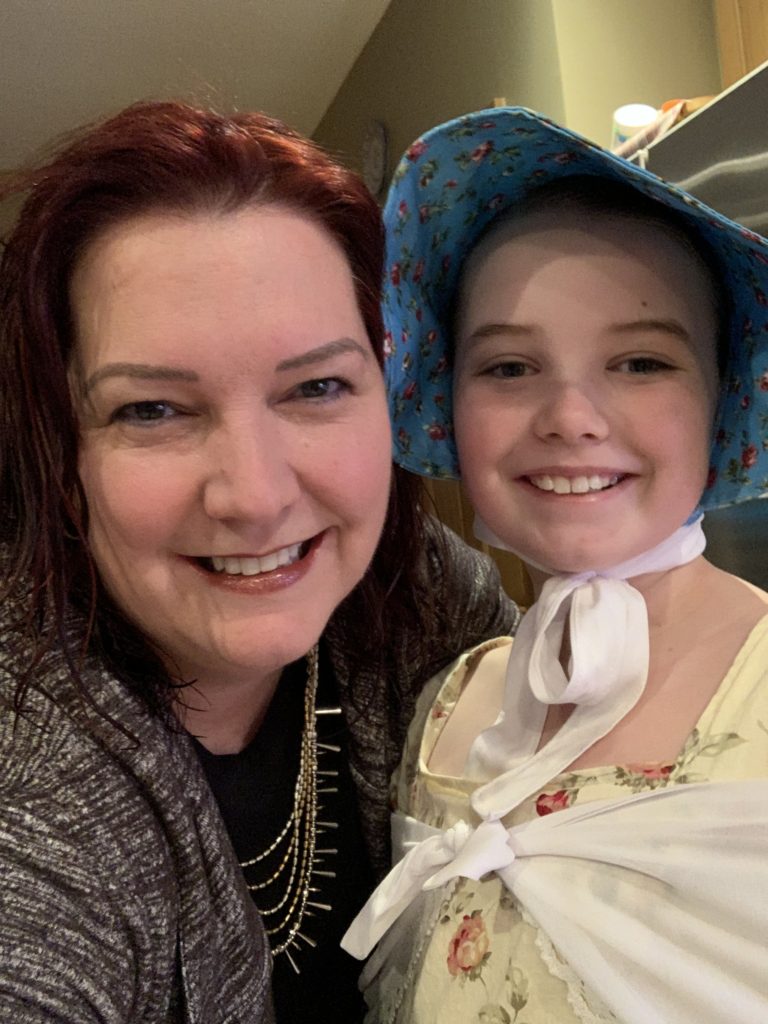 I'm pleased to share that this is the first in a series of guest blog posts by my 9 year old daughter, Zoe! I'm very proud of her writing and so glad she agreed to share it with readers of Lewis Center Mom. I'm also very grateful to my fellow third grade moms who took these great shots of Z having fun, since I was unable to be there at Pioneer Day!
My favorite memory of third grade is Pioneer Day. On the way to Liberty Church ( where we had Pioneer Day ), I looked out the bus window. Rain streamed down the glass. "This will be a great Pioneer Day," I groaned sarcastically.
"Don't worry, it will be fun," said my friend Gelila, as the bus came to a screeching stop. We had to slowly tromp through the muddy, wet grass. We sunk into the mud like quicksand. "Uggghhhh," I groaned.
We went to our first station. The lady running the station said, "Today we are going to make butter!" That sounded pretty fun. We put sugar, milk, cream and salt into a jar and shook it for 7 minutes. Then we tested it on a bun. "Wow, maybe Pioneer Day won't be that bad!" I said as I shoved the biscuit in my mouth.
Just then, the bell rang. Time to go to our next station. The rain had finally stopped. "The next station is making lemonade," I heard someone call out. First, we filled a jar with water. Next, we squeezed a lemon into the jar. Then, we put a teaspoon of sugar in the jar. Last, we shook the jar until it was combined. We drank the lemonade and soon enough the bell rang.
The third station was candle making! We dipped a candle wick into some melted wax and then a bowl of cold water. We repeated this step 15 times. The bell sang once again. This time I ran to the next station!
When we got there, 20 kids screamed. I read the banner and it said: ICE CREAM! We made and ate Pioneer ice cream which is healthier and has less heavy cream. Soon enough the bell rang yet again.
As we lined up to square dance, I felt a wave of nerves go over me. I closed my eyes as the music started. After we finished dancing, it was time to go back to the school.
"That was a memory I will never forget," I thought as I looked out the window that no longer had rain streaming down it.
Written by Zoe in her third grade class, May 2019.