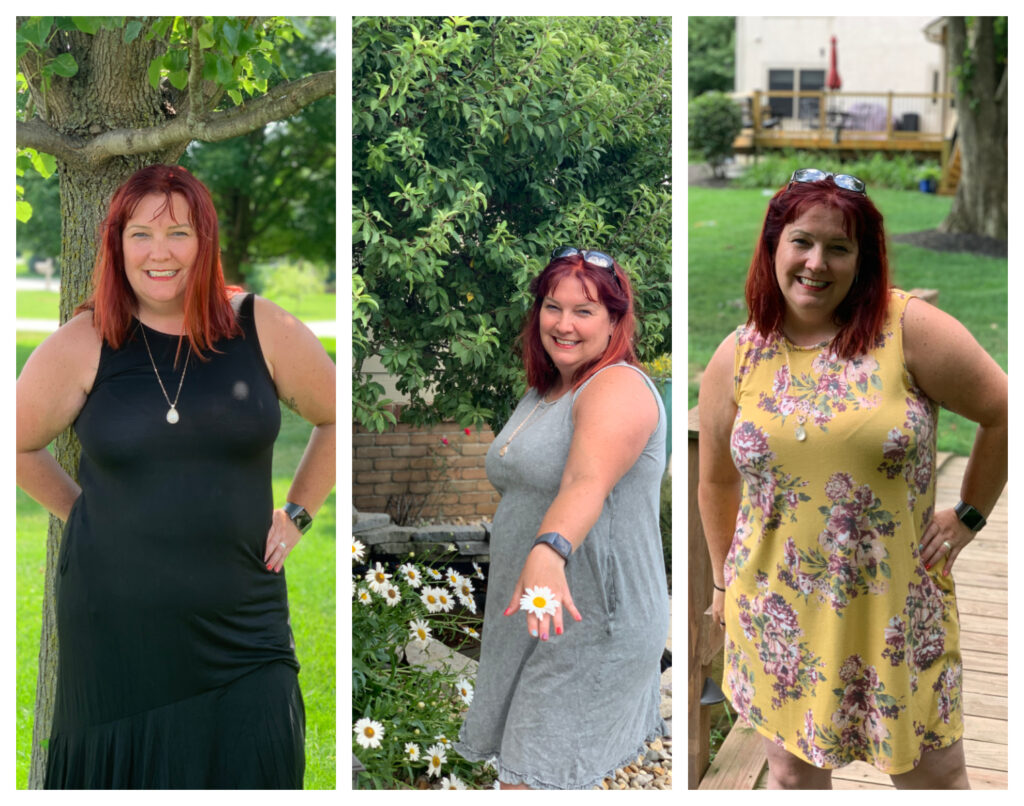 Ahhh, summertime. It's too hot for joggers and jeans, but not all of us love or can pull off shorts. My typical go-to outfit is a light summer dress for comfort, ease and a flattering fit – and there's one particular type of dress I reach for time and again.
My favorite summer 'fit is basically a sleeveless tshirt dress, but what makes it the true holy grail is this: it has side pockets. One for my phone, one for my key fob. I'm obsessed!
I can't be the only girl who is crazy about the fashion staple known as the sleeveless dress with pockets – aka SDWP.
I love this dress because whether I'm heading to the grocery store, hanging out at swim team practice watching our girl, or browsing the farmer's market, I like to look nice and get a little sun on my arms.
That said, I definitely don't want a farmer's tan (tshirt lines) – which is where the sleeveless part comes in. And for me personally, I prefer a nice high neckline to protect the décolleté area (and my tattoos) from sun.
So have you seen any of these gems around: the crew-neck, sleeveless little dress with side pockets? I have three in my closet and I love them all. I can't be the only who adores them, since a quick Amazon search brings back 9,000 results for sleeveless dress with pockets!
My three SDWPs
My first is from an adorable little boutique down in Grove City, Dapple and Dunn. The back story is that I saw a pic on Insta of my friend and fellow influencer Amanda wearing this pretty, pale yellow chambray dress. I messaged her to ask where she got it, she told me it had pockets, and that's when I became so obsessed that I literally dropped what I was doing and drove all the way down to Grove City to find one in my size. They had one in pale grey chambray and it's my forever love – and the shop itself is darling, too.
My second SDWP is one that I just happened to spot at Kohl's while there to make an Amazon return. You know about this, right? You can literally return just about anything from Amazon at Kohl's, and you don't even have to package it up. It's so easy – and they even give you a 25% off coupon to use at Kohl's! Anyway, on my way out I saw a rack of adorable sleeveless print dresses and thought, "whoa, imagine if those had pockets." I then checked – and they did! It took all my strength not to buy every single pattern, but I did scoop up a darling mustard yellow floral number at 25% off.
Last but not least, my third awesome SDWP is an all-black, high-low, fit and flare number that I scored on sale from Modcloth. The neckline is perfect for me and it has the coveted pockets on both sides. I love this one because I can dress it up a bit with a statement necklace and Rothy's, or keep it casual with flip-flops and a ponytail. Either way, I've got pockets so I'm feeling good!
Clearly, three of these coveted SDWPs is not nearly enough. I'd love a whole closet full of them. So if you see any sleeveless, crew-neck dresses with pockets while you are out and about this summer, be sure to let me know! I won't be happy until I've got at least a couple more so I can wear one every day of the week.
Oh, and if my beloved hubby is reading this, I am certainly NOT shopping! Simply doing research for the blog and helping out a few friends along the way. I'm cool like that!