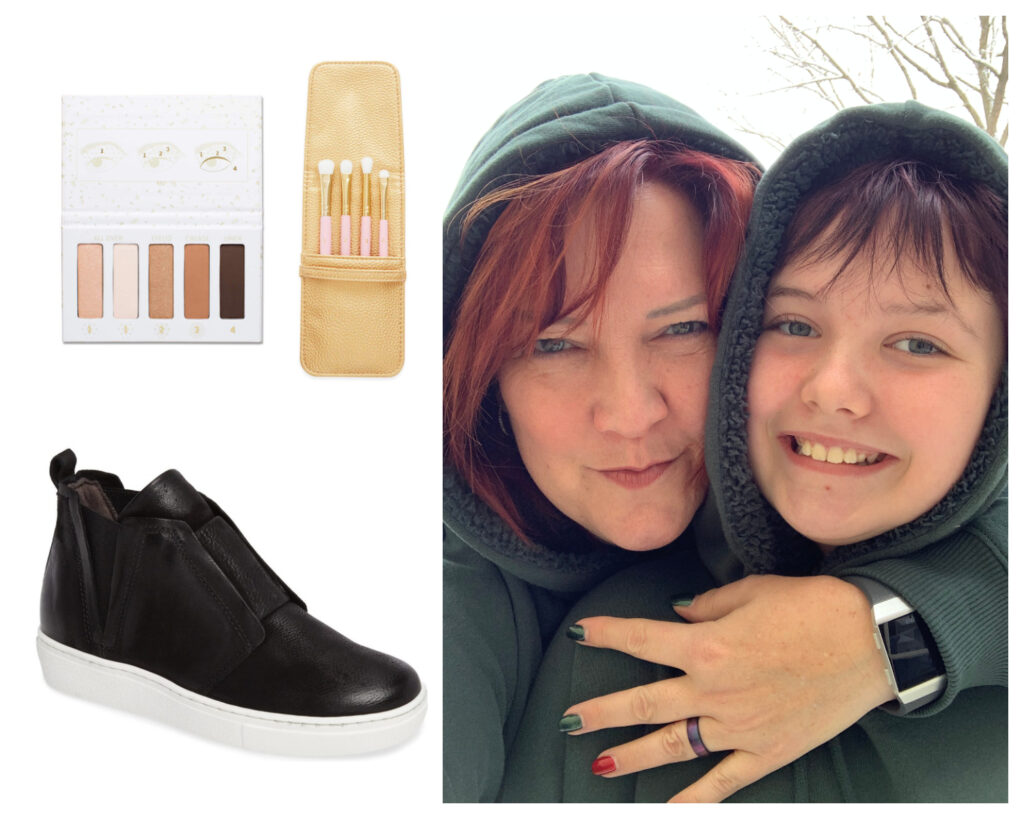 Did you give yourself any good holiday gifts this year? I did.
If you think I'm about to wax poetic about spiritual gifts I manifested for myself in 2020 – like discipline or self-love – that is not this blog post.
Friends, this Friday Favorites blog post is about the best actual, literal Christmas gifts I got for myself this year. And no, I didn't wrap them and put them under the tree, but I should have.
I just learned from a friend that not only does she buy herself the gifts she most wants, she wraps them and puts them under the tree with tags from famous people, like Bruce Springstein and Dr. Anthony Fauci. I'm totally stealing that idea for next year!
Anyway, without further ado, here are the best gifts I bought myself. You should treat yourself, too.
Athleta Salutation Joggers. I read several blog posts about these joggers before I ever bought myself a pair. The reason for my hesitation was simple: they are over the top pricey. But, now that I finally own a pair in black camo, I can see why. They literally feel like they are spun from clouds – airy, weightless and magical. And you won't believe how flattering they are!
Even though these are joggers, they are fancy joggers – you can dress them up with cute booties and a sweater for a night out. Or you can work out in them. Or you can lounge around watching Netflix and making questionable food choices. It's 2020! You do you. Just get yourself a pair of these dreamy joggers, stat.
Miss Mooz Laurent bootie/sneakers. Are these booties? Are they sneakers? I don't know and I don't care – I just know that I love them, they are comfortable and they go with absolutely anything I throw on. Literally from a ball gown to sneakers to joggers, you cannot go wrong with these killer kicks. I wore my first pair (white snake print) all throughout 2020, so I treated myself to a new pair (all black) for Christmas.
I know we don't leave the house or go out or do fun things anymore, but when we do – you need to be wearing these. Versatile, comfortable and stylish, the Laurent booties are worth their steep price tag. Bonus point: the name reminds me of that hot vampire from Twilight.
The cutest, sexiest silk face mask from Slip. Nordstrom has the best targeted social media advertising I've ever seen. Literally, they almost never get it wrong; if they serve me an ad on Facebook or Instagram, I'm going to want whatever it is.
When I first saw this pure silk, rose gold, leopard print face mask, I got actual heart eyes. Yes, it's pricey but it feels like an absolute dream on your face and looks like a million bucks! If you think wearing a face mask is drudgery, then you need to treat yourself to a silk one. I will literally cry when they tell us we don't need to wear masks anymore – it's that comfortable and luxe.
AE Forever Oversized Sherpa Lined Hoodie. To prove that I'm an awesome mom, I'll tell you that I got this one for Z first. She put it on immediately and said "Mom, you've got to feel this!" As soon as I touched its plushie-soft goodness, I knew I had to have one, too.
The best part is that it looks great on both of us – and that she's still willing to match with me! I'm literally wearing this hoodie all winter long. I'm wearing it right now as I write this. I can barely stand to take it off long enough to wash and dry it – then it's immediately back on my bod.
Idiot-proof eyeshadow from Flekk. I've shared before that I am clueless with makeup, but one of my goals for 2021 is to be able to do eyeshadow like a pro. I got this lovely neutral gold eyeshadow palette that is literally a color-by-numbers set; each shade and brush is numbered so you cannot screw it up. It tells you exactly which brush to use, which shade and where to put it on your eye. I LOVE IT!
I've only used it once so far, and Z could not stop complimenting me. I'd still rather have her do my liner, but I'm so happy that I can actually do my own eyeshadow now, thanks to this little set. It's not cheap but so far I can say it's well worth it!
So, there you have it friends – some rather fabulous gifts for that extra special person in your life: you!
Did you get yourself any gifts this holiday season, and if so, do you have any good ones to recommend? It's never too soon to start making your next wish list.
Happy 2021 to all!