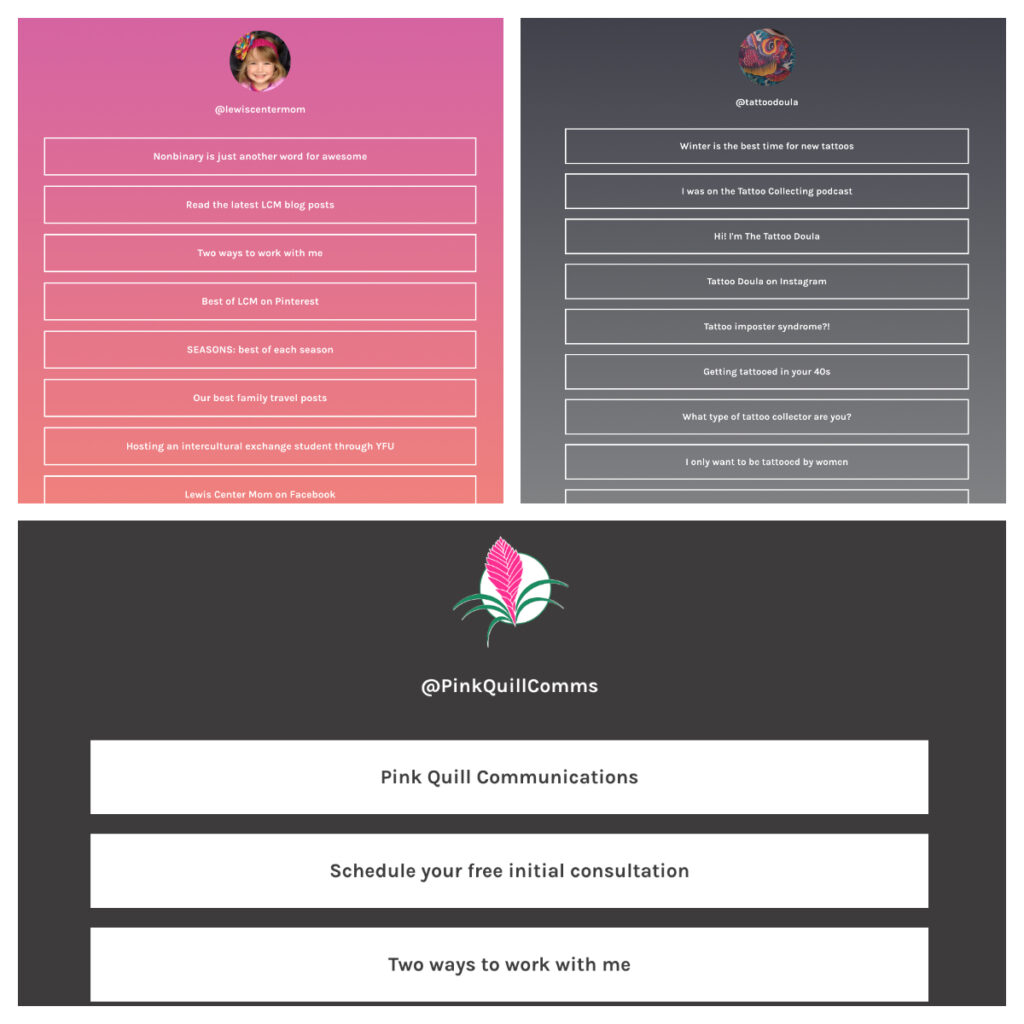 Do you ever wish you could have one place to organize all the links that are most important to you?
If you're a content creator, do you need a place to share all your most important or newest posts?
I use Linktree for the above reasons and so much more. It's one of my favorite technology tools and lifehacks.
I love Linktree so much that I maintain multiple Linktrees, one for each of my personas or content areas, and sometimes have a hard time keeping them all straight.
In fact, I've often considered creating a Linktree just to collect and house all of my other Linktree links. That's how invaluable I find the tool.
Linktree takes the place of a landing page or website. It provides a way to gather all of the most important information you want to serve up to people, whether they are customers, prospects or even hiring managers. It allows you to direct people to exactly the things you want them to see, rather than sending them to a website which can be deep or wide.
Linktree could even serve as your professional online portfolio if you are looking for a job or freelance gig. I don't personally use it that way, but now that I've come up with the idea, I just might start.
Here are my current Linktrees and how I use them:
Lewis Center Mom – here I share top blog content, including my most recent posts but also my most popular or favorite posts. I also share links to my social channels where I share related content.
Pink Quill Communications – here I share all the links relevant to my business, including my website, a link to sign up for a free consultation (via my Facebook page), my social channels and all of my blog posts about PQC or communications.
Tattoo Doula – here I share links related to tattoo collecting and my side hustle as a tattoo consultant. I also share links to my social channels, relevant blog posts I've written and guest appearances on tattoo podcasts.
Three might not seem a lot, but I am constantly updating each Linktree and keeping the content fresh. In addition, since I create all of my own content, I'm also staying on top of ideating and writing new posts in each of the three areas on a regular basis. It's time-consuming.
There may be a time when I decide to create a Linktree for my kiddo's budding jewelry business, Xage's Creations. Right now, most of their content is on Facebook and Instagram, so I don't see a need for a Linktree – but if we start doing more blog content about their business or add another social platform, then we will certainly create a Linktree to manage, capture and display all of that content in one place.
Longtime readers from when I was blogging and teaching extensively about social media, way back in the 2007-2008 timeframe, will remember that my pet tool used to be Delicious (styled del.icio.us).
I was obsessed with various uses for Delicious in my work and personal life, using it both for social search and link aggregation. I was truly dismayed when the site folded. My collection of links on that site was my pride and joy.
Linktree doesn't quite serve the same purpose as Delicious, because Linktree isn't a place to aggregate and collect ALL the links – just the most important ones. Still, there are some similarities. I guess I just love having a place for important links to call home.
Do you have a favorite site or tool on the Internet, and do you find yourself using it for different purposes all the time? I'd love to geek out with you in the comments section below or over on Facebook. And if you have a Linktree of your own please share it – I'd love to see.