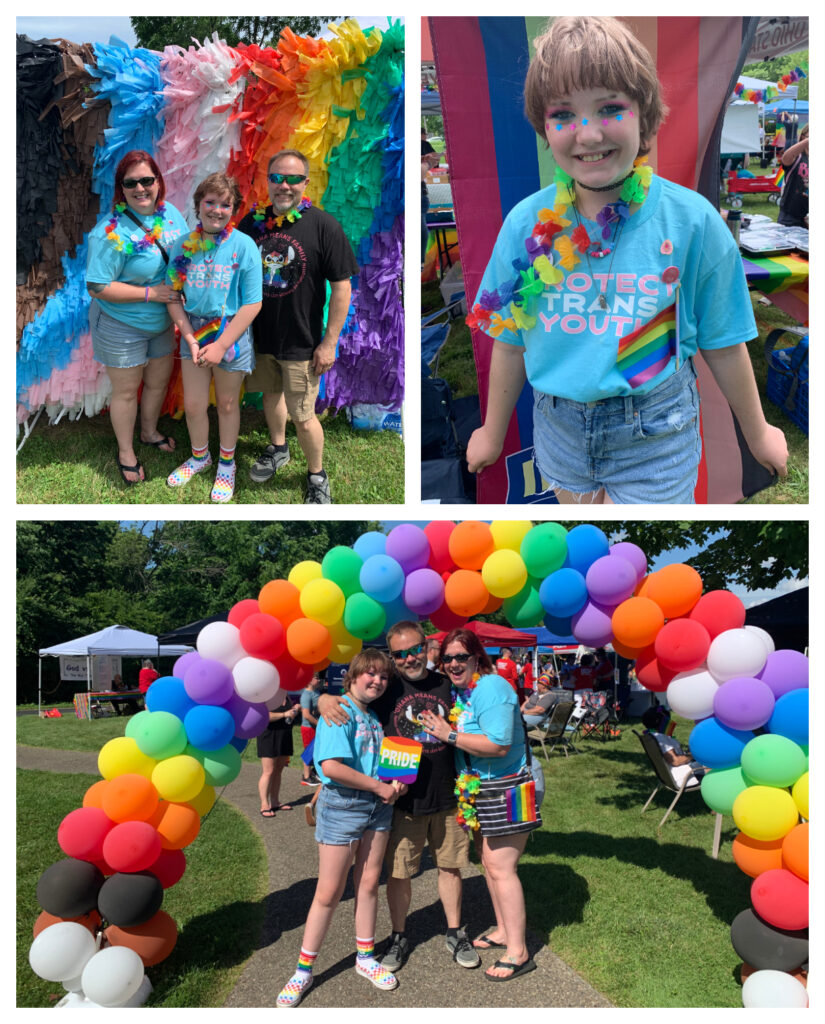 June is almost over, and hopefully you made it to one or more colorful Pride celebrations taking place in towns near you.
Everyone should go to a Pride event at least once in their life to experience the joy, magic and sheer fabulosity.
We used to go to Pride events before we had Xage – and even brought baby Xage a couple of times when they were tiny.
We would go with friends and make a day of it. Columbus Pride is legendary – more than 800,000 people come to our annual parade and celebration! Unfortunately, not in 2020 or 2021 though. Thanks a lot, Covid.
It's been a while since we've been to a Pride event, but now that Xage is out, we're trying to catch them all like Pokemon! Recently, we had an amazing time at X's first Pride celebration as an out and proud member of the LGBTQIA+ family.
If you've never been to a Pride event, you are in for a treat. When Xage was little, they used to call it Rainbow Day and wave at everyone with a beaming "Hi, Rainbow People!"
If you are the parent of a newly-out child heading to your first Pride event this year, here's the scoop on what to expect, what to wear and how to have a great time.
Everyone is welcome. Whether you're queer yourself, have a loved one or family member who is LGBTQIA+, or you just want to show up as an ally and friend, you will be welcomed by all. Pride is for everyone. Pride is a happy celebration with rainbows galore, music, dancing, performances and most of all joy. Gay means happy, after all!
Rainbow up. You can show support by wearing rainbows in some capacity – whether tshirt, socks or other attire and accessories. Ideally, you'll show your own unique colors in your attire. There are more Pride flags now than ever before and all have their own unique colors and themes.
Enjoy the freebies. As you're walking around at Pride, you will likely be given a rainbow flower lei or beads so you can be even more festive. When we walked into the Delaware Ohio Unity Pride celebration on a recent weekend, we each had shirts on showing our LGBTQIA+ support – and we were still handed rainbow leis, necklaces, stickers and pins to give us even more rainbow flair. It was so fun! Xage absolutely adored all the fun free giveaway items. Our house is even more full of rainbows.
Stay hydrated. Pride celebrations almost always take place in summer, so be sure to bring a water bottle or cash to purchase them. Like most summer festivals, Pride events are hot and sweaty affairs, especially if you're up and dancing. Thankfully, there were sponsors handing out free popsicles and water at the Delaware Pride event which was most appreciated. We also ducked into the community center for Drag Bingo and air conditioning!
Expect the unexpected. Many Pride celebrations are family-oriented and kid-friendly, but not all are. You may see people and things at Pride that you wouldn't normally expect to see out in broad daylight. That may include men in thongs or leather gear, topless body painted women or other shenanigans. People can get pretty happy and excited about being their true selves and not having to hold back or cover-up. These can be teaching moments for your kiddos – or you can seek out specifically kid-friendly Pride events if you're concerned about them seeing too much at a young age.
Drag shows rock. Along those lines, if you get the opportunity to watch drag performers, there are a few things you should know. Drag queens can be classy ladies, potty-mouthed comedians or a mixture of both. Drag shows can be a bit of a mixed bag as far as the kid-friendly aspect. We watched a drag show that was billed as kid-friendly, and for the most part it was, but there was definitely a bit of colorful language. Again, a teaching moment (sometimes adults really let loose and use colorful language when they are relaxed and happy.)
Another tip for drag shows: tipping is fun! If a performer really blows you away with his or her performance and energy, stand to the side of the stage holding out a dollar bill. She'll come over and get it from you, often blowing you a kiss or giving you a special wink when she does. This is fun for kids as well as adults – and the performers appreciate it!
18+ after dark. Pride celebrations can get a little more risque after dark, so events may or may not state that they are 18+ in the evening hours. Your mileage may vary, and certainly, Pride crowds are friendly and fun at all hours, but as with most festivals, when drinking occurs there can be even more loose language and adult shenanigans.
Most of all, if you go to Pride have fun, be open-minded and be ready to learn something new. At our recent family Pride outing, we learned about a ton of Pride flags and identities we didn't know about. We donated to some organizations doing great work in our community that we didn't know about before. And, we took a few family photos with rainbow backdrops that I know will end up being some of my favorites of 2021.
Pride is all about being who you are without holding back or worrying about what people think. I love to see all the colorful outfits, amazing individuality and style, and joyful families. Do you have any other good tips for first-timers going to Pride? Let us know in the comments below or over on Facebook.