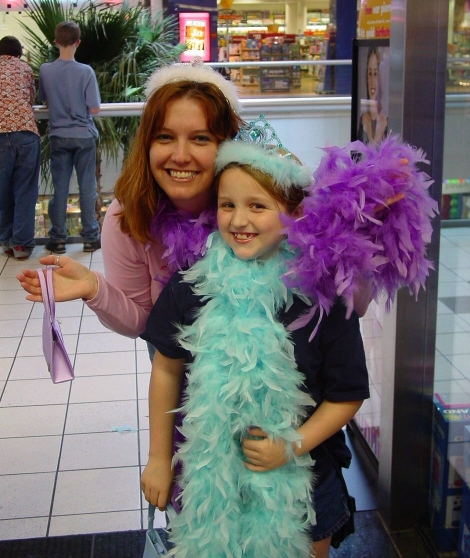 Many years before I became a mom, I had a "practice kid."
True story: my best friend used to loan me her daughter for weekends, several times each year. It was a great arrangement.
I got to experience being the caregiver to a fun grade-schooler while my bestie and her partner got a weekend alone together. Talk about a win/win!
I've written before about the fact that hubby and I were on the fence about having kids for many years. During our childfree years, I never disliked kids – I just couldn't imagine our life with one.
Whenever Alex spent the weekend with me, we would spend most of our time scrapbooking. I loved having a little buddy to scrapbook with; she was just as into it as I was! We would spend hours creating art with stickers, pretty paper and photos until our scrapbook albums looked like masterpieces.
We also spent time at the mall shopping, since that's another shared interest. We always went out to dinner someplace fun, too. And our dogs loved having Alex come over and pet them just as much as I loved having her company.
All in all, it was a terrific experience to be able to get some practice having a "weekend kid" now and then. I'm so grateful to have earned the opportunity to be close to a very cool young person in this way.
And you know the best part? We're still close today. She's all grown up, a mom herself now, and absolutely amazing!
Now, I get the unbelievably cool experience of being friends with someone I used to mentor. Actually, she's nice enough to say I'm still her mentor – but the truth is that I get as much from her friendship and seeing how she lives her life as she ever could from me.
There are so many reasons to have friends in our lives who are older or younger than us. We can gain so much valuable perspective from talking with – and especially listening to – people who are not exactly like us.
Having a close relationship with Alex made me appreciate kids so much more. Watching her learn and grow helped me to ultimately realize that I truly wanted to have the experience of becoming a mom and raising a child of my own.
And now, being friends with Alex and seeing her navigate adulthood and parenthood makes me realize how amazing and fulfilling it will be to see Zoe reach those same milestones.
Here's a big thank you to my bestie who loaned me her daughter all those years ago. It was wild having someone entrust me with an actual living child beyond a short babysitting gig. I'm so glad I was worthy of your trust and friendship!
And here's an equally big thank you to Alex, who helped me to realize that I could in fact share my life with a cool kiddo and that I might actually be okay at the momming thing. I am so very thankful for all the times we've shared and love seeing you blossom and thrive as an amazing mom yourself!