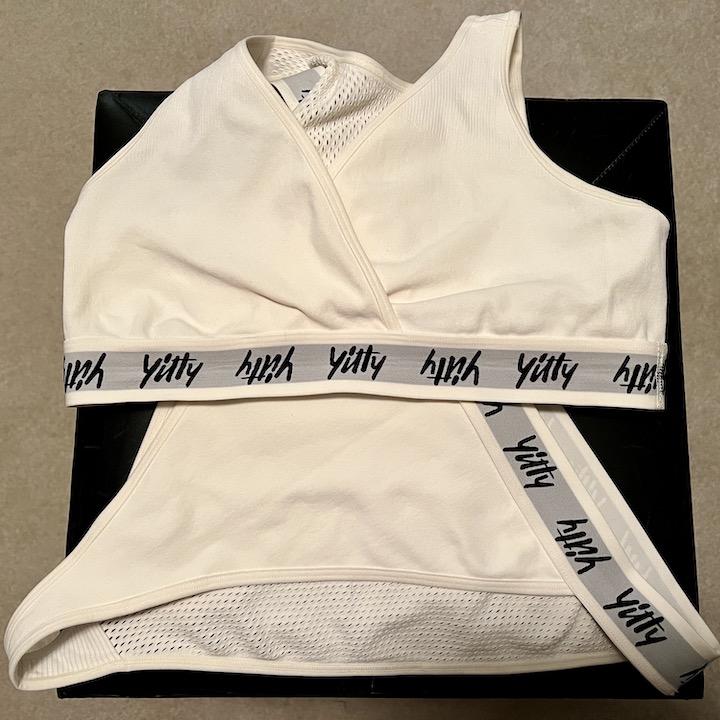 Are you as fed up as I am with bras?
I just did a quick google search and clearly, it's not just me: bras suck.
It feels like bra technology has not evolved much since the 1950s. I've had it with traditional, structured bras.
This is a pandemic world now. We need soft, comfortable yet still supportive bra options available in a wide range of sizes. Also, we need them to be cute.
Well, guess what? Somebody finally figured it out – and that someone is Ms. Melissa Viviane Jefferson, better known as Lizzo.
All I can say is… it's About Damn Time!
After trying other soft bra and "unbra" solutions including Nuudii System, MeUndies, Mindd, SKIMS and countless others over the years, I finally treated myself to a bra and panty set from Lizzo's much-hyped YITTY line.
The result: I am obsessed with YITTY's Major Label Cross-Front Bralette. Obsessed, I tell you!
This bralette comes in a multitude of gorgeous colors. It looks and feels like a million bucks. It checks all the boxes: cute, comfortable, supportive, soft, stretchy and flattering. You could wear it for a day of lounging, a walk in the forest or a fun, casual, comfy-chic boudoir shoot.
And, if you're a matching set fiend like I am, you can also get an equally wondrous (if alarmingly high-cut) panty to match.
But here's the catch: you can only buy YITTY lingerie and shapewear through Fabletics, and I personally hate their monthly membership model.
I know many lingerie houses use the monthly membership trap, including Savage X Fenty and Adore Me, both of which I otherwise love. I just hate feeling held hostage to shop or skip each month. The number of times I have forgotten to skip shows why this model is a win for the business, NOT the consumer!
So, what's a girl to do?
Honestly, your best bet is to join the membership, make a purchase and then IMMEDIATELY cancel the membership so you don't get stuck in the shop or skip trap. I've done this multiple times and it's definitely the best way to go.
You heard it here first: the answer to your lifelong bra quest is YITTY's Major Label Cross-Front Bralette. Don't let the word "bralette" throw you – this is quite a supportive little contraption. It's soft, stretchy, comfortable AND keeps the girls in line. Plus, just look how cute it is.
Please let me know if you have found other bras you love that check all the necessary boxes. I look forward to giving the heave-ho to all my traditional, structured and pokey old bras as I gradually replace them with better alternatives!