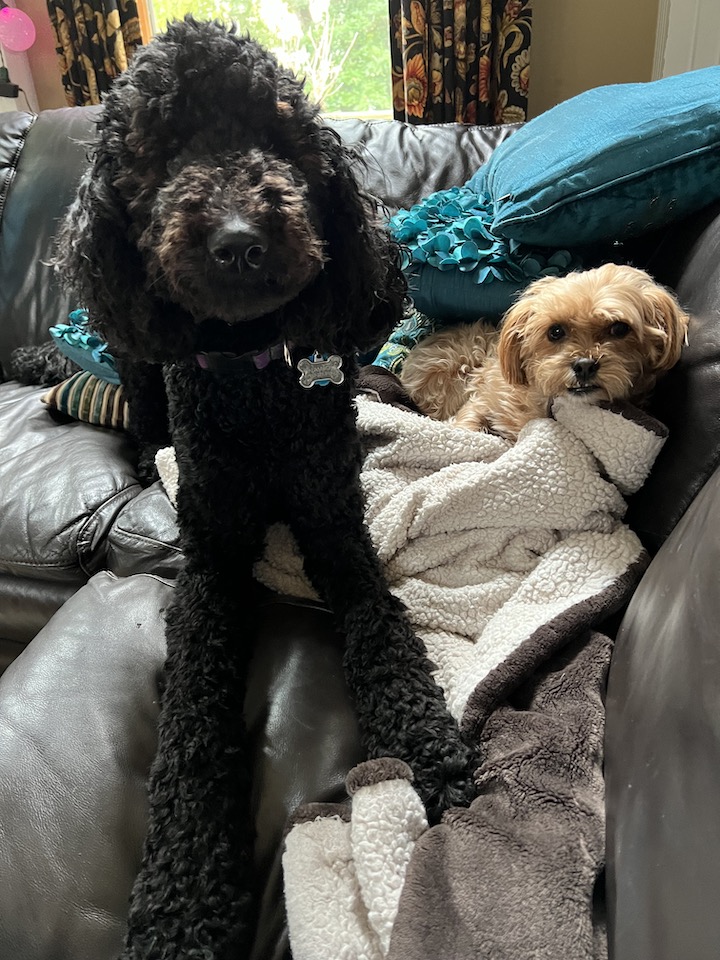 Most people with dogs love their canine kids and treat them with the greatest care.
But even the most adoring dog owners can still be guilty of making mistakes with their pets. As someone who once was afraid of dogs but has since become a gungho dog lover, I can see both sides.
And this doesn't mean I've been a perfect dog owner. I have made many mistakes in the past and likely still make mistakes.
For example, I once had multiple big dogs who were not well-trained or socialized and didn't walk well on a leash. I knew better, but this still happened. I basically couldn't walk my boys by myself so they never got walked, leading to a myriad of difficulties.
More recently, it took me a really long time to realize that our little dog would not poop in our own yard. She was constantly sneaking over to the neighbor's property and I simply didn't know (she was going behind a tree – I thought she was staying on our property, but she clearly was not).
I still feel awful about that! And now that I know about her tendency to only poop away from home, I provide morning and evening walks – with doggie bags! – to accommodate her preferences.
Bottom line, there are some basic rules or best practices that all dog owners should try hard to follow to the best of their ability. Here are the seven sins of dog ownership as I see them.
1. Don't let dogs poop on anyone else's lawn without immediately picking it up. I've been guilty of this one in the past, but there is literally NO excuse to leave your dog's poop in someone else's yard. Check to make sure you have bags before leaving the house for a walk. If I am out walking my dogs and suddenly run out of bags, I memorize where they poop and then go right back for it.
2. Don't let dogs bark all day or for any length of time. This goes for both dogs who stay inside and dogs who have indoor/outdoor access. An incessantly barking dog causes stress for those subjected to hearing it. For highly sensitive people, this can be unbearable even if it is several streets away. Dogs' barking echo through a neighborhood farther than you might imagine and can also be triggering for other animals.
3. Don't leave dogs outside for extended periods without supervision. This includes dogs with an electric fence. Dogs should always be monitored/supervised for their own safety and that of others. Don't over-rely on an electric fence as they can easily fail. You will never know an e-fence has failed unless you routinely test it – or until your dog escapes and runs off.
4. Don't let dogs bark or lunge at passersby. I had the scare of my life last fall while walking my dogs down our street. A neighbor's dogs lunged at us and then left their front yard to chase and charge at us in the street. It was terrifying and totally unfair. It took the dog owner way too long to hear her dogs snarling and me yelling "bad dogs! Go home!" People should be able to safely walk down their street without fear of a dog attack.
5. Don't let puppies grow up to be unsocialized. When puppies are young, take them out and about. Walk them in the neighborhood. Take a puppy manners class at your local pet store. Introduce them to strangers of all ages. Correct them when they misbehave. Never allow a cute little puppy to do things that would be unpleasant or scary in an older, full-size dog.
6. Don't neglect your dog's needs (e.g., playtime, exercise, companionship, something to chew on). As dogs get older and aren't super-needy puppies anymore, often families begin to practice a bit of benign neglect. I'm not talking about out-and-out dog abuse – I'm referring to too much time left alone or in their crates. Trust me, I've been guilty of this. Many dogs don't get enough mental stimulation or playtime. Also, dogs need to chew – it calms and soothes them. A happy dog is one who won't develop problem behaviors out of boredom.
7. Don't let puppies or dogs jump up on visitors. Again, here's one I've been VERY guilty of in the past but we have worked hard with Lambo to make sure she has good manners when people come in the door. All dogs should know they have to sit nicely in order to get pets and attention! It's important to practice with friends, strangers and visitors of all kinds, including children. Letting a big puppy or dog knock a child down is never okay.
If this sounds judgemental, that was not my intention. I know that it's possible to be a good person and still have blindspots when it comes to our dog's behavior. From my own experience, I believe that because we love them and know they are good dogs, we're sometimes guilty of overlooking their bad habits.
With a little training and focus, these behaviors are easy to fix, and not only that – you and your dog will become closer as a result! In fact, writing this made me realize that I haven't played with our puppy enough this week, so I'm off to do just that.
Did I miss any "sins" of dog ownership? I'd love to hear your thoughts in the comments below or over on Facebook or Instagram.